Buddypress, an innovative extension developed by Automatic in 2008 for integrating social networking functionality with the WordPress platform. Wordpress, as we all know, is a content management system with easy to customize widgets, menu items, and theme functions.
Hence, installing the social networking feature with this framework will definitely open lots of options such as we can have the discussion board, contact form, cans directly link to the customer, and lots more. Since inception of this plug-in, it has achieved an unprecedented height. Today we can see that there are enormous themes available online for social networking web page. Here, this blog presents you the list of top 10 BuddyPress themes.
BuddyPress plug-in is the wonderful technique to implement WordPress with community site features. This simple idea gave birth to some newer techniques that can support sharing the products, promoting services, campaigning for politics. BuddyPress theme is layout that can be integrated with the plug-in and lets you enjoy socializing in various ways. The theme is the backbone of the site that defines how the user interacts with the site and what will be outcome of events processed by the user. The blog shows the 10 best BuddyPress themes that have potential in every aspect of trending needs.
List of Top 10 Buddypress Themes
One Community is the BuddyPress theme that has awesome user-friendly features. Here, user only needs to register for the account, then can share messages, create community and lots more. This theme is well-suited with the latest version. Many inner-pages such as forum, group, user panel comes with this theme, and responsive layout features of this theme is the advantageous factors that enable to enjoy social networking at any of your portable devices with no incompatibility issues.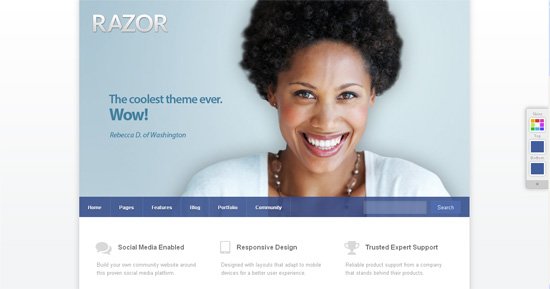 Razor one of the coolest BuddyPress themes with various advantages such as responsive enables, supporting a large number of typography with large number of colors, styles and also entails the retina graphics. For easy customization this theme is packed with lots of features such as drag & drop layout manager, different style menu, custom header and footer, huge collection of home page layout control and numerous facets.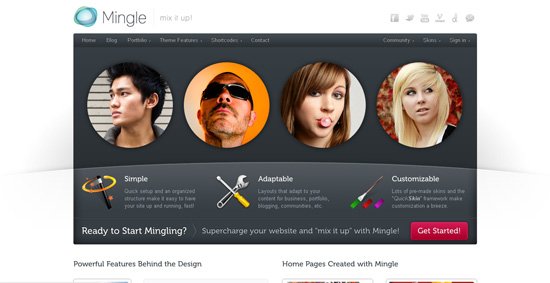 Mingle is BuddyPress theme which not only introduces the social networking themes, but also embed with various options to connect with visitors or audience to improve productivity. There are lots of pre-loaded skins that allow developers to create stunning layout. This has an organized structure, which assists in making a navigation map user-friendly.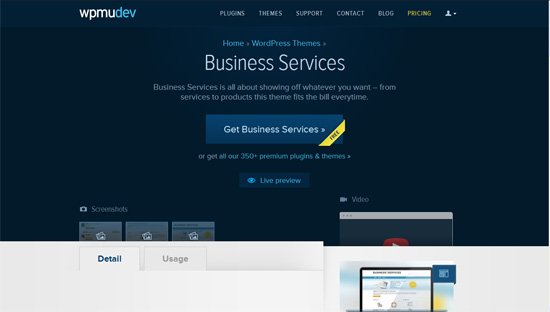 Business Service is the complete business BuddyPress theme, the layout is conceptualized with trending ideas. Here, you can see there are lots of styling features that help user in promoting services effectively and efficiently. The function of the themes is futuristic, which can match the current technology.
Gallery theme is the image illustrating BuddyPress theme, the image can be photograph, products, portfolio items and lots more. The contour of the theme is crafted to give the best user-interactivity. It is very useful in sponsoring the business services. Various customization options are available to meet trending requirements.
Politic: Campaign, Political WP & BuddyPress Theme,provides the ultimate platform for campaigning, endorsing and sharing knowledge and blogs about the Politics, corporate and community. The theme is designed with enormous aspects that can suit with every business requirements; there is a collection of events, widgets various email functions.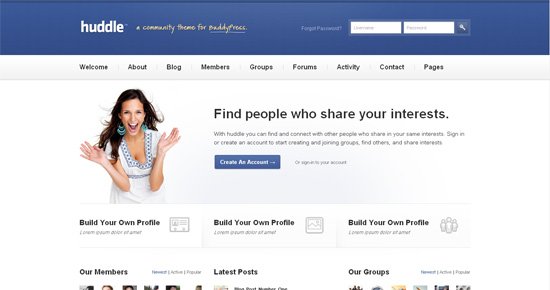 Huddle is very simple and highly functional BuddyPress theme that is designed clean with easy to use interactivity features. Here, users can create the community that is elegant, trending, top mark functionality.
Bounce is the superb, clean and very responsive BuddyPress theme. It is very rich of feature and designed to have complete focus on every user-interactivity.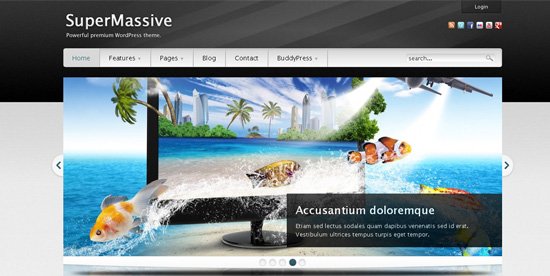 SuperMassive is the potent BuddyPress theme. This theme allows with various easy to customizable option enable to create fresh layouts in minimum time. SuperMassive entail this by installing various short codes. It is also packed with outstanding support for audio/video files. There you can also enjoy five amazing skins such as Arctic Fox Obsidian, Obsidian Grunge, Chocolate and Tiger to suit every need.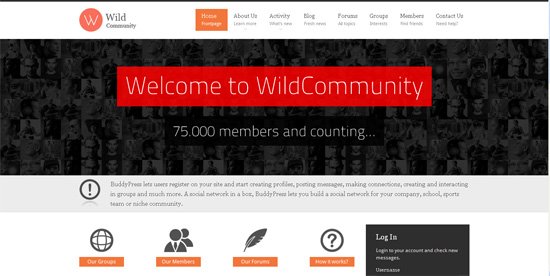 Wild Community is the wonderful community BuddyPress theme. It is the theme, which enables user to register for a profile and start sharing messages, establishing connection and creating groups. This theme is suited to the latest version framework and comprising great functionality such as SEO-friendly coding, 3 level dropdown menus entailing with description and lots more.
Conclusion
BuddyPress theme has made the WordPress site more functional and social. Here, user can create community profile and interact with other members of the community. It is believed that all the themes in this list have given you lots of ideas about various functionalities of the best themes. Hope that you have favorite one in this list. Share that through our comment section given. Stay tuned for the next updates.
Rinniee Ginsburg is a email template developer and writer at
EmailChopper
. Her technical competency has helped the professionals explore the new techniques in practicing the innovative email development. She has written various articles that accentuate the importance of PSD to Email conversion, smart procedure for responsive email template development & many more. All her writeups have become a source for many professionals and business players to grab the valuable information.