Now, the Foursquare Tips will be sporting in Bings Social Sidebar that will be accompanied by other social data from Facebook and Twitter as well as the tips will be retrieved from location based queries.
Recently in the month of May Bing has unfold a novice social sidebar incorporating social data together from Facebook an Twitter. Today, for this mix one another source has been included. However, Bing proclaimed that the Foursquare tips will be accompanied by particular location based queries. The data of Foursquare will be visible directly in the sidebar section 'People Who Know' within the search engine result pages.
The data in Foursquare will be retrieved from the 'tips' section of every location and the information about check-in data will will not conveyed. Therefore, the tips would be visible to users will be customized according to users location as well as the topic they are looking for.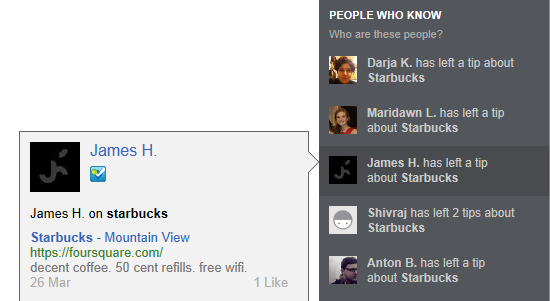 It could be a very worthy inclusion as for such kind of integration Foursquare tips are supposed to be custom-tailored. Foursquare offers quick and useful tips to its users which are perfectly detailed and sized for sidebar integration in contrast to Google/Zagat or Yelp reviews. In order to have more information regarding this you can view this video:
Admin from India is a founder of WebGranth, an entity of
Sparx IT Solutions
with over 8 years of experience on different verticals of web design & development. In his quest to spread the knowledge regarding web development, he has been contributing in WebGranth by submitting his valuable blogs.