Best Web Development Tools for Linux: Cool Solutions for Web developers
Linux is one of the most used platforms after Windows and MacOS and is becoming the favorite OS for web developers, web designers, animators and many more. Linux has grown too much importance in the eyes of web designers as well as web developers and is used by millions of people coming from different professions. One of the major reasons behind the popularity of Linux is it is free to use, and not only that, most of the tools or software which are developed for use on Linux platform are also free.
Also, Linux are free from viruses and can be used freely without having any tension of losing the data because of virus attacks and malware. It is really a great development environment. But sometimes in lack of sound development tools, the work of development lags behind. These days there are plenty of Linux tools are available which you might not aware of. We are presenting here top ten plus open source web development tools used on Linux platform which are available to everyone and which will take you another world of web development.
Many of time we have found the people working on Linux asking about various tools which they can use in Linux environment for better output in web development. We have seen many in confusion which one is best to use and which one not. If you too fall in the same category, then your time to worry has now been over. If you too are Linux user and are seeking for web development tools for Linux, then you don't have to wait any more. We bring with us ten plus outstanding web development tools for you which can fulfill all your web development needs. Check out these tools and use which suits your need best. We hope all these best Linux development tools will be liked by you due to their unique functionality. If you think something is missing, and you know any other tool that you feel suits best in this list, please be kind and share with us in the comments section below. We ensure you; we will include it in the further post along with some other new tools.
Bluefish
Bluefish is one of the most popular and powerful IDE (Integrated Development Environment) available for development and is targeted towards programmers and web designers, with many options to write websites, scripts and programming code. It supports many programming and markup languages, and primarily focuses on editing and creating dynamic and interactive websites. It can open multiple documents, nearly up to 3,500 documents at once.
Bluefish facilitates the user with several features such as project support, remote file support, search and replace (including regular expressions), unlimited undo/redo, customizable syntax highlighting for many languages, anti-aliased text in windows, and multiple encodings support, and many other features. It's most noticing point is it has wizards for C, Apache, DHTML, DocBook, HTML, PHP+HTML, and SQL and hence proves very useful in website development.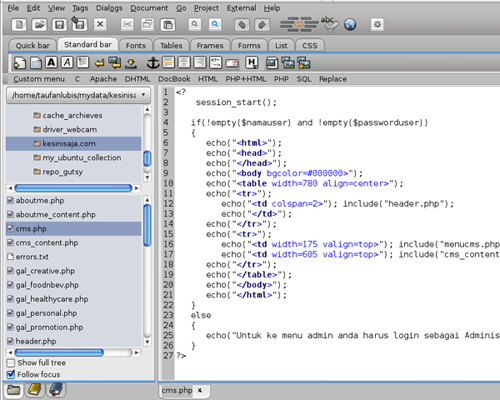 Aptana
Aptana Studio is free, open source Ajax development environment which has become the leading choice of web professionals everywhere. It offers free plug-ins for PHP, Ruby on Rails, Adobe AIR, and even Apple iPhone development and hence liked to be used by various web developers and designers.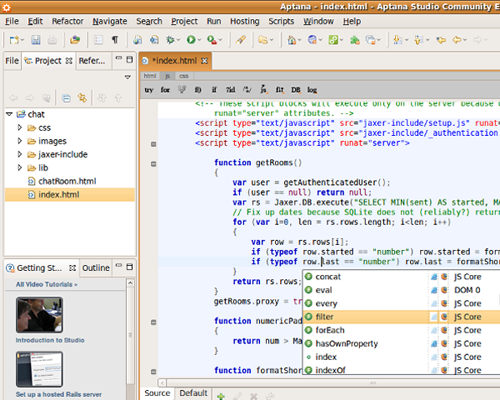 Komodo Edit
Komodo Edit is a text editor for Windows, Macintosh, Linux or UNIX and is best suited to Professional Web Developers or XML Developers. It primarily focus on what your code can do and offers sophisticated support for all major scripting languages, including in-depth auto complete and calltips, multi-language file support, syntax coloring and syntax checking, Vi emulation, Emacs key bindings etc.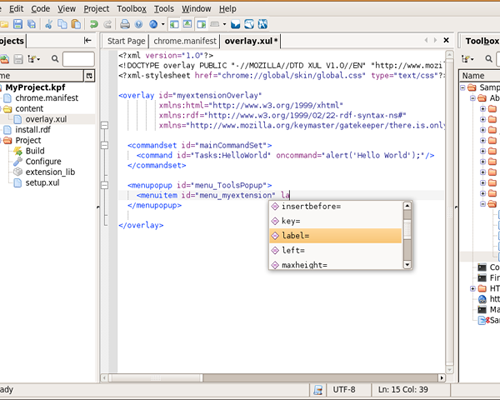 KDevelop
KDevelop is a free, open source IDE with the set of libraries that can be used as a foundation for IDE-like programs. It supports 15 programming languages, with each having language-specific features. It includes profile support so that various sets of plug-ins can be associated with specific projects and also offers an included debugger, version control system (Subversion), application wizard, documentation viewer, code snippets, Doxygen integration, RAD tools, Ctags support, code reformatting, QuickOpen support, and dockable windows and toolbars. And above all, the best thing in it is that it takes much of the low level tasks out of the hands of the users and hence lessens their work burden.
Anjuta DevStudio
Anjuta DevStudio is a free and versatile open source Integrated Development Environment (IDE) available for software development on GNU or Linux platform. It features many advanced facilities such as project management, application wizards, interactive debugger, and a powerful source code editor with source browsing, code completion, and syntax highlighting etc. has a flexible and powerful user interface that allows web developers to drag and drop the tools in the layout to arrange the GUI nearly any way they like. It also facilitates user with a powerful plug-in system that allows them to decide which plug-ins are active and which are not for their project. One can also develop his own plug-ins for Anjuta.
Seamonkey
SeaMonkey is another famous web development tool for Linux designed to suit the needs of advanced users, web developers and corporate users. It features an Internet browser, email & newsgroup client, HTML editor, IRC chat and web development tools, etc. previously, it was used on Netscape and Mozilla browser but now suitable to use on every kind of browser delivering high-quality updates.
Quanta Plus
Quanta Plus, which was originally called as Quanta, is a web Integrated development environment (IDE) for HTML, XHTML, CSS, XML, PHP and any other XML based languages or scripting languages and is capable of both WYSIWYG design and hand coding. It possess several features such as tag completion on the fly, tag editing through a dialog interface, script language variable auto-completion, project management, live preview, PHP debugger, CVS support, Subversion support through external plug-in and so on. It is intended to be used by technical user who wants a good WYSIWYG editor for web development.
Amaya
Amaya is a web editor which is used to create and update documents directly on the web. It is embed with excellent browsing features which are seamlessly integrated with the editing and remote access features in a uniform environment.
GCC
GCC is a GNU compiler and a very powerful command-line tool that works for C, C++, Objective C, FORTRAN, Java, and Ada. It was originally written as the compiler for the GNU operating system and creates better object code and gives you better debugging information. It is not a single tool but actually a set of tools, each tool compiling for different language.
Glade
Glade is a RAD (Rapid Application Development) tool which enables user quick & easy web development. It is used to create GTK+ toolkit and for the GNOME desktop environment. It includes a number of interface building blocks, such as text boxes, dialog labels, numeric entries, check boxes, and menus, to make the development of interfaces quicker. The user interfaces designed in Glade are saved as XML format, which allows these designs to be easily interfaced with external tools.
Kompozer
KompoZer is a complete web authoring system and open source web development tool that combines web file management and easy-to-use WYSIWYG web page editing. It is very simple to use event for non-technical computer users who don't know HTML or web coding and want to create an attractive, professional-looking web site. It has a number of outstanding features of which one of the best is the ability to open a Web site from a URL, edit that site, and upload the edited site.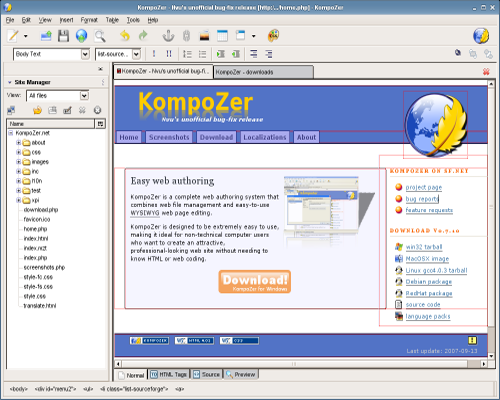 GDB
GDB, the GNU Project debugger is a remarkable web development tool which allows UNIX or Linux web developers to see what is going on `inside' another program while it executes or what another program was doing at the moment it crashed. It is also very handy while bug reporting.
With GDB, web developers can perform following tasks:
Start your application specifying arguments, switches, or input that would affect its behavior.
They may cause their application to halt on specified behavior.
They may examine what has occurred when their application stops.
They may make changes to their program so they can test on the fly.
Eclipse
Eclipse is a multi-language IDE which provide a universal toolset for development. It is written in Java, with an extensive plug-in system to allow you to extend functionality and is one of the strongest forces in software development today. The strongest point regarding Eclipse is its plug-in features; in languages alone, Eclipse boasts around 58 plug-in. It provides a rich integrated development environment where web developers can easily accomplish their task of web development.
Rinniee Ginsburg is a email template developer and writer at
EmailChopper
. Her technical competency has helped the professionals explore the new techniques in practicing the innovative email development. She has written various articles that accentuate the importance of PSD to Email conversion, smart procedure for responsive email template development & many more. All her writeups have become a source for many professionals and business players to grab the valuable information.