vCard Templates: Get responsive vCard template with vCard themes
vCard templates are the latest and trendiest way to showcase the online presence. At the present time the vCards are used by professionals to show their skills and portfolio in an interactive and attractive manner and hence are far much better than the conventional resume designs. In this post I had compiled a collection of Top 10 latest vCard template for professional which will assist in having a vCard of your own choice.
vCard! Never heard about them? vCard is actually an electronic business card which usually contains the basic information and related attachments within it. The vCard can either be attached to a mail or can even be uploaded to a website or webpage.
At the present time the definition of cards has extended its horizon and now they are popularly used as online CV by the professionals. They are really impressive in the interface and can  represent a lot more information which was never possible with the text based CVs and Resumes.
Moreover they are not expensive too! You just need to pay an average of 7$-10$ for the best vCard template. You can customize these templates according to your style and can make your presence more appealing and attractive on the internet. So if you  are too desperate to be looked bold among the competition via the attractive vCard templates than this post is surely for you.
In this post I had compiled a collection of 10 Best vCard templates. These all templates are easily customizable and undoubtedly the best you can search on the  internet. So without wasting more time; let's start the slide show
ImpressivCard

– Responsive HTML5 vCard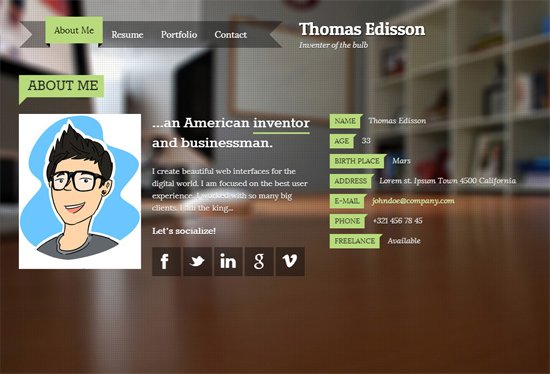 This vCard template is an impressive option if you are looking for a responsive HTML5 template. This template is defined with a lot of customizable features and attractive CSS3 animations. It facilitates you to showcase the About Me, Resume, Portfolio and Contact page.
Metro vCard – Responsive Metro Style vCard

This is surely one of the Best vCard templates I had found on the web. Very astounding page navigation effect and a window look make this Metro card template and perfect option to go for. Moreover this template design is responsive and hence provides the same impression on mobile devices too.

Cascade – Personal vCard Template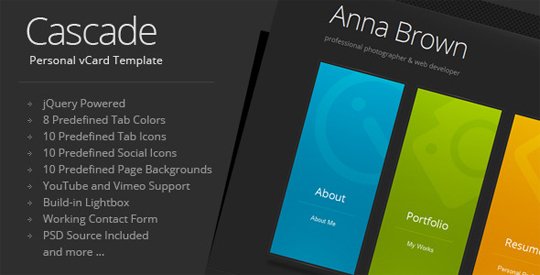 This is a simple yet very impressive vCard template design in which the pages are integrated in cascade slide style. With a license fee of just 8$; this is a very good option to go for.

Next vCard – Responsive Personal Theme
This is another simple yet very impressive vCard template for the professionals. Via this template you can showcase your skills and portfolio in a very beautiful manner. This is a responsive template design so no matter on which device the viewer is going to see your profile; you are going to show him at best.

vCard3 – Unique and Professional vCard Template
This vCard template is designed in paper file style and is really impressive to navigate through pages. This design can be the most ideal for writers and web designers.

Sharp – HTML5 Premium vCard
Sharp is the  perfect blend of HTML5 and CSS3 to result in an amazing card template with brilliant animation and transition effects.

Monaco – Personal vCard Template
This is surely the most ideal vCard  template for Photographers. With a large picture background and impressive transition & navigation effects; this template deserves a look inside.

Notes – Multiple directions HTML/CSS theme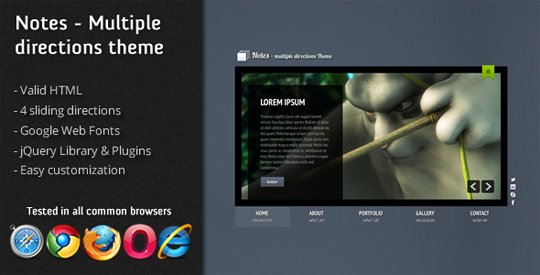 Notes is multiple direction theme that allows you to choose the navigation pattern of pages in different directions. This best vCard template is of course not for the beginners but for the professional and experienced candidates; this is an indubitable choice.

Notebook – Virtual Business Card
Bringing back the trend of School days; Notebook is an impressive vCard template that showcases the information in a notebook writing style. I personally appreciate the concept and the idea behind this creativity produced by CSS3 and HTML5.

Geneva – Personal vCard Template
This is one of the costliest vCard templates but it is of course worthy of the value. Geneva-Personal vCard Template can be used as a business card for bigger businesses and enterprises.

Conclusion
So which one impressed you the most? Tell us in the comment section below. You can even share your own vCard Business design with us. For more information and resources; keep in touch with Webgranth.
As the most experienced developer of
CSSChopper - PSD to HTML Conversion Company
, David Meyer firmly believes in building the new ways that lead the people towards success. He focuses on an ideal approach and tries to deliver the perfect services close to the defined needs.