Best Practices, Tips and Examples on Pricing Tables
Nowadays, the effectiveness in the pricing tables has become an essential element for every online business website. The pricing tables play a challenging role in growth and prosperity of your online business; if it is designed neatly it can hike your business and make it reach to the top, otherwise it can also let your business get buried in the graveyard.
If you have done ever online shopping, you might have seen various pricing tables helping you to choose the best pricing plan suiting to your needs. Sometimes you also have seen various pricing tables which have dazzling look but hard to understand. Actually, the prime concerns of the pricing table should be to help users choose the best pricing plan, hence it must be designed efficiently with the solid mix of design and usability.
Pricing tables is one of the most interactive means which is used to display product or services in pricing page, well communicates with the users and take user experience to a much more interactive level. Pricing plan is not simply a link or portal which a user has to click for purchasing any item; rather it is the thing which plays a critical role in the sign-up process and tempts the customers to make a purchase deal online through your site. A pricing table should convey a large amount of data in easy-to-understand form and must also clearly differentiate between the features of various pricing plans. It should properly convey the potential customers about various plans and guide them to pick the most appropriate plan.
Here we have come up with some tips, ideas and practices on creating stunning pricing tables. Not only that, we have also presented a comprehensive list of some of the most successful pricing tables which you can take as inspiration. Check out these tips and ideas as well as inspiration. We hope you will enjoy the post!
Pricing Tables
Structure
One of the major confusion occurs among designers while designing the pricing tables is that which layout they should opt: either Vertical or Horizontal? Most of the websites prefer horizontal layouts to display the pricing tables just because it's easier to compare the offers and see features through horizontal layout. But it does not mean that a designer should always opt the horizontal layout only; there is an alternative to this, i.e. vertical layout. Following the horizontal or vertical pricing chart structure totally depends upon the diversity and intricacy of the information being displayed in the pricing chart. Thus, it is advisable as the best practice to use a horizontal structure when there is a need to display a lot of features. Vertical structure should be opted when the designers don't have to offer lot of plans and there are no long lists of features to be displayed.
Below, we are presenting the example of pricing tables with both vertical as well as horizontal structure.
Dropbox (Structure with vertical Layout)
Dropbox can be taken as an excellent example of vertical layout pricing chart. This is a wonderful site which offers you 2GB of space absolutely free of cost that you can use for as long as you like. If you need more space than 2GB, you have to pay for that.
Champion Sound (Structure with Horizontal pricing table structure)
When you will go through this site you will find that there is a need to display features which must be easier to compare and viewed side by side, and as we have already discussed earlier that in situation where there is a need to display more offers, plans and features, horizontal layout fits as the best solution. Thus we can say that, Champion Sound is a classic example of horizontal pricing tables structure.
Neither communicate too much nor too little
This is another basic tip which must be taken into consideration while designing the pricing tables. A pricing tables should be presented in such a manner that it seems neither communicating too much nor too little. It's true that a feature-rich pricing tables with dozens of various aspects and leaves a good impression on the potential customers, but it should be noted that the more information you will provide in pricing tables the more customers will look for ultimately letting them in confusion. Thus a pricing tables should contain precise and clear information.
Let us see two example of pricing tables, one with lengthy and complex data and other with short and precise data.
TypePad
Going through this website you will find that, this site presents a quite lengthy pricing chart/table. Although its pricing tables is informative; it has presented all the schemes and plans in detail, but for user, it is really hard to scan and difficult to remember all the plans and offers. Also, the way the information is presented is not appropriate; for example, the plan titles are mentioned at the bottom of the table, but the prices are not mentioned there. Hence the users who have scrolled to the middle will again have to scroll to the top in order to see the plan costs. This all may confuse the potential users.
ConceptShare
In contrast to the above give site, TypePad, ConceptShare presents a short but concise and visually appealing pricing chart. When you will look carefully its pricing chart you will find that the fourth row of this table combines two aspects, i.e. users and reviewers in a single row and hence avoids mentioning a fifth unnecessary field. This can be a beautiful example of informative and precise pricing tables.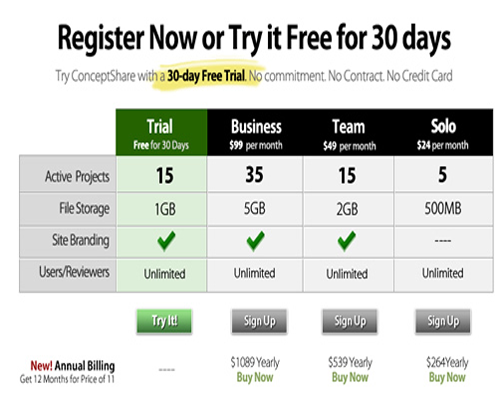 Communicate differences, not similarities
A good practice suggests the designers to focus on the differences among different plans and schemes instead of focusing on displaying similar features available in all plans. It is advisable to display the most distinctive features at the top of the pricing tables and leaving the common features at the bottom of the table. The pricing should be effective and user-friendly which must attempts to make out the differences between several plans instead of focusing on the similarities of the various plans. It should be noted that while going through different plans, the potential customers try to know the differences between different schemes, not the similarity among them. Users try to find out what they will get extra when they will opt another one in place of the previous one.
Design
Design is the most dominating part of any website, it can either let your site to reach on the top or sink it into the depth of the sea. In precise way, you can say that, especially in pricing tables, design is the means which can let you to fulfill your objective and increase you sales. Thus, designers need to be very careful while designing a pricing chart. The designers need to be cautious enough with respect to fonts, headlines, and layout as all these need to be balanced and done neatly. It should be noted that customers don't bother for the things which you are not offering but they bother for the things what you are offering and at what rate, what special discount etc and hence pricing table should be designed in such a manner that it should focus on the different plans, schemes and offers along with the rates and without cluttering the chart with unnecessary elements. Let us see an example as given below:
Rule.fm
Rule.fm is a perfect example of the well designed pricing charts which has made a proper use of design elements in its pricing charts. This site has effectively adapted the chart to their main design and has properly managed the use of design elements neatly and plainly.
Emphasis
It is very mush necessary to emphasizing one specific plan among lot of different plans and makes it as easy as possible for your customers to choose it. It is up to you that how you emphasize the pricing plans whether with the excellent design and creativity such as vivid colors, different backgrounds, badges, frames, huge call to an action buttons or any other means. It should be noted that emphasizing the right one pricing plan can seriously enhance your business and can be incredibly useful from a customer's point of view too. Side by side you should take care of the thing that exaggeration can harm your online business and hence never attempt to emphasize more than one pricing plan with the same style; however, you may use another different style for emphasizing each pricing plan.
Shopify
Look at this website's pricing plan, it has made use of a bigger background graphic and price font size to emphasize their most popular plan. This site is using different backgrounds for each pricing plan though they haven't exaggerated the color scheme. Overall the colors creates a right ambiance on the pricing tables drawing attention of the potential customers towards it.
Be Clear
Most of the designers think that offering more plans opens doors of opportunities for the customers and gives them wider range of choice, but it is not apt. It should be noted that offering various pricing features and plans is not enough to convince the customers; it may be only two or three plans but it must be convincing and appealing to the potential customers otherwise the customers will get confused which in turn can harm your business. A pricing chart should present right pricing plans in a right way.
Sometimes you must have noticed on some of the sites, the pricing tables presented on that site leave you uncertain and confused about what the company is trying to sell. You will find the pricing tables presenting so much enough features by which you will be puzzled and overwhelmed. Therefore it is suggested that there should be maintained a right balance between too much and not enough information. A pricing tables should be precise and clear to the context it is going to present.
Animoto
The pricing tables of this site has implied the minimalist design style with some accents which undoubtedly won't leave you confused. When you will look at the pricing tables, you will find the table offering three pricing plans and each of them is distinct. And not only that, the main features of the plans are listed at the top and followed by more advanced features which are offered only in the pro plan.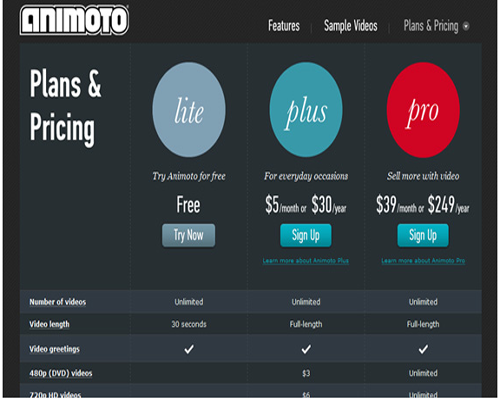 Make the price stand out
Price is the first thing which hits the mind of the user and which he aspires to see when he visits any product or service oriented website. Thus it is advised that the price which you are putting with reference to your product or service must be consistent and standing to the concerned products or services. Also being a designer, you need to make sure that the price which you are providing must have the appropriate weight, both visually and semantically. For bringing effectiveness in the pricing plans, you may sort the pricing plans by price, from highest to lowest or vice versa.
Skype
Teambox
Proposable
Vaultpress
Drupal Gardens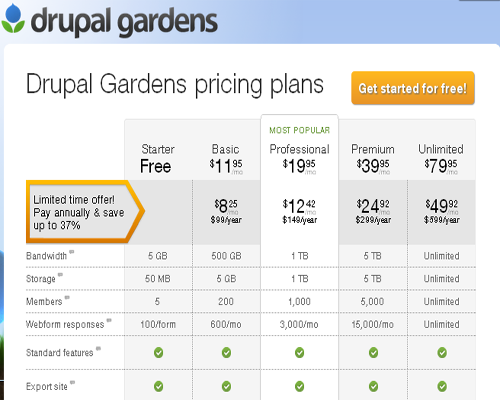 Wufoo
Formstack
Squarespace
Zendesk
Crazyegg
WooThemes
Campaign Monitor
Raven Tools
Typekit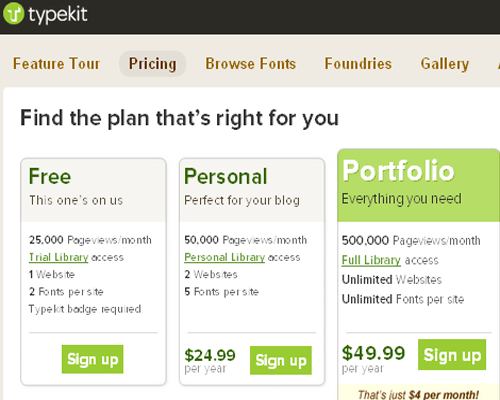 Business Catalyst
Pricing Tables
Please be helpful and show your appreciation in the comment section of this post.
Rinniee Ginsburg is a email template developer and writer at
EmailChopper
. Her technical competency has helped the professionals explore the new techniques in practicing the innovative email development. She has written various articles that accentuate the importance of PSD to Email conversion, smart procedure for responsive email template development & many more. All her writeups have become a source for many professionals and business players to grab the valuable information.