Best Magento Version, Features and Useful Plug-ins
When it comes to design and development of e-commerce websites, Magento comes as the most suitable choice to be opted for. Magento is really ideal for all those who are thinking to develop an e-commerce website and is looking to start selling online. Apart from its various features, it is facilitated with more than 1700 plug-ins for additional functionalities which one can install via the Magento-Connect interface.
Hence, hereby we are going to present an overview on Magento, and its several promising features. Apart from these we are also presenting top twenty Magento plug-in which are used to perform additional functionalities. We hope, you will find these helpful for you.
Introduction to Magento
Magento is an open source based ecommerce web application that was launched on March 31, 2008. It offers great flexibility through its modular architecture and has a wide range of control options that is appreciated by the user. It is very powerful with the help of which one can easily create their products catalog and manage it. One can easily integrate Magento into their Google Analytics account and use all its options to analyze the customer behavior on your website and optimize it for better results.
Magento Versions
Magento is a feature rich e-commerce application which is available in three different versions suiting the needs of all kinds of merchants whether large, intermediate or small. These are: Community, Professional and Enterprise Editions. Among these, Magento Community Edition is available free to download but have limited features. Unlike this, the Professional and Enterprise Editions have more features but do require a yearly license fee.
Magento Community: This version is best suited for expert developers and technical enthusiasts in non-mission critical environments. It is primarily intended for those who are having with sufficient time and resources needed to solve issues independently.
Magento Professional: It is preferred to be used by small businesses working with Magento Solution partner and requiring a warranted product and additional revenue-generating features which are not found in Magento Community.
Magento Enterprise: it is designed for businesses of all sizes looking for a production-ready, enterprise ecommerce solution without any upfront license fees.
Promising Features of Magento
Magento is a feature-rich e-commerce platform built on open-source technology which provides online merchants an unprecedented flexibility and control over the look, content and functionality of their e-commerce store.
Here are some of the most promising features of Magento:
Site Management
• Control multiple websites and stores from one
• Possess administration panel with ability to share as much or as little information as needed
• Multi-lingual, support for localization, support for multiple currencies
Order Management
• One can view, edit and fulfill order from the control panel
• One may create multiple invoices, shipments, credit memos and store credits per order
• Process refunds and print invoices and packing slips
Store Design
• Professional, Industry-specific and upgradeable themes.
• Possess design editor, customizable layered navigation, drag and drop layout customization.
• One may create or upload custom CSS, edit themes with CSS, upload custom logo and images etc.
Language and Currency
• Customizable Shopping Language (English, French, German, Dutch, Spanish).
• Customizable Admin Control Panel (English, French, German, Dutch, Spanish).
• One can translate and edit any word/phrase in their store directly from the store front.
• Set language-specific store themes and language-specific currencies.
Marketing and Promotions
• Newsletter Subscriptions Management
• It features dynamic landing pages, new items promotions tool, promotional widgets and banners etc.
• It does well in promotional activities like custom coupons and discounts, fixed amount discount promotions, percent amount discount promotions, free shipping options etc.
• Search Engine Friendly & fully customizable URLs
• Category, Product and Page-level control of meta data, automatically generated list of popular search terms
• Maintenance Mode with 503 support, support for 301 and 302 redirects
Top 20 Magento Plug-ins
Yoast MetaRobots
It is a useful Magento SEO plug-in that adds MetaRobots tags to Magento pages. This makes easy to prevent indexing of search result pages and tags pages, while still allowing the search engines to follow the links on them. Also, it is helpful to prevent indexing of your login and register pages by adding no-index robots Meta tags.
Remerce CMS Meta Robots
Remerce CMS Meta Robots is another meta tag plug-in for Magento which is used to add the option to set the Robots Meta for CMS pages.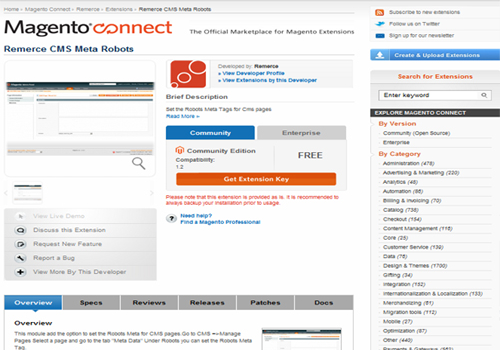 Auto CrossSell Products
Auto CrossSell Products is a well known Magento plug-in which is used to automate the product cross sell maintenance. It automatically sets cross sell products based on customer selections.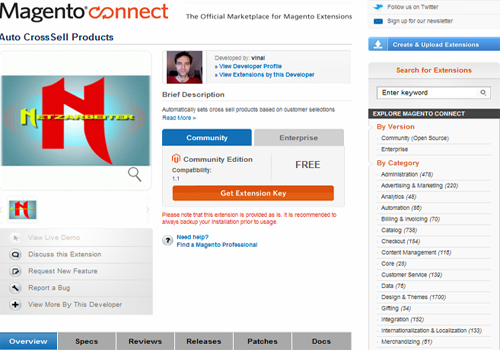 Lazzymonks Twitter
Lazzymonks Twitter is another Magento plug-in which is used to display Twitter updates in the menu and allows updates from within the admin panel.
Product Gallery Importer
Product Gallery Importer is a remarkable Magento plug-in which lets you to import products with multiple product images from a CSV file.
Lazzymonks Google Ads
This is a noteworthy Magento plug-in which add Google Ads Blocks to the bottom of either the left menu, right menu or both.
Fontis WYSIWYG Editor
This plug-in gives you the option to add a JavaScript WYSIWYG editor to specified admin page text areas.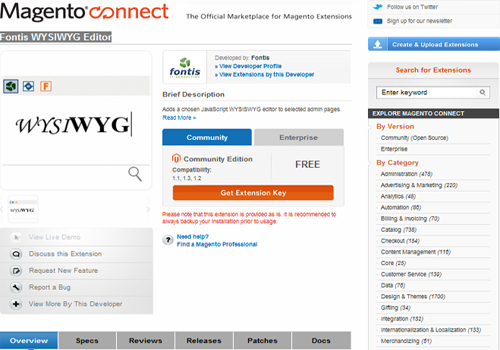 Flagbit Change Attribute Set
As we know, in Magento every product has a fixed attribute set. Inspite of this fact, Flagbit Change Attribute Set Plug-in enables you to switch it.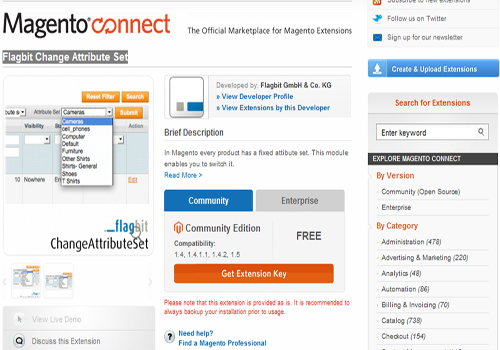 Category admin product tab: edit product link
Category admin product tab is a quite useful plug-in which provides direct link to edit product from category admin.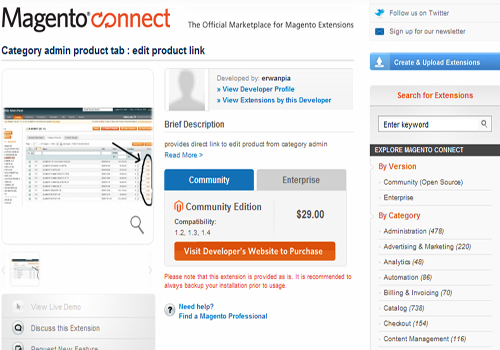 MostViewed module
This plug-in is used to display list of products which are most often viewed by customers.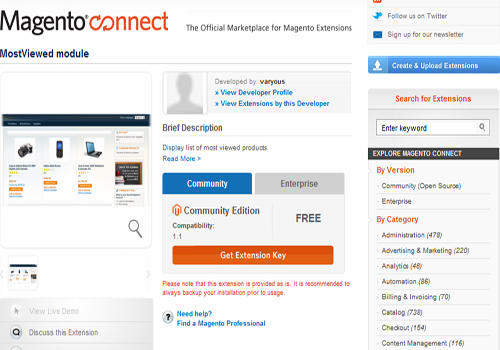 Magento Easy Tabs
Magento Easy Tabs is another Magento extension which are applied to add informational tabs on product page.
Fooman SameOrderInvoiceNumber
It is well known fact that Magento by default keeps separate counts for order and invoice numbers. Fooman SameOrderInvoiceNumber uses the order number as invoice, shipment and credit memo number and ensures that when an invoice, shipment or credit memo is created it uses the related order number.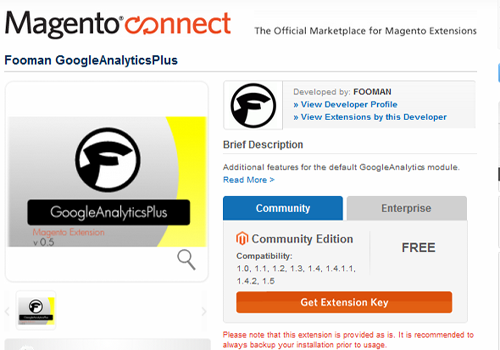 Events Calendar
This plug-in displays an event calendar on your website. As events are stored in the database, you can also display the upcoming list of events quickly by calling a block in your template.
Checkout Newsletter
This Magento extension is used to add 'Sign Up for Newsletter' checkbox onto an Onepage Checkout page.
Fontis SecurePay
This is one of the most important Magento extensions which make the payment process easy. In this plug-in payments are processed through the SecureXML gateway.
J2T Reward Points + Referral program VA
This Magento plug-in collect loyalty points and accumulates points with referral system. It allows the customers do gather points within an order which can be redeemed for discount on purchase.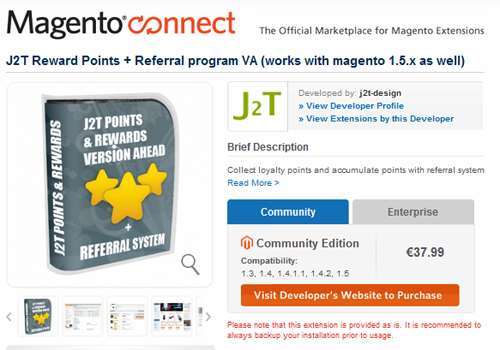 IW PayPal Standard Currencies
This is one of the payment modules which provides customer the flexibility to select any PayPal supported currency as their transaction currency and add new PayPal supported currencies to the PayPal Website Payments Standard payment method in their store's admin panel.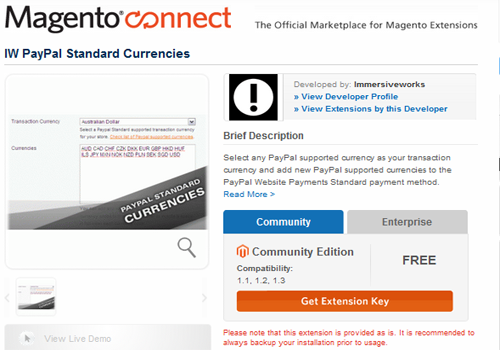 Post Affiliate Pro Connector
Post Affiliate Pro Connector plug-in is a beautiful, full featured, low cost affiliate tracking solution which provides seamless integration with Magento.
Advanced Sitemap
Advanced sitemap is an important Magento Plug-in which shows a list of product from current store.
Fooman GoogleAnalyticsPlus
This plug-in contains additional features for the default GoogleAnalytics module. It tracks every individual page including sections retrieved via AJAX during one-page-checkout.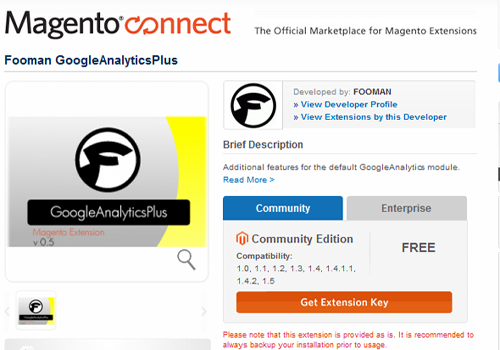 Being a skilled Magento developer, Paul Schroer has been working for quite a few years with
PSDtoMagentoDeveloper
. He endeavors to leverage the clients with the excellent Magento solutions. He has been providing excellent web solutions to help company get renowned position in the industry. His knowledge in Magento enables him to write and post the blogs encompassing valuable information on Magento and its functionality.