Best HTML5 And CSS3 Frameworks You Would Know Ever
These days, all the web designers and web developers prefer to use latest web standards for the web development. If we talk of HTML and CSS, then the latest one is HTML5 and CSS3. HTML5 and CSS3 frameworks are one of the most useful elements which make the job of web developer and web designer easier with structuring and presenting content on the World Wide Web and help them building outstanding websites.
Although, the need of the specific framework depends upon the complexity and functionality requirements of the website, is this not a wise attempt to choose that particular framework which fits all the required solutions. This will be quite appropriate step to choose something extraordinary that offers not only absolutely essential tools, but everything that would allow you to implement your prototype faster, debug quicker and, many others which when taken together must optimize your development time and ultimately improve your productivity. We are presenting this post with the same motive, we are enlisting here top 10+ best HTML5 and CSS3 frameworks for those web designers and developers who wish to dive into the unique experience of web development using HTML5 and CSS3 frameworks.
In this post, our attempt is to maximize the working capacity and efficiency of the web developers with the use of HTML5 and CSS3 frameworks. We are presenting this post with a mission to assist web community and promote better typography. Check out these HTML5 and CSS3 frameworks described as below, implement it in your web development project and earn a native experience. We hope these will prove highly beneficial for you. We would like to know your thoughts what you feel about this post. Please let us know your opinion through your valuable comments.
Perkins HTML5 CSS3 Framework
This is one of the most advantageous HTML5 and CSS3 frameworks which is basically designed for those designers or developers who are having passion for HTML and CSS. It is inbuilt with a number of preloaded basic styles, mixins, helpers, transparent textures and a typeface driven icon set, dynamic grid etc which helps the web developers to make wireframes quickly.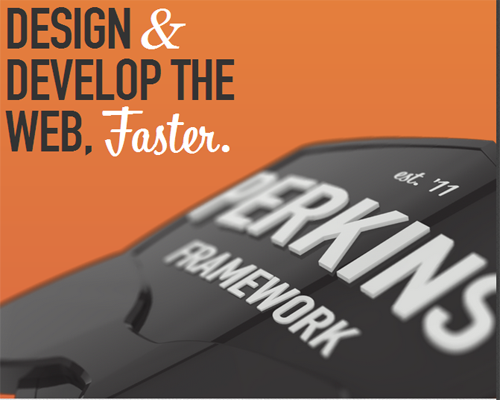 52framework
52framework is an excellent HTML5 and CSS3 framework that contains all the header, nav, section, article, footer tags which are the basic html5 tags along with full documentation for use. It is populated with several promising features like rounded corners, text-shadow, box-shadow, html5 markup, grid system, CSS reset and many others. If anybody wants to dive in HTML5 and CSS3 then it is worth to have a look over this framework.
Lessframework
LessFramework is a CSS grid system framework for building flexible multi-column website layouts and designing adaptive websites. It contains 4 layouts i.e. Default layout, table layout, mobile layout, wide mobile layout etc, and 3 sets of typography presets, all based on a single grid. It contains a ten column grid optimized for a line-height of 24px. It also constitutes a set of typographic presets based on the golden ratio that fit into the grid's vertical rhythm.
G5 HTML5 CSS3 Framework
G5 Framework is an awesome HTML5, CSS3, PHP & jQuery Front End Framework which serves as a starter file for new websites. It is packed with Modernizr 1.6, Eric Meyer's Reset Reloaded, jQuery 1.5.2 with the fallback, CSS3 PIE, CSS3 Buttons, Easy Grid and lot more. This  is available free for personal & commercial use. It is populated with several promising features such as HTML5 baseline, Base CSS, PHP Active Class, Smooth Scroll to Top, HTML5 Placeholder Fallback, Base SEO, Based on an F Layout, Sticky Footer and many more.
JavaScript framework designed for HTML5 apps
Jo is the simple JavaScript framework designed for HTML5 application which helps web developers creating a native-like application experience. Constituted with several HTML5 widgets, it is best for the development of  IOS, Android; web OS, BlackBerry, Chrome OS and any other application. This framework manipulates the DOM by setting CSS className properties which lets you dramatically change not only the look of your application in CSS, but all of the animated bits as well.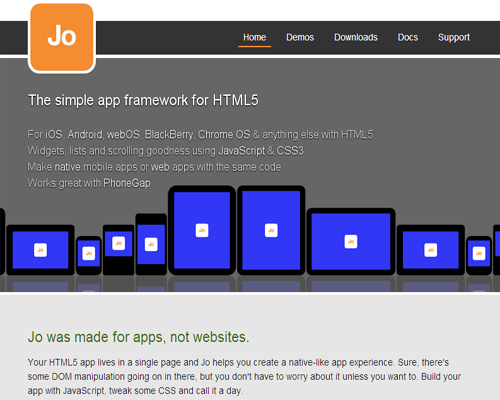 Baseline
Baseline is a nice framework built around the idea of a real baseline grid. It is available free of charge and is designed with a mission to assist web community and promote better typography. It has effectively used the font metrics to line up headlines, paragraphs, form labels and other elements on the page baseline, tending to create a nice fixed layout and aims to be a basic typographic layout and build a simple grid system, including style for HTML forms and new HTML 5 elements.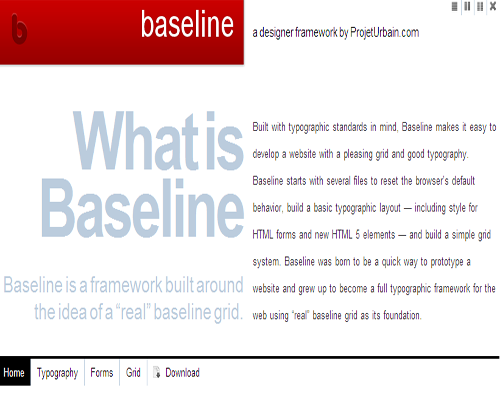 Sproutcore
SproutCore is an open-source framework for building blazingly fast, innovative user experiences on the web. SproutCore apps give you a native experience and leverage you with the latest in web technologies and specifications. It has a clean MVC architecture which keeps your code sensible and organized for easy maintenance. It is another solid HTML5 application framework for developers which assists them in building responsive, desktop-caliber applications in any modern web browser, without plug-ins.
CSS3 Action Framework
CSS3 Action Framework is an awesome CSS3 framework which aims to gather all the best CSS3 effects at one place. This framework offers an excellent layout for developing web sites and provides the web developers a unique experience. It is really worth to be used by web developers while handling their development project.
Sencha Touch
Sencha Touch is a cross-platform framework which is regarded as the world's first application framework built specifically to leverage HTML5, CSS3, and JavaScript for the highest level of power, flexibility, and optimization. Specifically, it uses HTML5 to deliver components like audio and video, as well as a localStorage proxy for saving data offline. Similar to other frameworks, Sencha Touch comes with an incredibly powerful data package and allows you to develop mobile web applications that look and feel native on iPhone, Android, and BlackBerry touch devices and so on. Currently, it is compatible with Apple iOS 3+, Android 2.1+, and BlackBerry 6+ devices and so on and so forth.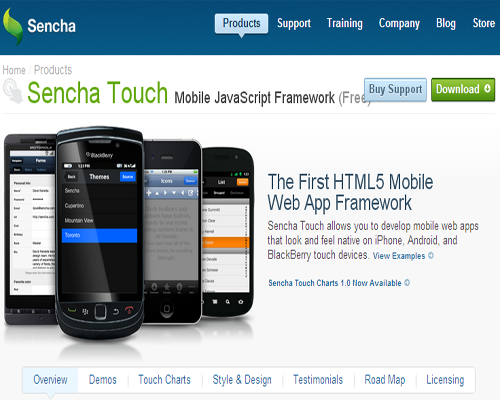 OpenLaszlo
OpenLaszlo is an open source platform and is the only write once, run anywhere rich application development framework which provides flexible layout for the development and delivery of rich Internet applications. It has been updated with its latest release OpenLaszlo 4.0 (OL4) which includes the option of a compilation to DHTML, i.e. Browser-native JavaScript and also handles browser idiosyncrasies.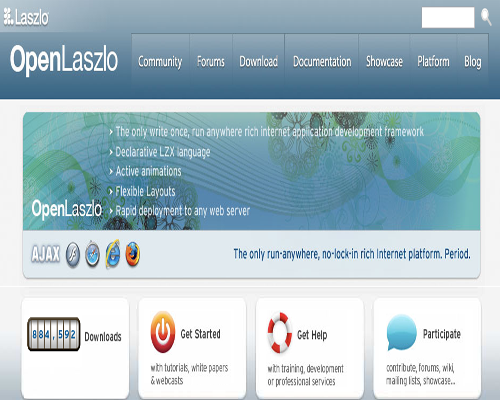 Gridless HTML5 CSS3 Framework
Gridless is a remarkable HTML5 and CSS3 boilerplate for making mobile friendly, cross-browser websites with beautiful typography. It includes several promising features which enable the web developers to make future-proof responsive websites with ease.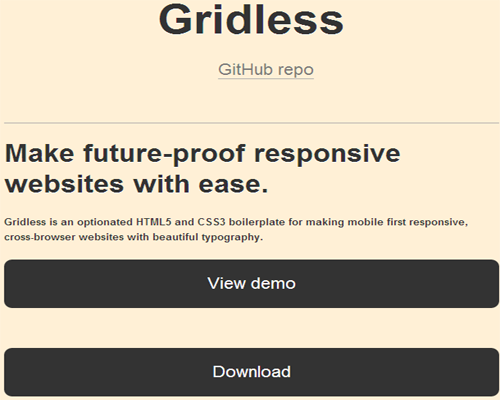 FEM CSS Framework
The FEM CSS Framework is a lightweight framework for CSS which comes as a fixed layout. It is actually based upon 960.gs. It is a flexible and faster medium to work with boxes. It is available with a 12-column grid along with the margin of 10 PX on all sides.
 The Square Grid
The Square Grid is a straightforward and uncomplicated type CSS framework. This is another light in weight framework for CSS that is based upon 35 columns all of the same width. With this framework, one can utilize the various with entire grid width of 994px that is supported by maximum number of computer monitors of present times.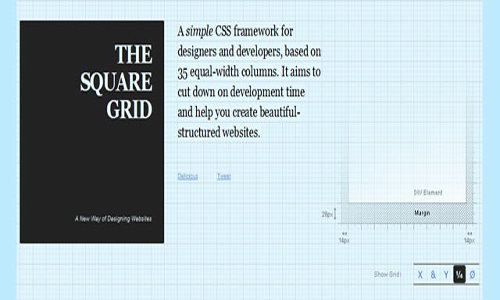 1 line CSS Grid Framework
1-line-css-grid-framework.html, is the challenge of writing entire CSS layout system with one line CSS class.
Atatonic

CSS Framework

The Atatonic CSS Framework is another helpful framework for CSS that works similar to all grid systems. The focus of this framework is on typeface which stresses upon to create a solid and a minimalist base for starting web development of any kind.
Elastic CSS Framework
The Elastic CSS Framework is another very light and simple framework for CSS. This framework is based upon based on the printed design procedure of 4 columns. Along with that it also possesses the quality to provide unlimited but with the capability to offer unlimited column amalgamation. This framework owns the amazing capacity to create various type layouts like elastic, fixed and liquid too.
WebKit
WebKit is another framework for CSS which is designed with file packaging that assists one to craft website compatible with iPod, iPad, and iPhone. This framework comes in an easy to access kit which can be simply operated by anyone. This is a helpful tool among various lightweight frameworks as it is faster in performance, expendable, and compatibly designed.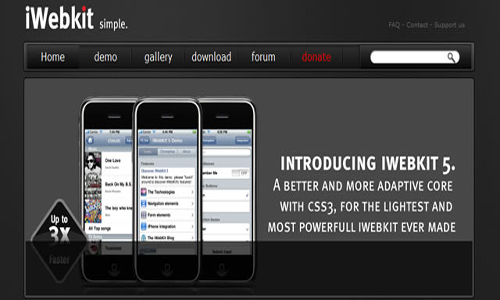 520 Grid System
The 520 Grid System is another helpful framework which has been built to help developers who design pages for Facebook. This comes with 520 PX width and based upon 12 columns and 16 PX gutters.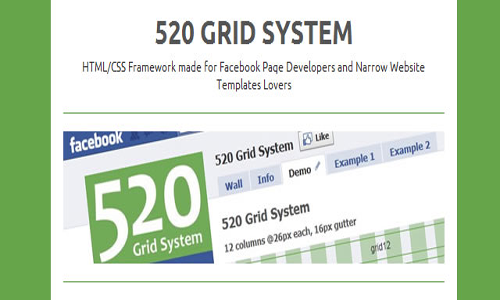 SenCSs
SenCSs or Sensible Standards CSS baseline is a sensible lightweight framework that helps in styling all recurring parts of CSS and do not force any layout system. It helps in completing tasks for baseline, fonts, headers, forms, and other related items on your website.
Tiny Fluid Grid
Tiny Fluid Grid is another CSS framework which light in weight and minimal to store. It comes with an index.html along with the demo code and the grid.css.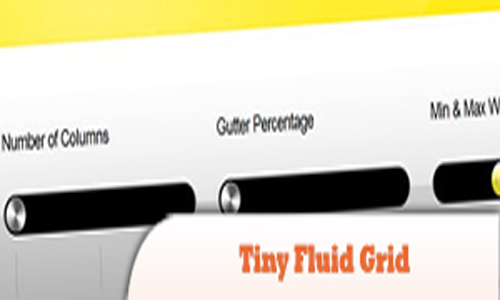 EZ-CSS
EZ-CSS is another useful CSS framework which effectively light and very easy to use and free from the traditional methods of grids and columns. It works well with gutters of all width.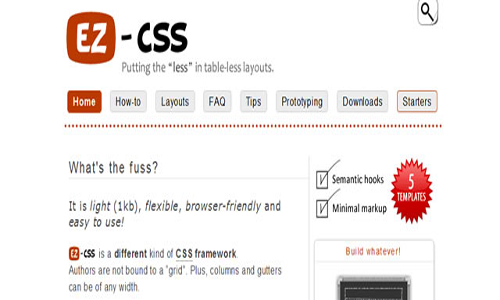 Less Framework 3
The Less Framework 3 is designed to create your default layout to look as normal while using all the additional inline queries into it. By using this framework, you will be able to use the default layout even after media queries along with additional layouts ignored by any browser. The additional layouts will absorb the styles of the default layout in a manner programming becomes very easy.
 The 1140px CSS Grid System/Framework
The 1140px Grid Framework is a helpful CSS framework which has come into existence recently. This is a utility tool that has been designed to successfully design the to fit 1280 pixel screen released 1140px Grid Framework has been designed to fit perfectly with a 1280px screen and also goes along with smaller screen well.
 The 1KB CSS Grid
The 1KB CSS Grid is another helpful framework which minimal, simple, lightweight in its approach to help solving web aspirations.
Instant Blueprint
Instant blue is lightweight and helpful framework that helps the web designers to minimize their workload and maximize their work efficiency.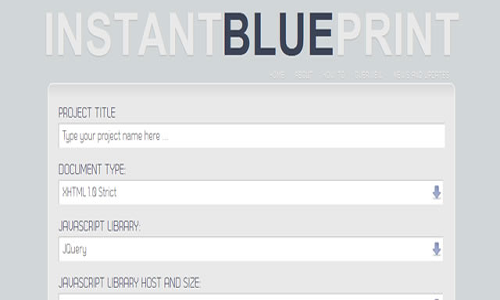 Conclusion
By providing above-mentioned 15 best lightweight frameworks to you, we are attempting to provide help to all web developers so that they can skillfully utilize these frameworks in web development. With the help of light in weight and mini storage CSS frameworks, the designer can maximize his/her performance to develop a website efficiently with endless added features and functionalities. Anyone can utilize these frameworks by simply downloading them from the provided link.
Rinniee Ginsburg is a email template developer and writer at
EmailChopper
. Her technical competency has helped the professionals explore the new techniques in practicing the innovative email development. She has written various articles that accentuate the importance of PSD to Email conversion, smart procedure for responsive email template development & many more. All her writeups have become a source for many professionals and business players to grab the valuable information.