Best Word Cloud Generator and Free Tag Cloud Generator Online
This post is an informative helping capsule for everyone who is looking for the best and free word cloud generators and tag cloud generators. Here I am providing you the basic knowledge of the concept incorporation with a list of free online word cloud and tag cloud generator. You can instantly use these services by simply clicking on the source button provided with each tag cloud generator.
Gone are the days when the written notes or posts were used to be the mode to get the information. This mode has changed with a much faster and interactive fashion. The latest trend among the designing geniuses is 'Word Cloud'. The working of 'word cloud' is even more interesting than its name. A word cloud could be thought of as a jar full of words or specifically the keywords of your text. These keywords are pictured in the word cloud according to their significance and the frequency of repetition in the text. For example : below is a word cloud which is representing the country's with the highest population
It is clearly visible from this word cloud that China has the highest population followed by India, United States and more. These word clouds are an easy and fast way to study the data. They save the viewer from the hassle of studying boring data figures and statistics. Web sites, blogs and articles are on the high traffic to use these word clouds to attract the viewers.
Are you too looking for the word clouds for your own but not finding the step to create one? Here I am with this post on "Best Word Cloud Generator and Free Tag Cloud Generator Online". To provide you the way to design a word cloud; below is the list of best and free word cloud generators.
Wordle
Wordle is a free word cloud generator that allows you to make an amazing Tag cloud in just a few minutes. It facilitates you to customize the words with a genre of fonts, colors, designs and Layouts. You can even share your work to the world with the aid of Wordle gallery.

TagCloud Generator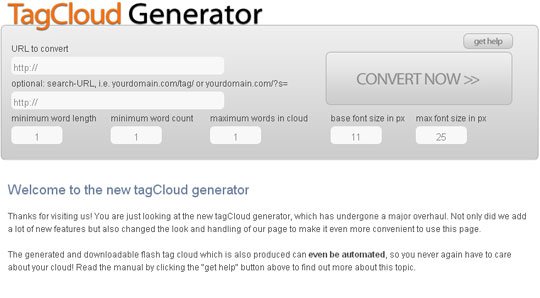 Tag Cloud Generator is another impressive tool to create a word cloud without paying even a single penny. This word cloud builder is very easy to use; you just have to paste the URL of your source page to get the result in a few seconds.

ImageChef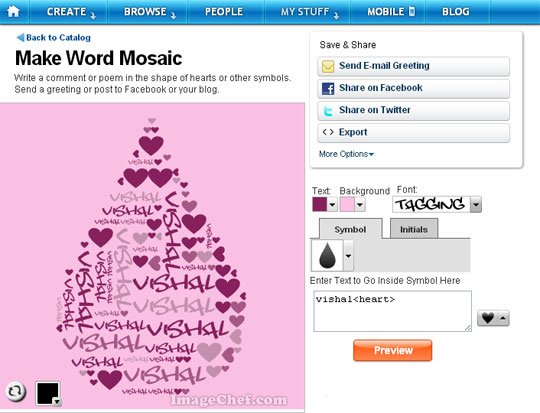 ImageChef is one of the best word cloud generator that I would seriously recommend for. Besides with its easy user interface and cost-free use; this amazing word generator provides you a lot of customizable features like shape changer, color changer, background changer, font changer and a lot more.

Word Cloud for Kids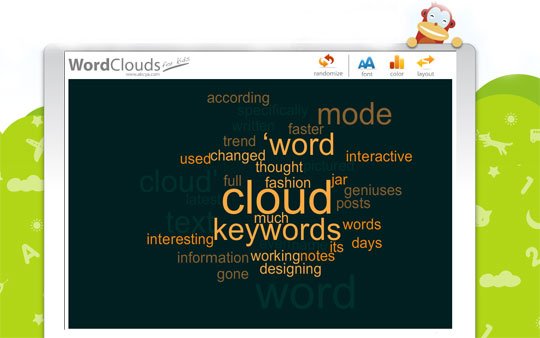 Word Cloud for Kids is a notable tool to create a word cloud. This is absolutely free of cost and can be used for any count of words. This tool also facilitates the user to customize the layout design and background specifications of the tag cloud.

Word It Out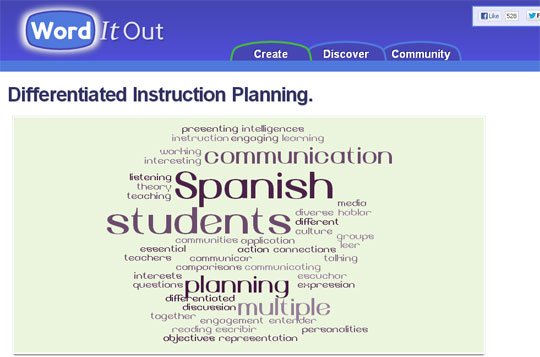 Word it out is an innovative word cloud generator tool of creating word clouds from your text. You can use the results directly on your T-shirt designing and cup designing softwares.

Tagxedo
Tagxedo is a renowned name in the category of word cloud generators. A lot of designing studios are using this free generator for T-shirt, bags, mug, letters and cards designing. It facilitates the user to create a word cloud of his Facebook or Twitter account.

TagCrowd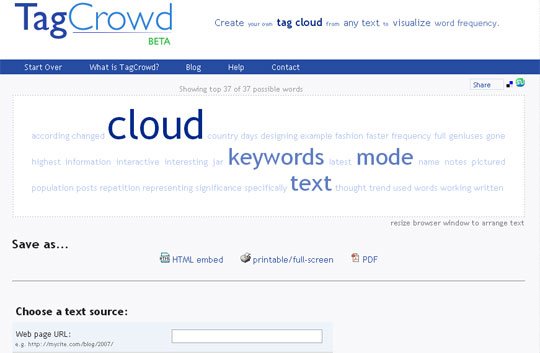 TagCrowd is a simple yet effective word cloud generator tool. It is absolutely free of cost and can generate the result in a very short period of time.

I hope that after this post of mine on "Best Word Cloud Generator and Tag Cloud Generator "; you could create a word cloud easily. Please let me know about your experience; you are also welcome to share your work with us. I will appreciate your reviews and comments about my post.
As the most experienced developer of
CSSChopper - PSD to HTML Conversion Company
, David Meyer firmly believes in building the new ways that lead the people towards success. He focuses on an ideal approach and tries to deliver the perfect services close to the defined needs.