Best Free Online CSS Editors: Key behind Web Designer's or Web Developer's Success
Most of the web designers or web developers think online CSS editor as their key of success in the website development process. CSS, which stands for cascading style sheet, has now become the first choice of designers for creating a website in a more attractive and beautiful manner. As time is passing day by day, technology is also getting advanced.
Remember those days, when developers used to write their code in notepad and then run it into browser; although it is still continued, these days few developers also write their code in notepad, but it has been replaced by several new technologies among which CSS editors are one. These days new development which you also must have noticed is the emergence of online CSS editors.
Nowadays there are multiple online CSS editors that allow you to change and edit your CSS code online without paying any charge for that. Thus, if you are a web developer and is looking forward to write or edit your CSS code online, then you must come across internet. There are number of online CSS Editors available which are highly appreciable, to be used by web developers, due to their simplicity and capability they offer. Today, in this post, we are enlisting some free online CSS editors for designers so that they can carry on their task without facing any obstacles while their course of website designing.
We have gone through a deep research of various sites and then collected some of the CSS editors which are marked as the best by the field experts or professionals. These Online CSS editors will really help designers to make their work easy and effective and will provide them an excellent environment where they can put their CSS code and change the code or view it while on internet. So, now get ready to have a look on resources compilation of these free online CSS editors which are primarily intended for web designers. We hope you will certainly enjoy this collection. Please let us know your opinion on this post by dropping a comment.
CSS Type Set
CSS type set is the most popular online CSS Editor which provides a text box where you can enter your text. You may also change the color, fonts, size and grab your CSS code from right side of the text box. It is a renowned name among the designers.
Typetester
Typetester is another online CSS editor which provides you a text box where you can put your matter and change the color, font style, size according to your requirement by changing tool and collect your CSS code.
CSSED – "A GTK-2 CSS Editor"
CSSED is a small developer editor and validator, which features syntax highlighting, syntax validation, MDI notebook based interface, quick CSS properties and values insertion, auto-completion and dialog-based insertion of CSS complex values and tries to ease the CSS editing. It provides support for XML, JavaScript, Java, PHP, JSP, C, C++, Apache configuration files, Python, Perl, SQL, SH and other languages so it can serve quite well as multi-purpose editor.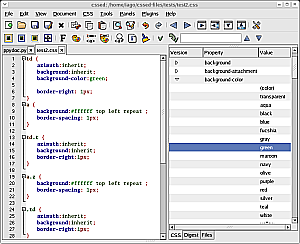 Iconico
Iconico is very powerful and very quick CSS generator which allows you to paste your code so that you can edit as well as view your code which you have made changes.
Drawter
Drawter is an amazing online CSS Editor which provides you a screen with scales which lets you to draw some drawing on it.
CSSMate
CSS mate a very famous online CSS code editor which allows you carrying on multiple activities such as writing text, changing font's style, color, text color, border and list and so on.
YAML
YAML is an excellent tool which facilitates you with an XHTML/CSS compatible framework for modern floated layouts. You may use this tool for creating multifunctional layout.
Simple CSS
Simple CSS is the most sophisticated online CSS Editor which allows you to easily create cascading style sheets from scratch, and modify existing ones, using a familiar point-and-click interface. With the help of this you can manage multiple CSS projects and import your existing style sheets. It is well compatible with Mac, Windows and Linux.
CSS Portal
CSS Portal is a really very useful editor CSS editor which provides you a text box where you can put your CSS code and get the changes done as per your requirement. It also possesses a CSS validator which helps you to understand the error generated from the code.
CSS Frame Generator
CSS Frame Generator is a remarkable online CSS editor which allows putting your XHTML code into and CSS frame generator the CSS frame layout. It's quite easy to use for novice users or biginners.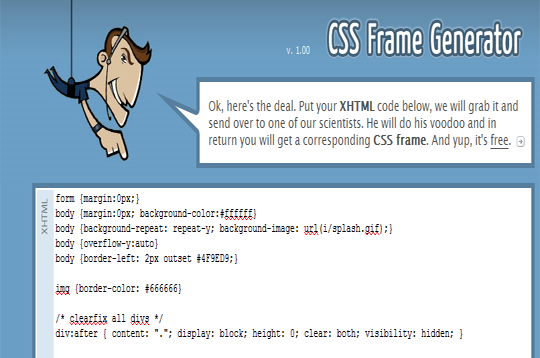 TS Webeditor (tswebeditor)
TS WebEditor is an online editor for HTML, PHP, Perl, JavaScript, CSS and many other languages and is well facilitated with the code hint for functions, code completion (PHP, JavaScript, ASP, HTML), code browser, PHP debugger and syntax validation, help, CSS wizard, HTML tag editor, HTML syntax validation, and an easy to use SQL Designer.

A Style CSS Editor
Astyle is a visual CSS editor which has a visual easy-to-use interface. It has a graphic tree-type view of attachment files and the CSS structure. It features automatic selection and grouping of CSS selectors from a markup language document; Source CSS, HTML, XML highlight code editor; active preview of current selectors and documents with IE and Mozilla support and much more than that.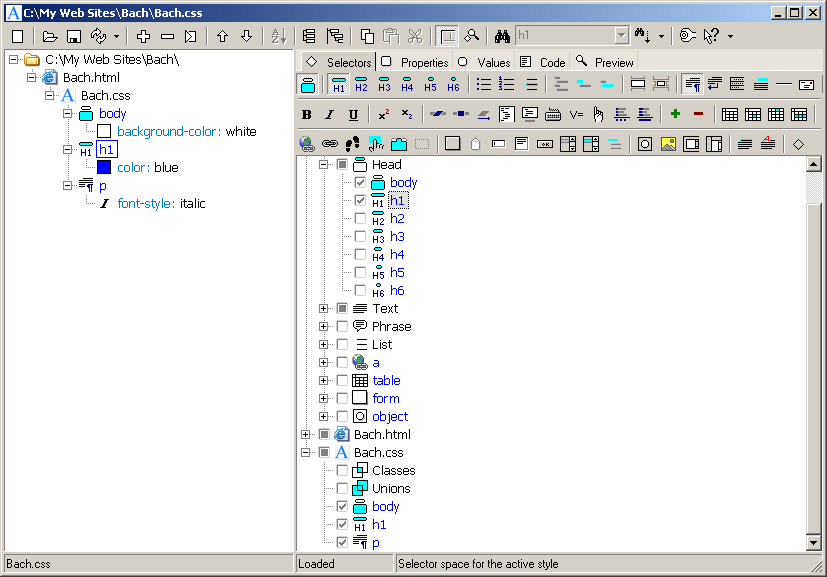 JustStyle CSS Editor
JustStyle CSS Editor is a cross-platform application which is written entirely in Java, and works on different platforms, such as Microsoft Windows, IBM OS/2, Linux, Apple Mac OS, Mac OS X and others. It provides specialized style sheets development environment, featuring everything needed to develop and deploy cascade style sheets.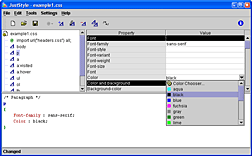 CleanCSS
CSS clean is very useful CSS formatter which provides you a test box for CSS code and check box for change the functionality of CSS code and helps you to make your CSS code in clean and understandable.
As the most experienced developer of
CSSChopper - PSD to HTML Conversion Company
, David Meyer firmly believes in building the new ways that lead the people towards success. He focuses on an ideal approach and tries to deliver the perfect services close to the defined needs.