Best Collection of Most Unusual Photos Google Earth Finds
Columbus and Magellan had very rough experience of exploration but these days exploration of whole planets and canyons of ocean is just like an armchair activity. Thanks to high-resolution satellite images and tools like Google Earth which make difficult things like exploration possible and easy for anyone over World Wide Web. Google Earth and Google Maps give you wings to fly anywhere on the Earth to see satellite images, online maps, terrain, 3D buildings ranging from outer space galaxies to the ocean canyons. All you need is an Internet connection to explore entire globe.
When we think about Google maps and Google Earth, the things that come to our mind first are online maps, satellite images and terrain mapping of geographical locations, driving directions etc. Have you ever thought and wondered about the other side of Google maps and Google Earth apart from mapping the weather and other things. Think differently. Google Maps and Google Earth have lots of weird things that can amaze you. There are just many ordinary but really unusual things that you cannot think of.
In this post of Webgranth, we have put together the best collection of the most unusual photos discovered via Google maps and Google Earth. Here is some interesting and amazing but unusual, or unexplained to mesmerize you from the whole planet right for you from the comfort of your computer or PCs. Enjoy and feel free to share.
Will
U

Marry Me

This is an image of Marriage proposal seen on the top of a roof via Google Maps.

SOURCE
Atlantis Found?
These might be the ruins of the lost continent of Atlantis but eager explorers and observers thought it something interesting. They found an area appeared to be similar in size of Whales making a large grid like shape an impressive feat of ancient urban planning. Later, Google Earth engineers announced that grid pattern was nothing but a digital artifact created by sonar boats collecting mapping data.

SOURCE
Google Escher Effect – Paris, France
An arrangement of satellite pix and aero pics of cities together resulted in a situation where different aerial vantage points resulted in buildings' pictures taken from different angles. After stitching them together, it seems like taller buildings at the edges of each picture leaning toward or away from each other at pronounced angles.

SOURCE
Firefox Crop Circles
This is a giant logo of Mozilla Firefox widely used web browser created by the Oregon State University Linux Users group in the form of Firefox crop circle sprouted in a cornfield in Oregon in the year 2006 which is spanning more than 45,000 sq. ft. The Firefox crop circle has been created simply to celebrate the Web browser's 50 millionth download.

SOURCE
Mystery Stone Arrow
This is a strange pointing-style arrow created by arranging piles of stones near Sebago Lake in Cumberland County, Maine.

SOURCE
Secret Swastika
In 2007, Google Earth spotted four unconnected buildings on the base build by builders on the Coronado Naval Amphibious Base in San Diego forming an unfortunate shape which looks like a swastika.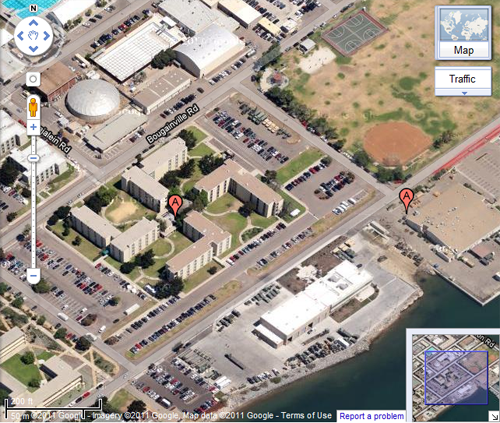 SOURCE
Unusual Crop Circle
This is an amazing but unusual photo of a crop circle in the desert outside Beatty, Nevada spotted by Google Earth.
A Face in the Clay
It is an unusual thing looks disconcertingly but natural like a face into the clay in Alberta, Canada. This is an uncanny resemblance formed accidentally what looks like a human face and human head wearing a full Native American headdress and earphones when viewed in Google Maps.

SOURCE
Iraq's Bloody Lake
This is a blood-red lake outside Iraq's Sadr City spotted in satellite image from Google Earth. In fact, it's the blood dumped into the canals by slaughterhouses in Iraq but when viewed with images it looks like red color coming from sewage.

SOURCE
Airplane Graveyard
This more likely looks like Airplane Graveyard but in really, it is an e Davis-Monthan Air Force Base outside Tuscon, Ariz where more than 4,000 military aircraft and planes are parked at the base.

SOURCE
Carved Swastika in Sand
An unsettling image of a Swastika carved in the sand of New Mexico.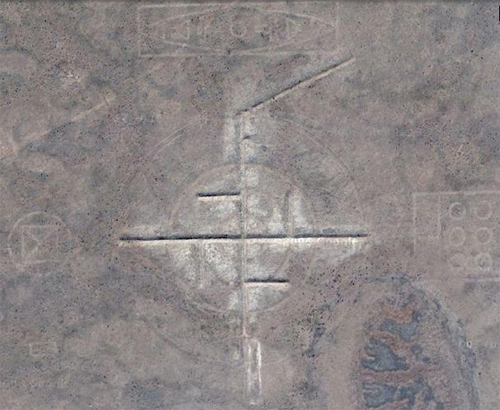 SOURCE
Man Shaped Lake Illusion
This is a really amazing Google Earth discovery where you can see a man shaped lake in Sao Paulo state, Brazil

SOURCE
Guitar-Shaped Mansion
This is a stunning huge estate into the shape of a gigantic guitar when viewed in Google Earth in Alabama.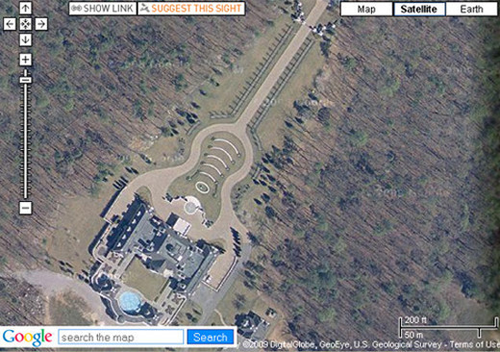 SOURCE
Heart-shaped Island
It is 130,000 square yard islet of Galesnjak perfectly heart-shaped island ideal spot for a romantic Valentine's Day break.

SOURCE
Face of Devil
An image of the Devil that can be seen clearly when viewed in Google Earth in satellite pictures of woodland near America's deeply religious city of Atlanta, Georgia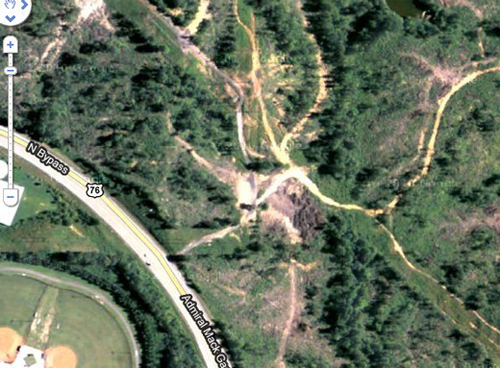 SOURCE
Christiana McGee loves development and possesses specialization in converting Sketch to HTML. Associated with
CSSChopper - Sketch to HTML Company
, she constantly strives to serve the best, fastest and innovative solutions in a stre