Best Collection of Handy Tools Extremely Time-Savers for Developers And Designers
Whether it's a web design, creating vector images, custom logo designs, format or optimize CSS code, generate patterns, create preloaders, contact web form, checking website's browser compatibility - nothing can be useful rather than extremely powerful tools that help developer and designers to streamline overall work process. It's always nice to have easy-to-use tools that can be used to make designer and developers job easier and save thousands of hours.
Designing and developing a website requires lots of solid knowledge, considerable experience, creative mind and time of professionals. Using time saving tools, one can easily improve the quality and accuracy of development and designing work. Over the internet, there are hundreds and thousands of tools are available for web developers and web designers that make their lives much easier and simpler.
It quite difficult and time consuming for developers and designers to create everything from hand and here, useful online tools come into real picture. In modern era, every professional prefer to take help from powerful online tools and application to make their work more simpler.In this post of Web Granth, we have put together a best collection of some really powerful tools stand as time-savers for developer and designers saving their precious development and designing hours. Check out the outstanding useful and handy tools that streamline your work process by increasing productivity and improving workflow. We hope you will really find these powerful tools interesting and useful.
Useful Tools for Developers & Designers
This collection of powerful tools mainly include color scheme inspiration, online applications for Icons, CSS, Fonts, Browser testing compliance with standards, testing load, browser support, preloaders, code generators and so on. Every designer and developer should bookmark these extremely useful tools to save their precious time.
Contact Form Generator is an amazing tool for free Website Contact Form Generator utility which allow you to make a form-to-email scripts for websites based on ASP, PHP or Perl. The best part is that one can use this powerful Contact Form Generator without any programming skills. You need to follow some simple steps to get started straightaway.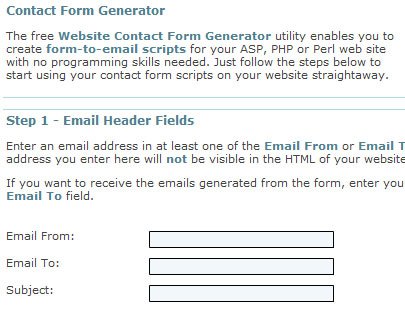 Powerful application Wufoo is a great HTML form builder that allows anyone to create different variety of forms such as contact forms, web surveys, invitations, quizzes and planners. Interestingly, you can even use different pre-designed templates already available there to get started with your forms that can be customize later as per individualistic requirement.
CSS Type Set Generator is an amazing hands-on typography tool that enables designers and developers to test the website text and style web content in CSS with great ease. Simply enter text and view the CSS codes simultaneously. Interestingly, you can even customize text with available font style, sizes and colors. Above all, you can also style your text with options like bold, italics, underline and different alignments.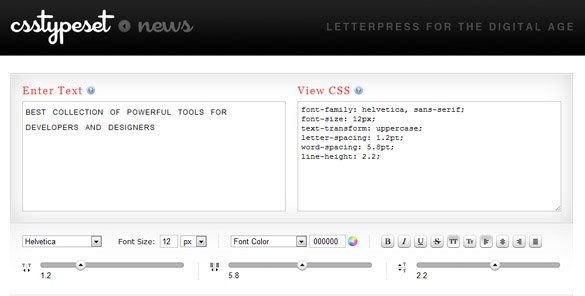 CSS Compressor is a perfect option to compress CSS for increasing the overall loading speed of a website and most importantly, save bandwidth as well. It offers you three levels of compression to choose from depending on easy-to-read compressed CSS Versus degree of compression. For greater customization, one should switch to Advanced mode. Simply insert CSS codes in the given space and select "Compress-It" option.
CSS Button & Text Field Generator
CSS Button & Text Field Generator is very helpful tool used by thousands of developers and designers when it comes to create buttons and text fields for a web portal.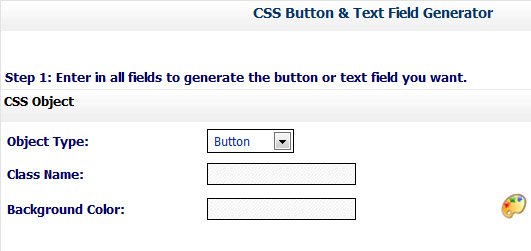 ScrnShots, an easy way to take, tag and upload screenshots of web and screen based interesting design exactly right from your desktop. Create an account to upload unlimited screenshots and tag screenshots for easy retrieval. Here, you can also search screenshots by simply typing related keywords you are looking for to check out existing screenshots just for inspiration.
Pixastic is a complete JavaScript library where you can create different variety of operations, filters and fancy effects on images just by using JavaScript. Here, Pixastic offers you a wide range of fancy effects including desaturation/greyscale, invert, flipping, brightness/contrast adjustment, hue/saturation, emboss, blur, and many more. Check out its Pixastic Beta Photo Editor – an amazing tool to edit images quickly and easily.
Generate amazing preloaders with a powerful online animated gif Preloader tool with great ease. This amazing preloader generator allows you to create preloaders online in just few seconds. Here, you will find wide variety of preloaders category to be choose from. Simply select your preloader from available choices and further customize it by choosing the background color and foreground color. Interestingly, this tool backed with amazing other options such as transparent background, reverse animation, animation speed, preloader size etc.
The most popular Pixlr is one-of-its-kind powerful photo editing software (http://pixlr.com/editor/) application available free of cost. In the web design era, most of the designers consider Pixlr tool perfect substitute to Adobe Photoshop. Pixlr allow designers to do their daily basis editing work with great ease. Here, you get filters and adjustments, layers, wide variety of tools, custom brushes and lots more.
This is the best website where you can easily browser through wide collection of fonts sorted out by alphabetical listing, by themes, by author or by popularity. Most importantly, you can upload and download fonts from the Dafont website free of cost.
COLOURlovers™ is a useful resource especially for web designers. It is a creative platform for color lovers where people are use to share and create color, palettes and patterns. Here, you can found lots of useful articles about latest color trends, millions of color names, hundreds of thousands of color palettes and patterns.
Iconfinder is a popular icon website among web developers and web designers where one can find high quality icons easily and efficiently. You can get best collection of beautiful icons simply by typing keyword into the search box.
ConvertIcon is an amazing free online service for simple icon utility that facilitates you to upload an image in any formats such as ICO, PNG, GIF, JPEG  and export them to high-quality PNG or ICO files.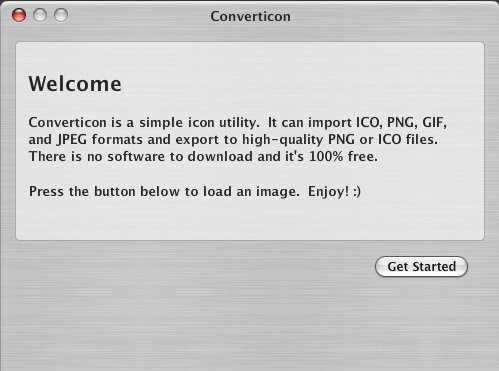 It is a great tool where you can decode or encode the text by simply typing text and pressing "Decode" or "Encode" button. Read a brief explanation of the process of HTML encoding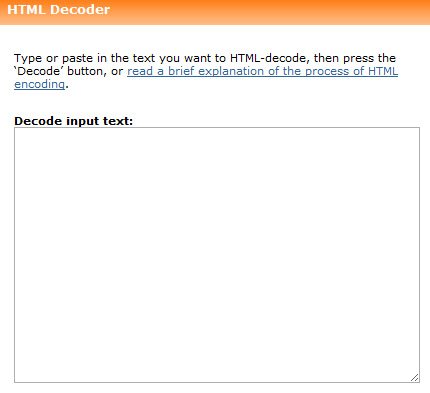 Font Burner is the most easiest option through which one can add fonts to a web portal. Here, you can find out over 1000 high quality web safe fonts to choose from for your website. Simply copy and paste the code to add the font on your web pages.
FontStruct – a free font-building tool to create fonts quickly and easily designed of geometrical shapes and arranged in a grid pattern such as tiles or bricks. FontStruct capable to generates high-quality ready-to-use TrueType fonts in any Mac or Windows application.
CSS Tidy
CSS Tidy is a free online tool that allows you to optimize CSS code of a website with great ease. This powerful application automatically detects redundant styles and other CSS codes problem easily.
Open source web form generator – Web Form Factory is a great option for creating backend codes automatically to tie web form to a database and hereby, save your precious time as well.
An open source BrowserShots is a powerful online service available as a free frequently used to create web page screenshots available over internet. Interestingly, relevant versions of web browsers – Firefox, Opera, IE and Safari, Dillo, Epiphany, Flock, Galeon, Konqueror, Seamonkey etc. and Operating System: Linux, Windows, Mac OS and BSD are available there to choose from.
Crossbrowsertesting (free/commerical)
CrossBrowserTesting.com is a powerful yet affordable browser testing service used to check website's cross browser compatibility in minutes across different browsers and operating systems. It is available as a  both commercial service as well as free service.
Firebug is one of the most popular and powerful web development tool used majorly by hundreds of thousands web developers in their daily project work to edit, debug, and monitor set of CSS, HTML, and JavaScript before a web page go live. Developer cannot imagine their live with Firebug. It acts as a helping hand for them and make their job bit easier.
House of Button is a best resource especially for designers where they can find an amazing collection of various great UI buttons. In fact, it works as a fresh source of inspiration for creative people looking for buttons. Interestingly, everybody is welcome for submissions of great buttons.
Historious is an amazing website that help you to bookmark websites just by a single click and hereby, save your precious time. All you need to do is simply bookmark your favourite websites with a single click and then come to Historious and find website by simply entering a few keywords.
A/B calculator is one of the most powerful tools used for A/B testing (split testing) and data-driven business to compare several versions of a web page.  A/B Test Calculator helps you to calculator how effective your web pages are for your audience.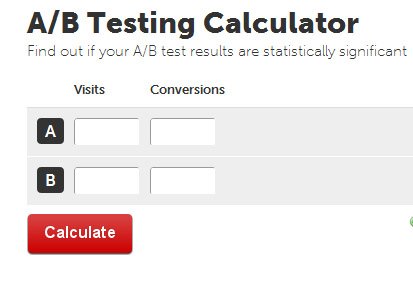 CodeBurner: Reference Tool for Web Developers
CodeBurner is an amazing web developers' tool that allow them to make useful reference for HTML and CSS codes well integrated with popular development environments. To get started with CodeBurner, you need to install the tool and type an HTML element or CSS property in the Search field or click an item on the webpage to view browser compatibility info, syntax, code samples and more!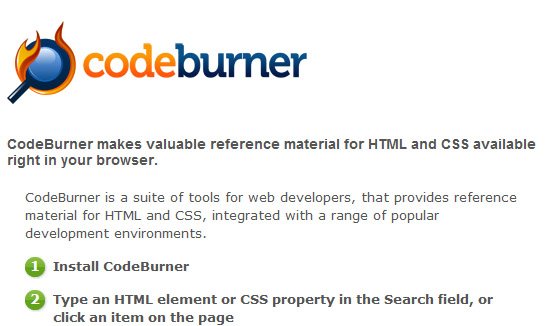 Further Resource
35 Extremely Useful Free Online Tools for Web Developers and Designer
http://www.tripwiremagazine.com/2009/07/35-extremely-useful-free-online-tools-for-web-developers-and-designer.html
19 Popular CSS Tools For Web Developers and Designers
http://pelfusion.com/tools/19-popular-css-tools-for-web-developers-and-designers/
50 Powerful Time-Savers For Web Designers
http://www.smashingmagazine.com/2010/10/19/50-powerful-time-savers-for-designers/
Web 2.0 button generators for beginners
http://www.84bytes.com/2008/08/19/web-20-design-generators-for-developers/
Rinniee Ginsburg is a email template developer and writer at
EmailChopper
. Her technical competency has helped the professionals explore the new techniques in practicing the innovative email development. She has written various articles that accentuate the importance of PSD to Email conversion, smart procedure for responsive email template development & many more. All her writeups have become a source for many professionals and business players to grab the valuable information.