Designing Effective Help Pages is an excellent means to respect every user efforts whether new or repeated user; but if it comes to the new potential users, it becomes immense important as the novice users require more guidelines and information about the website to operate them in an excellent manner.
Help pages makes the visitors to stay for a long as compared to average as it provides enough instruction and guidelines for them to complete their tasks and get familiar with the site. Most often you have seen help pages in almost every websites, each one presenting different ways to assist its users. The overall effectiveness of a help page wholly depends on the website's design; as rich the help page designs will along with quality content, as effective it will prove for visitors.
We are presenting this post with the aim to disclose some of the useful approaches for designing effective help pages. We will explain each and everything along with examples which will inspire you to work effectively. So have a look over undermentioned approaches:
What Is a Help System?
Most often while visiting number of sites, we go through several frequent terms such as "Help," "Support," "FAQ," "Docs," "Knowledge Base," etc, all these terms are associated with "Help Page" which are primarily intended to provide special assistance to users. Actually "Help Section" is the most important element of a web page, without which a website seems incomplete. It should be noted that "Help Pages" must be at such a convenient position on any website, where users frequently visits and seeks for assistance. Help pages are critical factor behind any website's success because these are the last options for users on any website before they decide to give up and move on to another website hoping to get fulfilled their requirements on the another sites. Thus, help pages plays a crucial role in retaining your site visitors.
Help Page Features
As we have already mentioned above, that different websites have different ways to present their help pages. And thus each site's he;p sections differs from another one with some individual characteristics. Still, every help pages have some features in common; in other words some common features should present in almost all web pages as shown below:
The help pages must be clear and illustrative.
The help pages should have a short, descriptive explanation of each topic that can be read quickly and that can guide users what step they should next next. This is because, usually confused users come to help pages and thus they seek for quick assistance and are not inclined to read long blocks of text.
Help pages following good scanning aids such as bolding keywords can increase readability.
In addition to the above mentioned features, there are also some other attributes which deserve consideration. So, get ready to review them:
Accessibility
It is well known fact that accessibility is one of the most important aspects of any web page, but when it comes to "Help Page", it becomes more critical to the users. It is advisable to keep Help pages simple and sophisticated and quickly accessible so that the users must have straightforward experience.
Traffik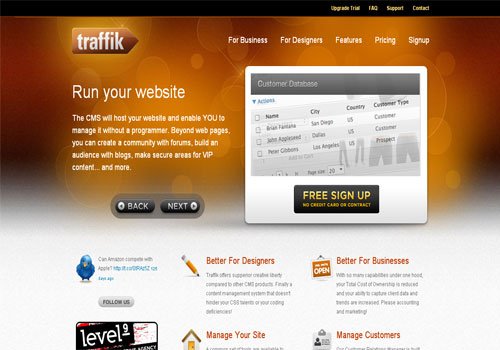 Traffik presents clear links on a plain background to increase readability and in this way offers easy accessibility to its site visitors.

ProWorkflow
ProWorkflow is another great website which places a direct link to its support page in their primary navigation bar assisting users to access everything in easy manner.

Categorization
The another important aspect of Help Pages is to categorization of the contents. The help page having lots of contents should be carefully structured by topic in order to prevent confusion. It is advisable to keep small number of main categories, each of which can have sub-categories. One can use icons to increase visual effects and add life to the page.
ProWorkflow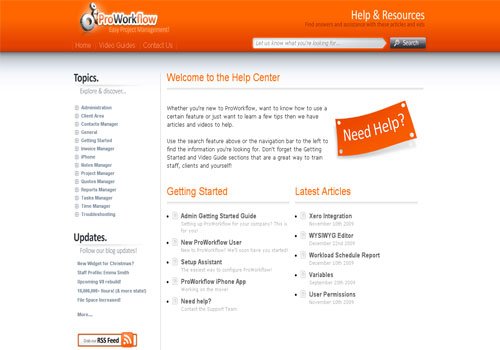 ProWorkflow well organizes its help content into several categories, each containing sub-categories as shown below. It's help center is brilliant, like its products! The topics are well categorized and cover all areas users might need help on.

Hostway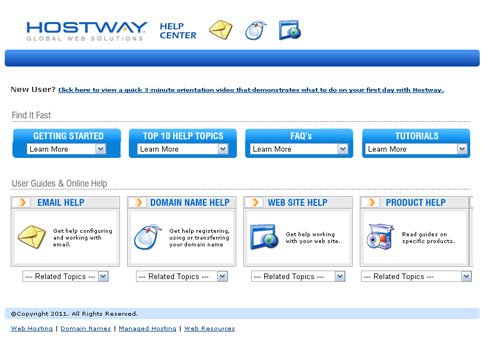 Hostway is another example of classification with its brilliant help center. It has well well categorized and covered all areas users might need help on.

Searchable Content
Adding Search box or providing the facility of search results extensively upgrade the quality and effectiveness of a Help Page. Search results displaying all sorts of the information about a topic at a glance assist the users to get the results as per their wish. Usually search box are found on the web page displaying the contents, but providing it in the help sections and not the rest of the website can be highly useful to the visitors preventing them from overwhelming or confusing. Look at the examples given below:
Google
Google's help center has section-specific search, each one appropriately labeled with "Search Help," to indicate that users are going through the help center.

Storenvy
Storenvy offers an excellent "Search Support" constituting with useful search feature, i.e. well positioned and well labeled.

Link to Other Resources
Most of the times it happens that users end up in the wrong place or can't find what they're looking for; in such a scenario providing them with other useful options, like other help topics, a forum and so on via relevant hyperlinks can prove highly useful. It should be remembered that the usefulness of such links depends upon their location, i.e. how much visible they are to the users.
ThinkGeek
ThinkGeek lists almost every other place a user might want to go putting them in the right place and with a good heading.

Yahoo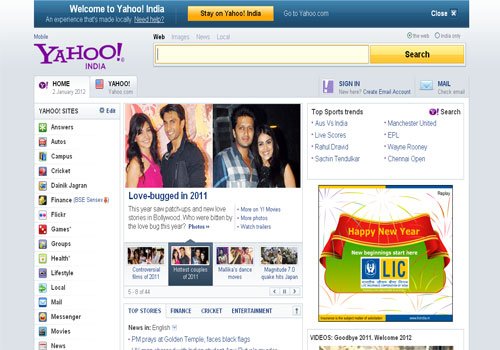 Yahoo is a well known site, often known as, Web Giant, that organizes links under informative headings, which are helpful to the users.

Contact Information
The another important way to make the help section more convenient to the users is by putting contact information in the right place and in the right order. Generally, you have noticed contact information appearance on the home page of any website but putting it on the help page is also not a bad idea for fallback in case the user can't find what they're looking for.
There is no benefit of putting the contact information if users won't be able to find it. Contact information especially becomes important for the users when they won't find what they're looking for, in such a situation they seek to make contact with the website owners in some way, either through phone, email, online chat, or any others.
Crazy Egg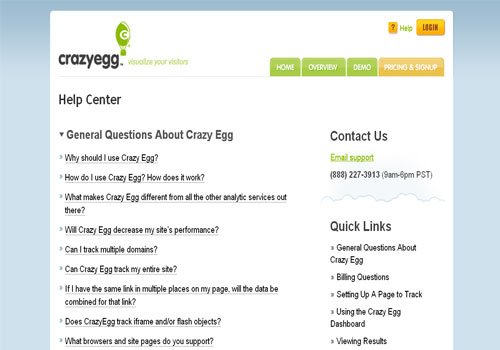 Contact information on Crazy Egg presents contact information in a well manner and is well positioned so that a site visitors can easily go through it.

ThinkGeek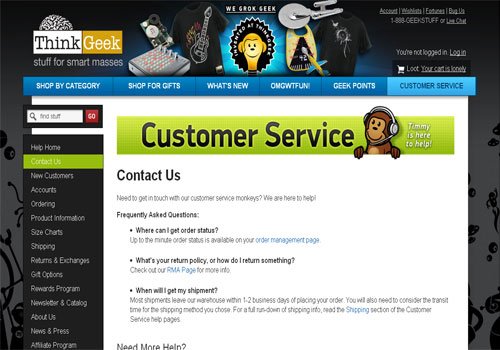 The contact information of the ThinkGeek site is well presented and well positioned which can be easily viewed by any visitors providing them special assistance to contact the website owners or service providers.

Getting User Feedback
Providing user feedback section is quite important to improve help material, assess its efficiency and judge the user's satisfaction level. It should be noted that the process of feedback must not be too lengthy and complicated that users won't participate. It is suggested either to offer comment section or to offer star or numerical ratings rather than than forms filling because more detailed, analyzing feedback process is a tiresome work which users might decline anyway .
Microsoft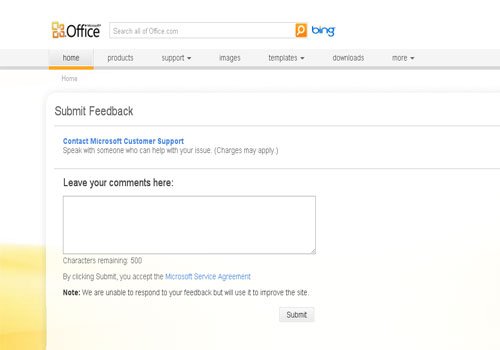 Microsoft is one of the excellent example of the feedback simplicity. It offers a very simple feedback process by asking whether the help resource was helpful or not.

Help.com
Help.com is another excellent example of simple users feedback process; it simply asks users to write their suggestions, complaints and other feedback.

Putting It All Together
Above, we have deeply reviewed some essential elements of help pages along with examples. Some help pages may not have all of the above explained attributes while some may also have. The web page whose help sections consists of all the above explained attributes, that is called the perfect help page. We are providing below some examples of the most successful companies on the web which tend to have the perfect "Help Sections" having all the above attributes.
Campaign Monitor
Campaign Monitor exhibits all of the traits of a perfect help section preventing users from getting confused .

Yahoo
The web giant, Yahoo, has a great help section like its other features. It offers an intelligent help section providing proper assistance to its visitors.

Summing up
This guide has introduced some essential tips and best practices for designing effective help pages. I hope that you'll be able to heed the rules that apply to you and not pay too big a price for bypassing the rest. So start experimenting, while remembering the basics.
Christiana McGee loves development and possesses specialization in converting Sketch to HTML. Associated with
CSSChopper - Sketch to HTML Company
, she constantly strives to serve the best, fastest and innovative solutions in a stre