Best 25 Useful Tools to Support Your Google+: For Efficient and Advance Working
Google+ became the favorite of 20 million users in the first three week of its launch including 5 million users from U.S and 2.85 million users from India. Developers have launched many tools and services like web applications, user scripts, bookmark lets, extensions, add-ons and much more, which is powered by Google+ for its betterment in all aspects.
Google plus is getting very much popular these days due to its superb features and hiking users and fan following that are enjoying social networking site with their friends and family. The primary reason behind the Google+ attraction is its great features and options available and that can link us to Gmail, calendar, maps, docs etc. this simulates that Google+ will going to stay in the limelight for a long time.
Tools like Facebook and chrome add-ons and extensions have made Google+ experience more user friendly by including some of the superb features and option like improved sharing options, better notification, feature like getting updates from Facebook in your Google+ account, linking your any account to Google+ and much more.
So here in this blog I would like to share some of the great useful tools and extensions that can help you to use the maximum of your Google plus account.
We are Demonstration 25 superb tools to useful tools to support your Google+ for efficient and smooth working.
G+ Count in Title
This is a very interesting Extension as it adds a notification count to the document title in the page tab itself when you are browsing through the other pages in the different tabs, you can see your notification from Google+.
This count is place at the top of the title so that it is visible even if the title is long enough like you are view a profile.

Google+ Facebook (IE, chrome and Firefox users)
You loved the features of Google plus but don't want to lose your previous friends from facebook. Now for this there is another extension for Google by 'Google+ Facebook' that will provide you a inbuilt area where you can see the facebook updates inside your google+ account. You merely need to connect with the facebook and can get all the latest updates and hangout in you google+ Facebook option. You can click on the link and the installation is very easy and quick, just in a few seconds. So now get connected to both the heaven at one place.

+Photo Zoom
+photo Zoom is a complex free extension that help you for quick and simple zooming of pictures with in your Google+ stream. It is quite simple in working, it will work as you wish to enlarge a picture this tool will load it and enlarged its version of the desired image.

+everything Extension (chrome users)
This is the beginning of new web generation with this application as it follows you everywhere and look for the unread notification left for you check.
In one statement, this extension will add the google+ bar to all the websites.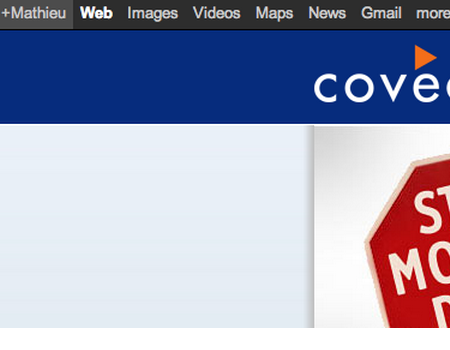 Color Plus
Color plus is an amazing extension that allows you to change the color of the Google+ bar with different colors as the gray bar looks boring to see every time.

Liquid G+ (Firefox, chrome, IE, Opera)
This extension will create a magic with your Google+ account as it gives you a magazine outlook to your Google+ screen.

Extended Share for Google Plus
This extension will create a magic with your Google plus account as Google+ does not have the feature to instantly add or share your post to other social networking site like facebook, LinkedIn, Tumblr, Twitter, Technorati and others but this extension will let you to add a link by 'share on….' to every post. when you will clicked to this option then it will directly ask you where to share your post, say you want to add on facebook and it will add a link by 'share on facebook' to each post.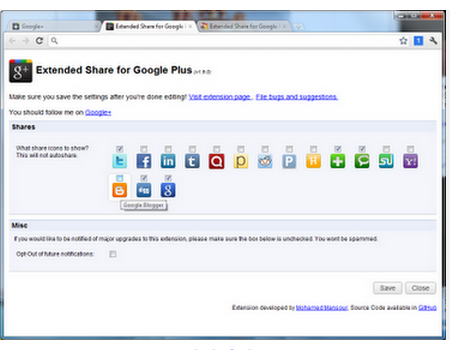 Replies and more for Google+
This is a very effective tool for replying purpose as it lets you to add 'reply' and 'reply to author' option to your Google+ comments box very easily and effectively. A few other features that add the extra functionalities to the google+ are:
– The reply and Reply to author links are easy + mention of other users.
– Originally shared by Linked to original post
– It adds a dropdown option that shares the additional sharing option to facebook, twitter, email etc.
– It badges the favicon with the count when you receive a new message.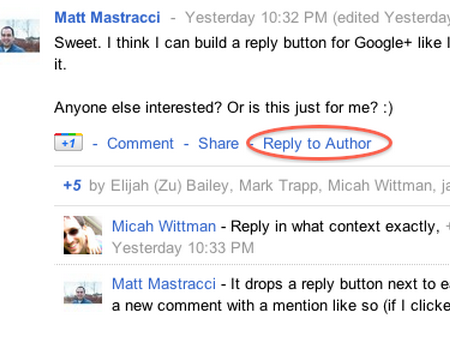 Google+Tweet
Well this is good news for all those who love twitter and Google+. This tool integrates the fully featured twitter client with your Google+ account. Here you watch all your URL shortening, timeline, photo sharing and many more.

GTools+
This Extension will provide you many beneficial features for Google+ services like you can translate posts, choose and stick to the google bar, customized notification, add notification for Gmail and readers, change the google chat place and much more.

Notification Count for Google Plus
If you wish to get updated that who all are discussing about you or adding you in their conversation on Google+ but don't want a webpage to open every time for that. Then this is the superb tool for your Google plus. Must try!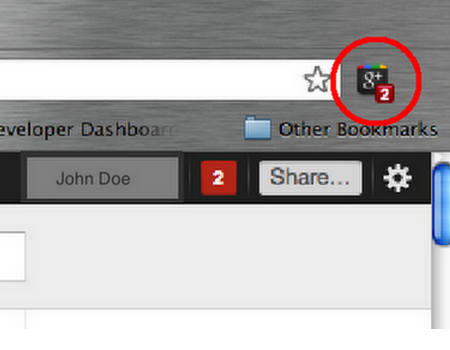 G+ Extended
G+ Extended has been a very useful tool for Google+ as this extension adds some of the very useful shortcuts for Google+ users. Some of the shortcuts are:
– Press "s" to share a post.
– Press "+" for +1′ing a post
– Press "p" to toggle your +1 on a post
– Press "-" for removing your +1 on a post
– Press "e" to expand older comments on a post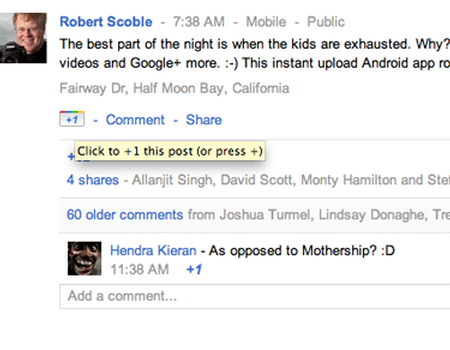 ++ (Chrome)
This tool basically extracts the Google+ profile of the users whose name displays on the page you visit. It also gathers the other basic information to identify the person. It is a very easy and quick way to discover and add interesting people to your google plus circle.

Tweets +1
'Tweet+1' allow you to add the Google+1 button to twitter site. This tool will directly let you to +1 tweet from twitter and also you can see many other +1's tweets.

Helper for Google+
This extension an extra functionality to Google+  by you which you can receive desktop notification on your new posts. You can even share your post with twitter, mark a bookmark of your favorite posts and read it later, you can even translate the posts with the google translator; search your profiles and posts directly from the omnibox and much more.

Surplus
This tool provides you the features of Google chrome integrated with Google+. The best features include:
– Desktop Notifications
– Notification sounds
– Switch between multiple Google accounts
– Post or respond from within the popup

+1 Plus One Extension
This extension will allow you for +1 page simply in just a single click from your mouse.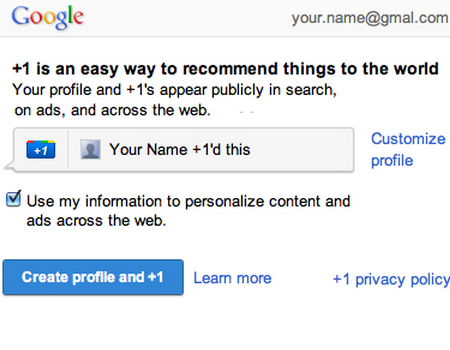 Facebook Friend Exporter
Well this is a very interesting and popular extension as it allows you to export your friend list from facebook, you can fetch all your contact from facebook and add them here at Google+. The best way to stay connected with your facebook's friends and google plus friends together.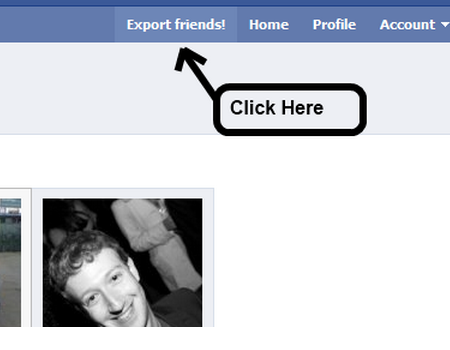 SGPlus
SGPlus is a very amazing tool when used with google plus as it is designed for google plus social network. Here I'm mentioning some important features of SGPlus.
⇒ You can keep connected with your twitter and facebook stream together here at google plus with the 'stream' option given on the side.
⇒ You can even add Gmail inbox identifier at the top bar, so you don't need to open the Gmail tab every time. Simply clicking on the icon establishes and read the unread or other messages and emails.
⇒ One of the best features of this extension is that it automatically posts to the twitter and facebook each time you share some on the google+, but you can choose this turn on/off option for sharing in the google plus window.

G+ ME
G+ me is superb Google chrome based browser that will help you to enhance the google plus web application features. The potential of this tool makes it easier to update in real time for incoming comments and posts.

Beautify G+
As the name suggests the 'Beautify G+', the working is also the same to make the google plus beautiful by adding the features like:
– Fixed position of the left column
– Option to hide suggestions and "Go Mobile"
– Fixed position of the menu bar
– Fixed position of the right column
– Option to enable audio notifications
– +1 any Website you are on
– Option to enable favicon notifications

GPlus+ Search
GPlus +search is useful to search for public Gplus content, also helpful to social search and finally making your stream searching easy.

Usability Boost for Google Plus
This extension will allow you to see the flow of information on Google+. The best features of this tool are:
– You will never miss a notification with the google plus as the Google notification bar is fixed at the top on the bar.
– You can mute the post as it shows the direct link.
– By its small CSS change you can keep the focus on the content simply by separating the visual comments and post.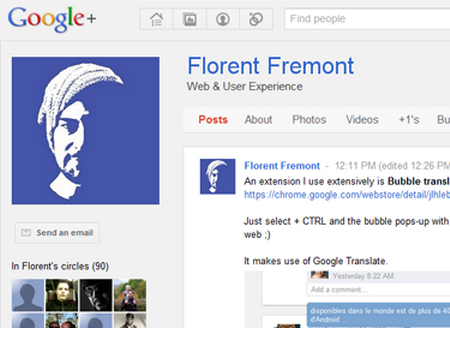 +Comment Toggle
This extension helps you to hide the comments from your posts inside your stream and make them available when necessary.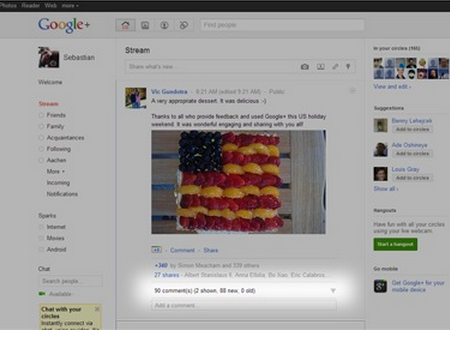 G Plus Lite
This extension helps you to go through the google plus in a very lite mode and it is really very easy to use with this lite version.

Christiana McGee loves development and possesses specialization in converting Sketch to HTML. Associated with
CSSChopper - Sketch to HTML Company
, she constantly strives to serve the best, fastest and innovative solutions in a stre