Best 20 Useful Add-ons for Mozilla Thunderbird
Mozilla's Thunderbird is a popular email client application, which is a superb replacement for Microsoft Outlook due to its customized feature like Built in RSS feed, strong security, speedy searches and lots more. Thunderbird has become the superb free email application all around the world and add-ons have adjoined more popularity to its functionalities. One can take the extra benefits of this multi-lingual platform by supplementing the extensions, themes and add-ons to it.
If you are looking for free add-ons for your thunderbird email desktop application to make it more robust and reliable, then you are looking for the right blog. Now you don't have to waste time in searching for the perfect add-on for your email environment that can enhance the speed and security of your application and make your application more powerful. Due to its free, multi platform, and multi-lingual features it has been very famous among the users. So here we are presenting 20 superb Add-ons and extensions for Mozilla thunderbird that can extend the ability of your application and that too absolutely free! Now without ado let's move on to its add-ons.
Nostalgy
This add-on allows you to add the keyboard shortcuts by which you can copy and move the selected messages into the other folder. It also allows you to view, add and remove the tags. Nostalgy allows you the command by which you can improve your navigational features and this could be a real help in using the full extension of thunderbird without wasting time.

Contacts Sidebar
Contact sidebar allows you to show all the address books in the thunderbird sidebar which are available in the address. This add-on will help you to access all the contacts available very smoothly from the application window, you can quickly edit your all contact details and  it also provides features to drag and drop your files at the top of the contact to send them as the attachments.

QuoteCollapse
QuoteCollapse, it works as its name. It automatically collapses the quotes which are available in your message so that your application looks neat and tidy without any loss.

Signature Switch
This is a very interesting add-on, as it lets you create multiple email signatures for different purposes (business, private) and you can switch the signature quickly right from the main toolbar. The auto-switch option allows you to create a configured signature on the email recipients.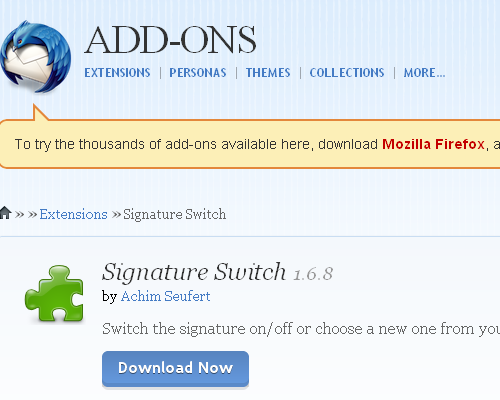 Remove Duplicate Messages
This tool allows you to quickly remove your duplicate messages available in the application and locate them in the desired folders and sub folders.

Expression Search / GMailUI
This is a useful tool, as it provides you the Gmail like facility in archiving your messages and also provides a powerful message search.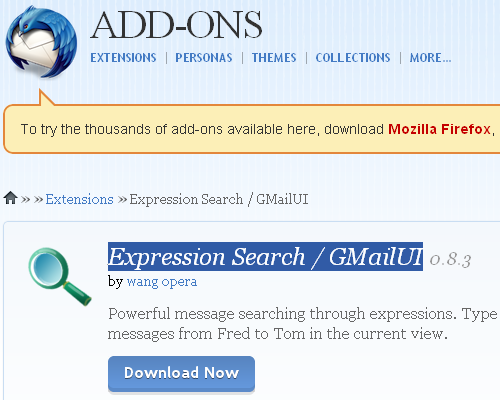 Auto Zip Attachments
Auto Zip Attachments allows you to make an autozip button that helps you to compress all attached files into a single zip file to your composing toolbar.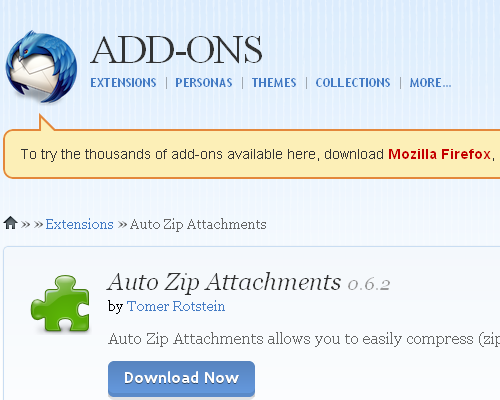 AttachmentExtractor
Attachment extractor helps you to extract all your selected messages in a single click attachment. When you have extracted your attachments then it can be marked as read messages, you can delete them, detach them and lots more. It is a very easy procedure than by going one by one attaching process.

QuickFolders
QuickFolders is a very beneficial add-on that  adds an extra functionality to the thunderbird panel. As  you can drag and drop any email folder to the top of the panel. In addition this will provide a quick access shortcut to the mail folder.

Email Notification Randomizer
Email notification Randomizer provides an email notification feature to the thunderbird.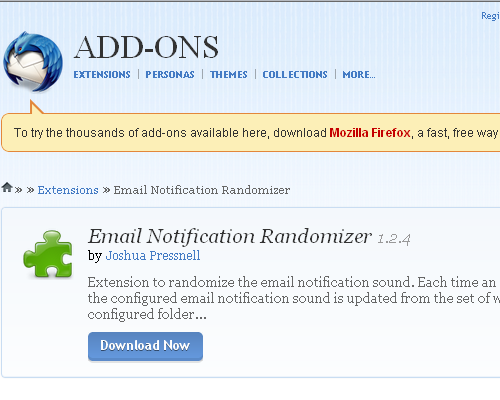 XNote
XNote is very helpful for extension, by which you can post notes to yourself for any specific messages when there are the chances to forget details of the message.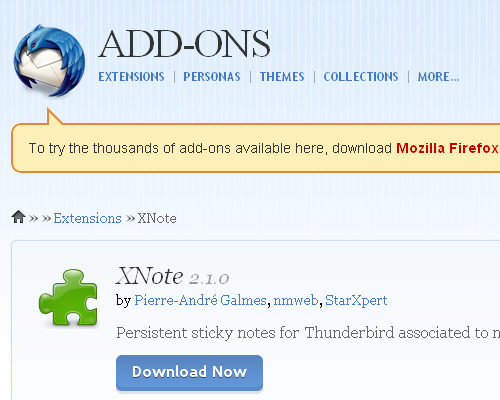 Lightning
Lightning is used to manage your entire daily schedule such as calendars and much more functionality in your thunderbird application. You can manage the calendars locally or you can subscribe them to network calendars.

Provider for Google Calendar
This add-on integrates the Google calendar to your thunderbird.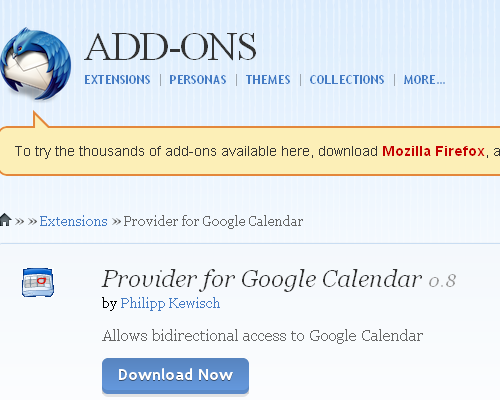 Thunder Browse
Thunder browse is a very easy tool and also allows you to add many browsing features to your thunderbird application that allows you to see the websites without opening the other application. You can open other websites in the thunderbird application that simply saving your space, time, memory usage.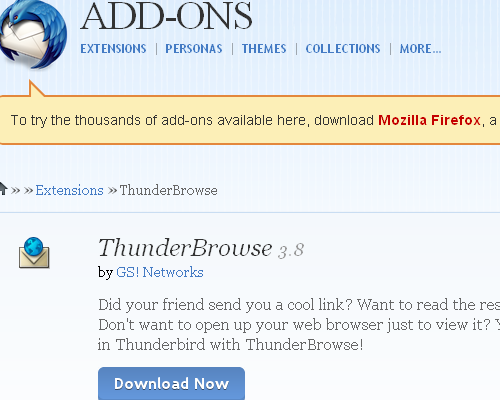 Tag Toolbar
Tag Toolbar helps you to add and display the new tags which you have created as the toggle buttons. By this tool you can add or remove the desired tag from the selected messages. You can tag messages very easily and can filter them for further use.

EMarks
Emarks is another useful tool that helps you to organize your inbox efficiently. You can bookmark your messages for further use.

Quicktext
Quicktext helps you to create your email templates for different categories of messages. Along with that this add-on can be used for the multiple signature purpose also.

Mail Redirect
This add-on can be really helpful for redirecting your emails as it can redirect and bounce your emails to another account without forwarding the email.

Clean Subject
This add-on cleans the forwarded subject mail by removing the prefix 'Re:' that repeats every time you send a forwarded email. Words like 'spam' can also be cleaned with this clean subject add-on.

Smilie Inserter
Smilie Inserter can smoothly add smiley faces to your email and messages but first they need to be downloaded separately.

ThunderBrowse
ThunderBrowse is a tabbed browser that supports almost all websites and includes the standard browsing functions or features that are generally used and allows everybody to be able to view websites without having to open another application. This add-on  is easy to use and unobtrusive and works well in saving time, space, and memory usage by opening up the website within Thunderbird.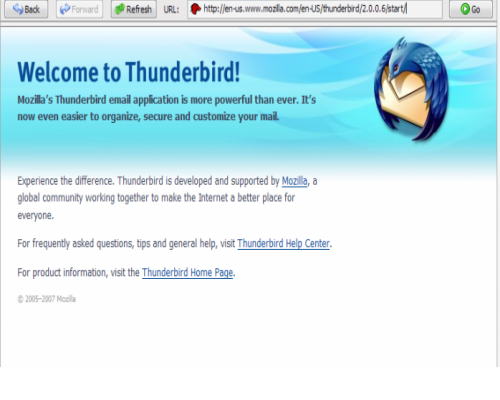 Quick Translator
Several times it happens that we ever get emails in different languages that we cannot read. Quick Translator is the most lightweight and easiest translator that allows you to translate between more than 50 languages with one click or a hot key. With the help of this add-on one can easily translate from one word to a whole page. 
Quick Locale Switcher
Quick Locale Switcher is a quite handy tool for all people involved with the multilingual usage of Mozilla applications as it allows you to quickly change and apply a different locale related setting from the tools menu, the status bar, or your Toolbar. It especially proves beneficial when you communicate with clients or contacts in different languages, because this add-on makes it quite easy to move between different languages.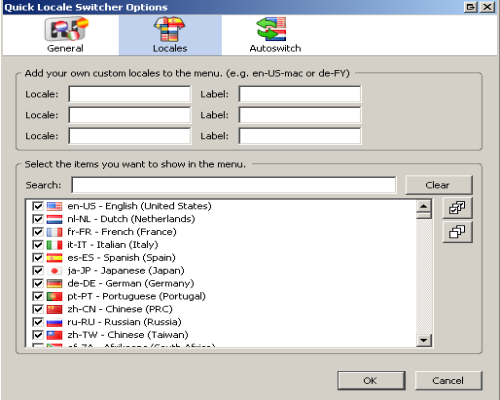 ReminderFox
ReminderFox is one of the most important Thunderbird add-ons that remember all of your important dates and events (birthdays, anniversaries, bills, etc.) right in your browser without having to run a separate calendar or reminder application and displays and manages lists of reminders and ToDo's. It makes sure you remember all of your important dates via easy-to-use lists, alerts, and alarms, right in your browser without the need for a separate calendar program. 
Send Later 3
Send Later 3 allows you to schedule messages for the future. It changes the "Send Later" command (Ctrl+Shift+Return) in the message composition window, so that instead of merely copying the message into your Outbox it is sent whenever next time you go online. It can also be done just by clicking "Send Unsent Messages", after which a dialog pops up which allows you to specify when the message will be sent.
Zindus
Zindus is a well known add-on that sync Thunderbird address book, Personal Address Book or other address book with Google. It well manages your Gmail contacts from Thunderbird and vice-versa.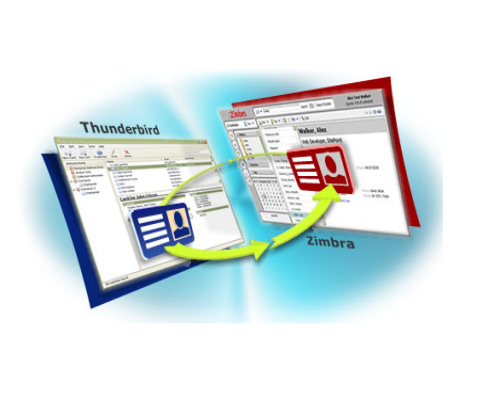 Mouse Gestures Redox
Mouse Gestures Redox, one of the renowned Thunderbird add-on, allows you to use mouse movements to do specific things in Thunderbird or execute common commands like page forward/backward, close tab, new tab etc. by mouse gestures drawn over the current webpage, without reaching for the toolbar or the keyboard. 
Christiana McGee loves development and possesses specialization in converting Sketch to HTML. Associated with
CSSChopper - Sketch to HTML Company
, she constantly strives to serve the best, fastest and innovative solutions in a stre