Best 15 Web Based Calendar Date Pickers Scripts for Every One's Utilization
Calendars are the main source of planning this is the reason due to which one can find more and more website with calendars. For sites based on blogs, e-commerce and other commercial and personal purposes, a calendar is very useful in order to outline various events, competitions and many more things. A calendar actually allows user track information of the past days and also to set his expectation on a specified date with a one single glimpse. A user on a website can make precise reservation for particular dates and plan his work accordingly. In this sphere Date Pickers play a major role as a navigation tool.
Date Picker is a kind of layout of the calendar that allocate a user to plot across days, weeks, and year to choose a particular date. Most of the date pickers avail option to the user to go directly to a particular day by entering the simple date. In this post we will enlighten you with some of the best scripts for date picking for a calendar. We hope that you will successfully find out the best one for you.
 FullCalendar
This is a plug-in available in Google form which avails a complete size of a calendar. On can drag and drop the calendar accordingly. This Calendar can be easily configured as it makes use of Ajax.
Xin Calendar
Xin Calendar is another small yet very helpful calendar script for websites that occupies a very small space. Xin is a calendar only shows the current to plan upon.
 Dhtmlx Calendar
This is a very light calendar script runs in JavaScript compatible for cross browser search and can be customized completely. This calendar is a blend of style and functionality both.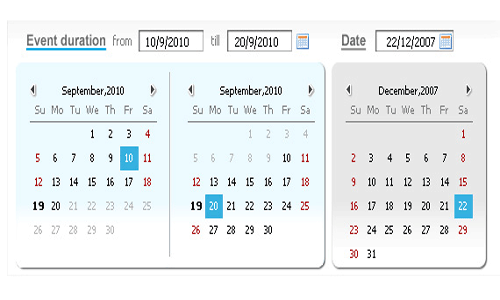 JCalendar
Jcalendar is a dynamic calendar scripts that can be very easily used by using day layout, month layout, and year layout. This calendar does not provide any kind of animation.
 Basic Calendar
If one wishes to use a very basic and simple calendar then this is an ideal one to utilize for various web applications.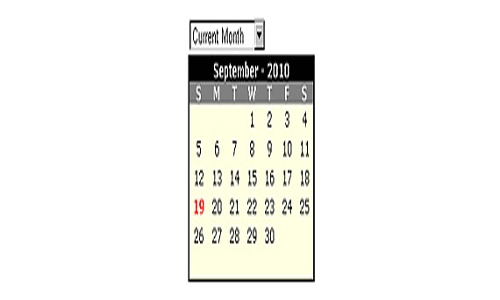 Vista-Like Ajax Calendar Version 2
Vista-like Ajax calendar is a very useful date picker calendar script which is actually an online version of window vista calendar.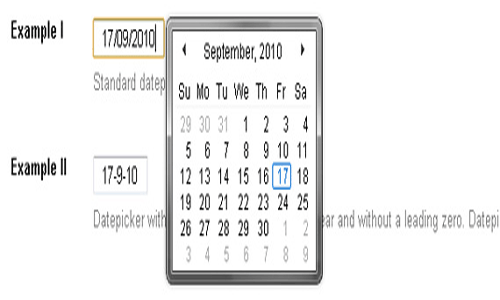 Yahoo! UI Library: Calendar
This is a very simple date picker calendar script which can be very easily integrated into your web application. Though it does not provide much options but this is a wonderful date picker.
 Simple JQuery Date Picker
This is another very useful and simple date picker that works on text inputs as it is styled with CSS. This is application very easy to use.
Scal
This is a very cool kind of data picker calendar script that woks in 6 different style to help the user.
Calendar
This tool is actually an assortment of many useful date pickers' scripts that can be easily utilized easily. The date pickers with this tool provide neat and pleasing animation view.
Unobtrusive Date-Picker Widget
This date picker calendar script is user friendly and can be accessed easy with the help of a key board. One can also modify this calendar very easily.
Tigra Calendar
This is great a calendar date picker script that operates easily with many browsers. It is a kind of drop down calendar that works in a fast and simple manner and enhances the experience of the user.
DatePickerControl
This is another useful date picker calendar script which is simple and reminds us of the calculator in Windows. One can come upon the input result easy with this.
Calendar Script
Calendar scrip is a simple to use date picker calendar script that avails good kind of functionality. This can be a good choice if you are looking for a reliable and simple calendar date picker.
Javascript Date Picker
Javascript Date Picker is a useful date picker calendar script that supports multiple browsers. This tool utilizes DOM techniques.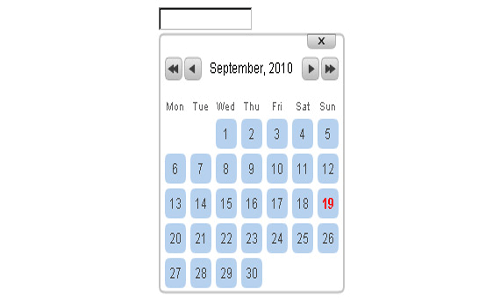 The area of interest of Jennifer Adam is to cater technologically advanced and powerful tool which works remarkably with multiple browsers and devices. Being a talented professional of
inkyROBO
, she is capable of implementing the innovative ideas and also loves to write inspiration blogs.