Awesome Collection of Latest WordPress Themes
Most of the time it happens that you pay heavily for WordPress themes for implementing on your blog, corporate or business website or portfolios any other. There are plenty of free WordPress themes available on the web but you do so in ignorance. You should think a little bit that when bulk of themes are available free of cost then why you would pay for that. In order to acknowledge you, we hereby, in this post, going to share some of the latest WordPress themes that are available absolutely free of cost and can make your portfolios or websites look pleasing and attractive as well.
The below enlisted WordPress themes can probably be your best choice. These themes will offer you such a perfection which you are exactly looking for. Check out these themes as listed below and offer an amazing experience to your visitors. Hopefully, you will enjoy this amusing collection.
News
It is an extremely powerful theme having clean design especially made for use by news, blog or magzine websites. This WordPress theme includes an optional magazine layout for the home page, templates for showcasing videos and slide-shows, and comes with some nifty features like the Popular Tabs widget.
Wootique
Wootique is a flexible, highly customizable eCommerce theme for WordPress that was released in conjunction with the launch of the WooCommerce WordPress Plugin. With its core features, such as featured slider, custom home page and custom widgets, and delivering fantastic customizability, it presents finest example of what can be achieved with Wootique.
Fungus
Fungus is a free custom based WordPress theme that perfectly fit for personal blog or blog section for business related websites.The theme has fine appearance with dark blue and white as the dominant color. The theme has an inbuilt support for WordPress thumbnail function and package with flickr and twitter custom widget. This theme is flexible enough and can be used as a starter theme for your WordPress projects. This theme with colorful blogging design has social media links integrated in the sidebar and support for post image thumbnails.
Features:
➡   Easy to use, with theme options panel, SEO Settings page
➡   Package with 2 custom widgets: Flickr and Twitter stream
➡   Support for WordPress post thumbnail function
➡   Widgetized Sidebar and Footer, Clean design
➡   Horizontal menu for category, Dropdown menu for categories
➡   Threaded comment, Separate trackback from comments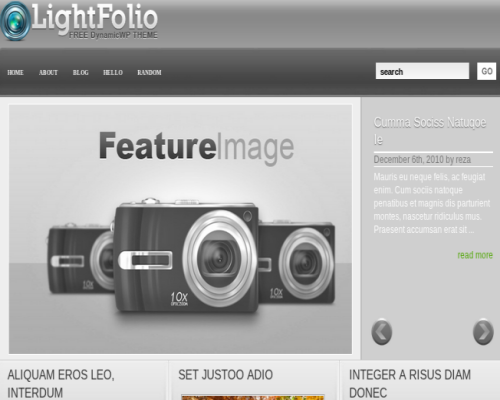 WordPress Anniversary Theme
This predominant WordPress theme having traditional blog structure with a prominent header image was released at the beginning of 2011 by Matt Mullenweg. It is best suited to for the websites displaying celebrations contents.
BlueBubble
Blue Bubble is a free, clean, simple premium portfolio WordPress Theme based on minimal design concepts and is used for easy showcasing the work. This theme is specifically designed for Designers, Photographer or any other creative minds and comes with several cool features such as an advanced option panel, 8 different color schemes and social media integration etc. This one is most suitable for a blog or a portfolio websites.
Features:
➡   User Profile Fields – add Facebook, Twitter, Skype, etc
➡   Advanced Theme Options Panel – Control everything from one location
➡   Updated design using CSS and new CSS3 elements
➡   Author Details box with list of their posts – all in one place
➡   Custom color for author comments, ColorBox image popup for Portfolio items
Fotofolio Landscape
Fotofolio Landscape is a WordPress theme specially designed for Visual Artist, Photographer, or any media designer, to show off their works.It is simple, fast, easy to use, even for beginner; it automatically resizes uploaded images to fit the surrounding area and includes a useful slideshow option and above all it is available absolutely free of charge.
Features:
➡   Auto Image Resizing
➡   Theme Widget
➡   Not just for portfolio, we also built blog, testimonial, and slideshow inside the theme.
➡   Wordspop Framework theme panel. Easy to use, yet strong theme panel ever.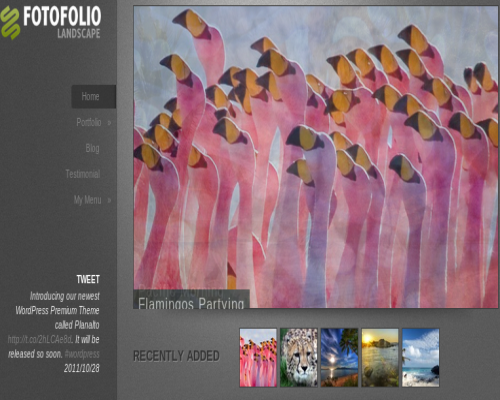 Big Square
Big Square is a clean, tidy, elegant, photo blog theme that is suitable for photo blogs. It excellently proves the fact that pictures speak louder than text; placing this clean minimal design on travel blogs, personal blogs, portfolios and photography websites, will offer users a pleasant experience.your picture bigger with this theme.
Features:
➡   Multi Layout and Style Option
➡   SEO Support, Multi Language Support
➡   JQuery Scroller, Image Excerpt
➡   Clean Layout, Dropdown Menu
Parallax
Parallax is a free WordPress template with simplistic portfolio design has been designed to help you make your stuff look awesome. The theme features a large homepage slider and a useful portfolio template page and has its prime focus on clean, elegant looks and simplicity to allow your work to shine.
Features:
➡   Large Homepage Slider
➡   Portfolio Custom Post Types & Taxonomies
➡   Filterable Portfolio Template
➡   Custom Theme Options
AutoFocus 2.0 Lite
AutoFocus 2.0 is a clean and simple WordPress theme designed for photographers looking to showcase their work. Having a simple HTML5 powered design that has a grid design and clean typography, AutoFocus 2.0 provides stronger markup, better browser support, and Theme options that enable you to customize various elements of the theme without ever touching code.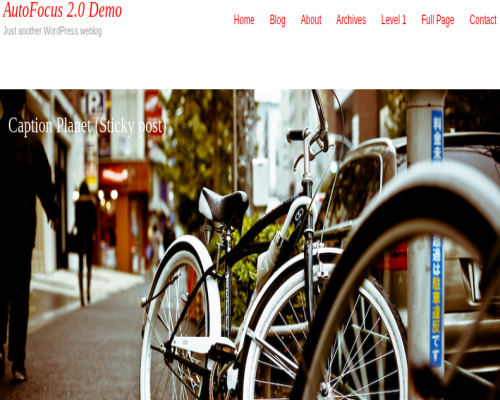 WordPress Diary Theme
WordPress Diary theme having a retro style design was designed in HTML5 and CSS3 which displays uploaded beautifully using lightbox. This ultimate designed theme uses Google web fonts, and has built-in pagination and an AJAX powered contact form.
Features:
➡   HTML5, CSS3 Inside
➡   Google Web Fonts, Widget ready
➡   JQuery Forms, Live form email validation
➡   Ajax based contact form, Latest Tweets Built-in Widget
➡   JQuery PrettyPhoto Lightbox, Theme Options Page
Gynix Tema
Gynix is a new theme for WordPress available totally free; It is having business design which places featured articles on the home page and possesses the characteristics of Premium Template. It can be used for blog website as well.
Features:
➡   Double column (sidebar right), fixed width (960px)
➡   Entirely in Italian
➡   widget ready, Valid XHTML and CSS
➡   featured articles, Cross-browser
➡   Support for gravatar, WordPress supports 3
Ton Lite
Triton Lite is a self-proclaimed 'all in one' wordpress theme that offers plenty of user-friendly options. It features a beautiful home page slider, 5 useful short codes for styling content, 3 fonts, 1 slider, 1 layout & easy to use theme option panel and 3 built in widget areas. The theme is SEO Friendly and comes with a Contact page Template which doesn't require any setup.
Features:
➡   3 Fonts, 1 slider, 1 Layout, 2 Patterns.
➡   3 custom widgets, 5 easy to use shortcodes
➡   2 WordPress 3.0 Menu Position, Mult-Level Dropdown Menu.
➡   Social buttons to submit posts to Facebook, Twitter, Stumble upon, Digg, Google Buzz integration.
➡   3 Awesome fonts., Easy to use theme options, Gravatar Support.
Shuttershot
Shuttershot is a full-screen slideshow template which shows photos in full screen in the background of the design. This portfolio design theme is ideal for photography websites to showcase their portfolio in style.The theme has option to use either a full screen slideshow on the homepage or a regular blog with image slideshow as the background, and thus when a visitor views a blog page or page the background continues to change.
Features:
➡   WordPress 3, Fullscreen slideshow
➡   Portfolio, Custom menu
➡   Custom post types, Featured thumbnail
➡   Banner ads, Theme options
Bonpress
BonPress is the perfect and colourful blogging theme  packed with Post Formats (audio, video) feature and multiple custom widgets for social media like Twitter, Flickr. It comes in 4 colour schemes, i.e. blue, black, pink, orange and offers visitors a unique experience from blogging.
Features:
➡   WPZOOM Options Panel
➡   Multiple Color Schemes
➡   Responsive Design, Custom Menu
➡   Custom Widgets, Post Formats
MyPhoto
MyPhoto is an excellent photography/gallery style WordPress theme that uses Javascript to highlight photos when a user hovers over them. It comes in a black design that make images stand out and look amazing and is powerful enough to handle a large portfolio/photography site. With the dark background and elegant javascript opacity animation on the thumbnails, this displays the photos fantastically so that you can show off what you are all about. It's clean and fast loading, making it a good choice for a photo website.
Features:
➡   Clean and elegant design, WP 3+ menu system
➡   Slim code for easy editing and fast loading
➡   Elegant Javascript thumbnail hover-over opacity animation
➡   Related photos on photo pages, Threaded comments
➡   Removed default WP gallery borders,Clean photo category pages
➡   Non-evasive and elegant footer credits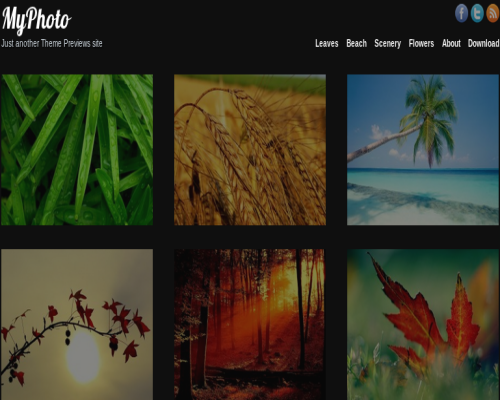 Shadows
Shadows is another premium theme with minimal blogging design created by WPExplorer.com that is perfect for all kinds of bloggers. The theme has derived its name from all the cool CSS3 box shadows which takes a minimal layout and makes it much cooler.It supports post thumbnails and includes built in pagination and an author information box on blog pages.
Features:
➡   Minimal design ideal for bloggers
➡   Extended footer widgets, Featured image support, Styled sidebar tags
➡   WP 3.0+ menu system – see "how to set up your wordpress menu"
➡   Optional tweet and like buttons on single pages, Header banner spot
➡   Sweet looking threaded comments, Built-in pagination
➡   Drop-down menus enhanced with SuperFish
MyCorp
MyCorp is a business theme that features a home page slider, custom post types and custom fonts. This WordPress theme is perfect for setting up your minimalistic business and/or portfolio website.
Features:
➡   Built-in homepage nivoslider, Awesome CSS3 enhancements
➡   Super clean code and easy to use/edit
➡   Droid Sans custom font built-in and is perfect for client sites
➡   Jquery enhanced SuperFish drop-down menus, Blog page
➡   Minimal images, fast loading design
➡   Smushed design images, Valid XHTML Strict Code
Amphion Lite
Amphion Lite is a blogging design that prominently displays articles on the home page in an image slider. It comes with 2 theme skins, 2 custom widgets, 2 short codes and 2 WordPress menus and facilitates you with IE6 Browser Upgrade Alert, separation of Comments and track-backs, threaded comments support, Valid XHTML/CSS3, Well-written documentation and so on and so forth. There are no hidden, paid or sponsored links in the theme.
Features:
➡   Unique Homepage With Slider
➡   2 fantastic skins, 2 custom widgets, 2 easy to use shortcodes.
➡   2 WordPress 3.0 Menus, Mult-Level Dropdown Menu.
➡   Social buttons to submit posts to Facebook, Twitter, Stumble upon, Digg, Google Buzz!
➡   Awesome fonts, Easy to use theme options, Gravatar Support.
➡   3 custom page template, Fancy lightbox
Showcase
Showcase is an ultimate WordPress theme designed and built to make building a portfolio easy for graphic designers, web developers, and others with commercial or artistic work to display. This amazing theme can be used for a corporate website or blog.
Platform
Platform is an drag-and-drop theme-design framework for WordPress which is designed in HTML5 and that makes creating your ideal site a breeze.  It is one of the best free blogging themes released in 2011 that will help you do amazing things with your site, faster & easier than ever before.
Blog-O-Folio
Blog-O-Folio is a great looking blog and portfolio design which is suitable for any and all of your corporate, portfolio or personal blog needs. This free 2 column WordPress Theme is composed of several promising features such as portfolio integration, built in advertisement options and an email subscription form and many more. Inbuilt with a wide variety of tunable theme options and functionality to merge your portfolio with the blog, this has now become ultra easy to maintain your blog and portfolio at the same time.
Features:
➡   Simple, elegant & modern look
➡   Fast loading structure, Twitter integrated
➡   Supports comments threading and paging, Custom write panels
➡   Fixed width, 2 Columns, with 125 x 125 Sidebar Ads section
➡   Many tunable options, Email subscription form
➡   Portfolio Integration, Social icons integrated
Christiana McGee loves development and possesses specialization in converting Sketch to HTML. Associated with
CSSChopper - Sketch to HTML Company
, she constantly strives to serve the best, fastest and innovative solutions in a stre