AngularJS Mistakes: Most Common Ones That Developers Make
Writing web applications is not an easy task. However, creating a functional front-end for users is a crucial step. AngularJS is undoubtedly one of the best JavaScript frameworks made available by Google in today's times.
This framework effortlessly simplifies the development prototyping in mini apps. Scaling an app is indeed made easy through AngularJS. The framework is made of closely knit integrated toolset, which helps programmers in building client-side or user applications in a simple (less code) and flexible way.
As a developer, you can create your very own functional directives and power packed designer templates with reusable modules. You can work on 2-way data infusion by linking HTML code to JavaScript models in a seamless fashion. You can thus do away with difficult DOM manipulation.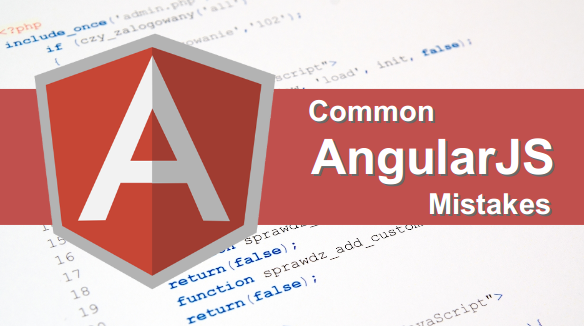 Let us have a look at some of the top AngularJS mistakes made by developers while app scaling:
Using MVC Framework
Being an MVC framework, it is not clearly defined and the grouping of files is done on the basis of features and not by type. This layout ensures opening of many folders at one time, during the scaling process. Even using Visual Studio or Sublime passage, developers spend a lot of time just scrolling through the entire directory.
Lack of Modules
The project code, in the later stages, becomes really complex and unmanageable due to lack of modules. Most AngularJS developers function on single module code.
Production Complexities
Although AngularJS developers use dependency injection to conduct tests and make clearer codes; the project often gets stuck during the production phase.
Managing Controllers
Most beginners or novice developers do the mistake of writing a lot of logic in controllers. Some controllers even carry DOM manipulation. While developing controllers, it is advisable to proceed on SRP (Single Responsibility Principle), so that controller acts like a coordinator for model and view. Therefore, developers have to create minimum logic for this to happen.
Not Using Batarang
The useful extension of Google Chrome browser, Batarang helps in progress and debugging of all AngularJS apps. Not using Batarang can waste functional time and lead to dull performance or app lagging, especially when the custom directives are increased.
Increase in Watchers
AngularJS delivers classic performance and the watchers always keep increasing. When the number of watchers touches 2000, it can slow down the app. Using special code language and the Bataranga (watch tree) feature can help detecting duplicate watchers or those watchers of irreversible data. Using 'bindonce directive' can also help sustain the number of watchers on web pages.
Not Using Karma
AngularJS can also aid developers to test runner Karma. This Karma tool facilitates tests each and every time the developer changes a source file. The Karma server tool can even run parallel tests on multiple browsers. Developers are also able to use multiple devices on the handy Karma server.
Use of jQuery
App jQuery library is a great multiple use cross platform for adopting the latest web development functionalities. But AngularJS and jQuery are two diverse applications. While AngularJS is an MVC framework, jQuery is a simple library that facilitates interactive sessions between HTML code and JavaScript. Developers have to stop the usage of jQuery to expand their HTML limitations. It is necessary to avoid using jQuery to get a grip on core AngularJS application principles.
Not Having a Dot
Often a simple dot (.) can make a huge difference if it is not there in your ng-model. With regard to inheritance, this is often true. Nested scopes are most common to AngularJS web development. While resolving a mode, the lookup will start on current scope and then go through every parent scope. However, when you set a new value, the process depends on what sort of model or variable you want to change. And if the change is to a property of a model object, lookup on parent scope will identify the referenced object and change the actual property.
Service Vs Factory
These terms tend to cause confusion to almost every beginner AngularJS developer. However, they should not be because both are syntactic elements for almost the same thing. Service calls the Factory function, which then calls the Provider function. AngularJS also provides additional Provider wrappers with Constant, Value, and Decorator. These do not cause the same level of confusion, and the documents are also pretty clear on their respective use cases. So, since Service just calls the Factory function, how they are different? The clue lies in $injector.instantiate. In this function, $injector creates a New instance of Service's constructor function. Thus, both Service and Factory often accomplish the same tasks.
Not Performing Manual Testing
There should not be any excuses why your AngularJS app is not manually tested. Every time a developer checks whether the code works or has broken something else, he is actually performing manual testing. The platform was designed to be manually testable right from the beginning. Dependency Injection and ngMock module are clear instances of this.
Few tools are also developed that can take testing to the next level. So, there isn't any reason why you should not.
To adopt the changing phases of the programming world, it is important that developers constantly evolve their development process. AngularJS is the ideal framework that thrives on improvement and implementing new changes for supporting quality front-end applications.
About Author
Mehul Rajput is a CEO of Mindinventory, a prominent web development and mobile app development company specialized in AngularJS Development. He does blogging as a hobby and loves to write on the app development, web and mobile technologies.
These posts are a handout from our Guest Author who works with us occasionally and provide their opinions for our regular visitors on Web-Development & Designing, SEO, CSS, Coding etc. As their details can be marked with their concerning post even we would like to add that out Guest Authors are expert and master of their own sector. If you also desire to be our Guest Author Contact Us at
submit@webgranth.com