An Ample List of Handy Tools which will boost up Your Flickr Experience
All of you must be known to Flickr; one of the popular online platforms for images. It is a well admired platform for not only the professional photographers and designers but also for home users as it lets them to upload and share their photos with the world including your friends, colleagues, relatives, fans and etc. If Flickr alone can perform well, it is sure that some handy flicker tools can boost up the performance to its double.
In this post we are going to share with you some of the most admirable and handy tools which will enhance your flickr experience being a designer, photographer, or general user and also boost up your self confidence. These tools will let the people not only to view and rate your shared photos but also leave their comments on the photos they appreciate.
Flickr allows users to upload, manage and share photos with ease and is a great place to look for fabulous photos. But, we cannot say that Flickr is only a normal image management website, but it is more than that. It is a basis of inventiveness, a pilgrimage of natural beauty, a fun and interesting place for motivation too. Looking over the popularity and fame of Flickr, we have hereby rounded up great tools that will certainly augment your Flickr experience. These tools are based on Flicker API and are meant to improve the users' Flickr journey by letting them to explore their favorite photo on Flickr platform in a better way. Check out these tools and gain an amazing Flickr experience.
Gickr
Gickr.com lets you instantly create animated GIF online, free, by grabbing photos from your Flickr without having any need for Flash; one can also generate hilarious showy slideshows with cartoons, previews, banners, etc and can post pictures on MySpace, Bebo, HI5 etc. You may show your creation on Flickr.
LinuxInside
LinuxInside is an effective tool which tracks page views statistics for your Flickr photo stream, using the Flickr API. Also, not only that, graphs showing the statistics is automatically updated on a daily basis and can be linked from external websites.
PlantWire
PlantWire uses publicly licensed Flickr photos to identify flowers and plants and lets you to browse the world's most beautiful, interesting, and important plants. At present, its floral databases include more than 300 plants and over 6000 images providing you varieties to explore.
Preloadr
Preloadr is another effective tool that in turn offers you professional tools like Graduation Curve, Histogram, Layers and much more to optimize your photos for photo editing for Flickr free of cost. It provides you full access to choose an image to crop, rotate or flip; only you need to just log in to Flickr and give Preloadr permission to access your account.
Flickr Finder (Mac Only)
Flickr Finder is a Mac-only application whose interface is similar to the Mac Finder and that lets you to browse Flickr photos without a browser.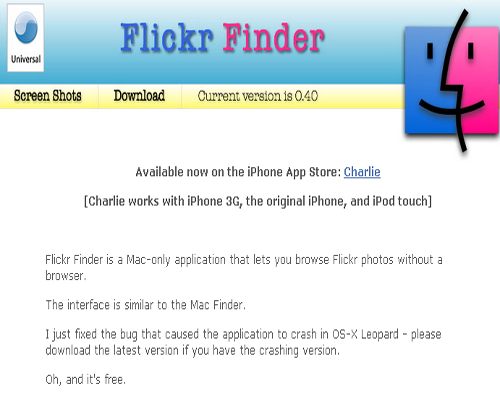 Earth Album
Earth album is a simpler and slicker Mac-only application that allows you to explore some of the most stunning photos in the world of Google maps and Flickr.
Fleace
Fleace is free wallpaper changers that reclaims pictures from Flickr based on topics of your choice. It is the Flickr-Enabled Automatic Changer for everyone which runs automatically at startup and then terminates.
Wallpapr
Wallpapr is a nice, simple Ajax application that shoots out a cluster of photo wallpapers from Flickr's Wallpapers pool on command; it lets you to search for wallpapers by typing keywords of your interest.
Memry
Memry is a project based on Flickr image which uses the Flickr API which lets you to play a game with photos from Flickr providing you amazing experience. It lets you to start playing just by typing a tag and clicking on 'play'.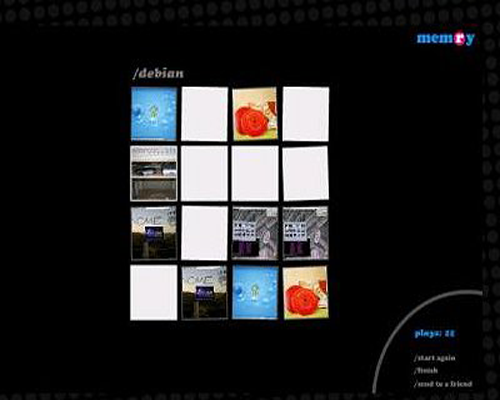 Mosaickr
Mosaickr is an excellent tool, available free of cost, which enables you to create beautiful mosaics from your Flickr pictures, and even, prints them on posters. Really creating a mosaick from here is quite easy.
FlickrVision
Flickrvision is remarkable web applications that put on view the most up-to-date uploads to the popular photo-sharing service, i.e. Flickr. The concept on which it works is like that, as the globe spins, photos pop up from every continent, featuring landscapes, architecture, people, animals, food, and anything imaginable and displays it in front of viewers.
Spell With Flickr
Spell with Flickr is a significant program that invites users to type in whatever they want to and then matches each letter of that word with letter pictures straight from Flickr.
Splashr
Splashr is a marvelous application for Flickr which is actually far more robust and useful than it first appears and is used for presenting Flickr photo.
Flickr Slideshow Generator
Flickr Slideshow Generator lets you to create a free stunning slideshow from your travel photos and generate the HTML necessary to embed a custom Flickr Slideshow in your page or blog.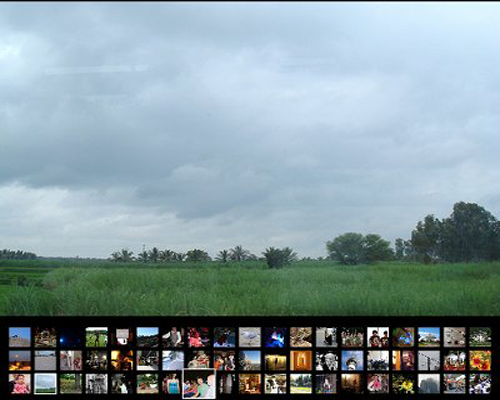 Travelr
Travelr is a free photo gallery viewer which lets you displaying your Flickr photos geographically on a world map. It is a gallery viewer that you can put on your own site.
Flickr Image Gallery
Flickr Image Gallery is an Ajax image gallery which allows intelligent pre-loading of images so the images you are looking at are loaded first. It displays images along with fade effects and allows for transitioning of images.
CompFight
CompFight is an image search engine tailored to efficiently locate images for blogs, comps, inspiration, and research that uses Flickr's API to search the database of photos and then feeds back the results as live clickable thumbnails.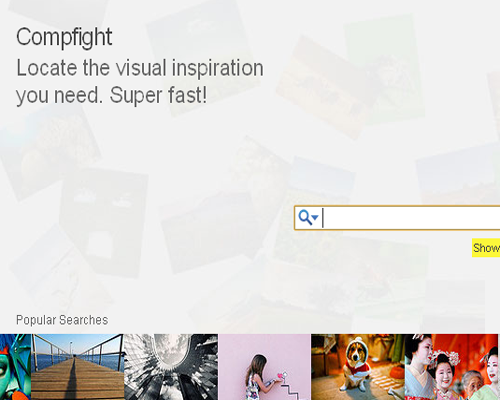 FlickrBabel
FlickrBabel is an effective search tool which allows you to search photos on Flickr. It uses Flickr API's and serves as a satellite application when exploring several web services.
Flickr Flipper
Flickr Flipper is a unique Flickr search tool which allows you to search for Flickr photos and also search for photos from specific Flickr users. This application uses paper vision to display the photos one at a time and even allows you to download the photo to your computer.
FlickrStorm
FlickrStorm is a new and better way to search for Flickr photos which works by looking for more than what you enter to find related and more relevant images. With the help of this, one can easily search through photos by entering a subject or topic and can pull up relevant photo and thumbnails.
Rinniee Ginsburg is a email template developer and writer at
EmailChopper
. Her technical competency has helped the professionals explore the new techniques in practicing the innovative email development. She has written various articles that accentuate the importance of PSD to Email conversion, smart procedure for responsive email template development & many more. All her writeups have become a source for many professionals and business players to grab the valuable information.