Ample List of Websites Which Offers You Free Online Faxing Service
Online faxing service represents they smart means to send or receive fax in easy and comfortable manner without having any need to visit to the cyber café or bring fax machine. Those days are gone when people need to use fax machines for sending or receiving faxes. Now the use of fax machines is replaced by more smart solution, i.e. online faxing service. Today we will take you on tour of several websites providing online fax services.
Are you aware of the term Fax? What does Fax really means? Actually, Fax is one of the excellent technological advancement in the present era that sends and receives important files and documents worldwide in very easily. Remember those days, when people used to send and receive faxes anywhere manually by visiting to the cyber cafe or any fax service provider center, the café full of customers and people waiting in a queue for their turn. How tough the scenario was. That was the time when people wishes to have a fax machine to send and receive their faxes sitting at their home. But now time has changed. Now, people need no longer have to have a fax machine to send faxes. At this time, the era has advanced and technological advancement is making boom in the market which has made everything possible what people thinks. Now, people don't need to wait for any fax machines to send or receive fax. Nowadays there are large numbers of website which provide the service of fax sending or receiving online.
These days, there are many free online fax options available on internet that permits you to send and receive fax online free of cost. Only people need to have their own PC and internet connection. Here is some of the websites that offer free online faxing. Most of these websites propose a few free faxes initially, and then offer a paid subscription service for further faxes eventually. Choose from this awesome collection and pick out those which suit you best and enable you to simply send and receive internet fax worldwide.
Nextiva Fax
This is really a remarkable service which allows you to send and receive faxes in bulk from any part of the world, only the thing, if you have internet access. It is best for use when user need to send a huge volume of faxes like 500 free faxes per month without experiencing any paper jams, system errors, or busy signals. It provides a versatile platform for sending faxes in various formats. This service uses various portals like email, MS Office, web portal, and also through fax machine and enables you to fax either by email, via Microsoft Office, from your online control panel, or continue sending faxes through your fax machine with a Nextiva fax adapter.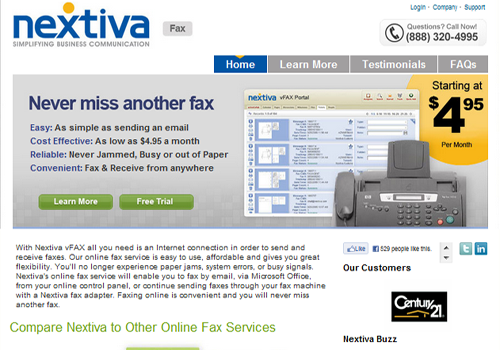 Fax Freedom
Fax Freedom is a powerful internet faxing solution which enables you to simply send and receive faxes from any computer. It also facilitates you with the remarkable feature of storing and labeling any of your faxes in a special folder for easy access and next time when you need to send the same fax.

Pam Fax
Pam Fax is the online fax service which allows anyone to send or receive fax messages in a number of formats including the most common two formats like PDF and DOC. It is the only fax service which is a fully integrated system with Skype and is free to join. The new user gets the facility of three free fax pages. It includes the support for Dropbox, Box.net and Google Documents.

Fax Zero
Fax Zero is a free online fax service that allows sending faxes online anywhere in USA and Canada. It allows users to send document both in PDF as well as word formats. It permits users to send two free fax messages every day with maximum limit of each fax in three pages. It is very easy to send fax using this service, you need to save the document you're faxing onto your computer somewhere, provide the fax number and company information, and send the file; you can say it just like sending an email. After the successful sending of fax, you will receive a fax confirmation in your email inbox within 20 minutes of the fax sent.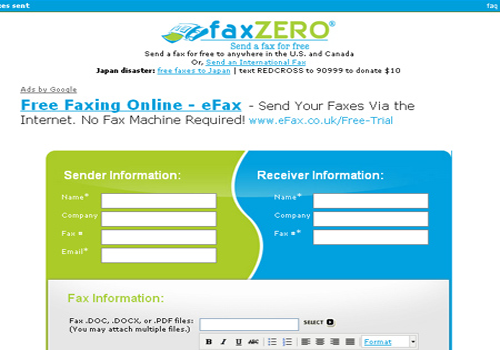 Ring Central
Ring Central is an internet fax service provider which allows you to send and receive faxes online. It offers its services at reasonable rate which everybody can afford.

Pop Fax
Popfax.com is a reliable and cost-effective Internet fax service which allows end-users to send and receive faxes using a web interface or an e-mail client. It first of all offers a free fax online trial, but after then goes to a paid subscription service. It offers worldwide fax service, and keeps your documents in storage for 30 days. Its subscription fee is low enough that it is affordable and nice for you if you need to send number of faxes in a month.

Send2Fax
Send2Fax is an awesome internet service which offers a quick and affordable way for you to stay in touch with your contacts by online fax. It makes easier for the user to send or receive faxes to the people in their contact.

My Fax
My Fax is an excellent faxing service that allows users to send nearly 100 free faxes per month and receive 200 faxes at no cost. This is an award-winning Internet fax service used by individuals, small, medium and large businesses to send and receive faxes through your email, the web, or smart phone. It is a free online fax service will allows you to send fax to over nearly 40 countries like Canada, Czech Republic, Belgium, Brazil, United States, United Kingdom, Argentina etc. It well integrates a number of file formats and synchronizes with MS Office and Outlook.

Smart Fax
Smart Fax is an internet fax provider that provides smart service to its users. The person can start faxing anytime, anywhere by getting their personal fax number. It allows users to receive and manage faxes, send fax from email to any fax number.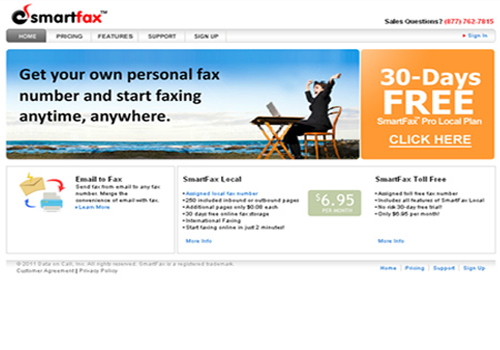 Trust Fax
Trust Fax is a renowned Internet fax service which allows everybody to send or receive fax as emails with their own toll free number. It is recognized services which has retained its place in the eyes of thousands of users.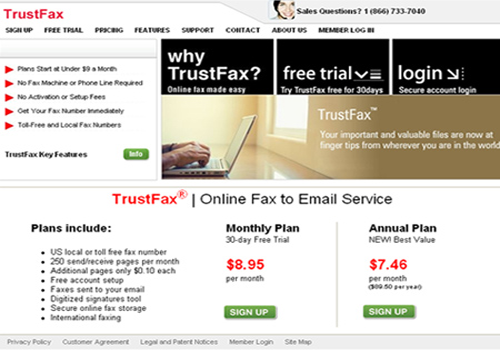 Free Fax
Free Fax as the name suggests is a free fax service that lets anyone to send and receive email from countries worldwide, direct to their inbox. It is safe and secure which maintains the privacy of the data sent via fax.

E-Fax
E-Fax is a known name in providing Internet fax services, providing fax solutions etc to individuals, small businesses as well as large enterprises. One can send fax to multiple recipients with just one click. It is easier and faster as well as private and secure to use.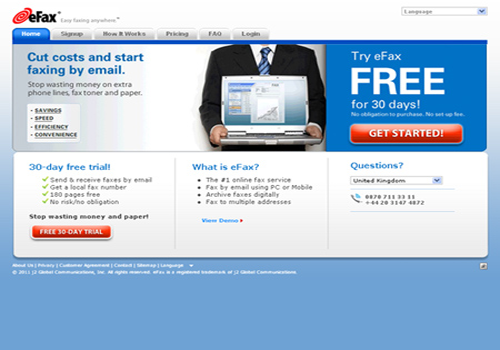 Message Net
Message Net is a single web provider for fax which allows to send & receive faxes in your mailbox in PDF format. This service enables you a VoIP, a personal phone number with no fixed costs to call worldwide. One may send fax from the web or via e-mail with Microsoft Office.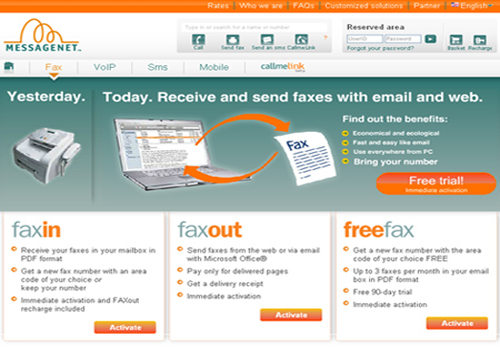 Wonder Fax
Wonder Fax is a 100% virtual free UK fax service. The people wanting to avail the service are assigned unique fax number receives your faxes converts them to a PDF file and emails it to you as an attachment so that you can read anytime. For this, there is no need of any fax line or fax machine.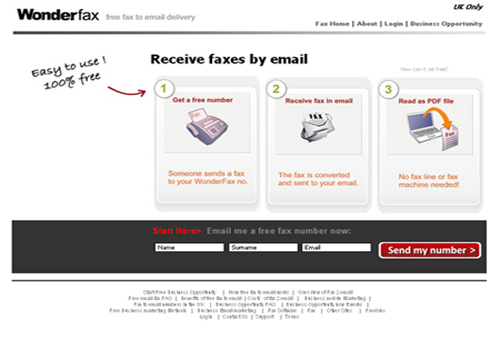 Fax 1
Fax1 is a remarkable US based company which provides inbound and outbound fax services that lets the users to send and receive fax straight to their mail. For this it utilize a PC and any Internet connection.

Fax It Fast
Fax It Fast is a leading email fax service that allows users to send and receive faxes directly from their e-mail or from your Smartphone within a minute. The user availing this service is provided their unique, dedicated fax number which authorizes them to send or receive fax.

Rapid Fax
Rapid Fax is an online faxing service which allows users to send and receive faxes through the internet using their emails. One may send or receive multiple faxes at a time without facing busy signal or waiting for a long time due to server slow. This websites provided 30 days of trial service absolutely free of charge.

Scan R
Scan R is really an incredible e-fax service which serves as a digital scanner and fax which can take in your pocket. With the help of this, you may send any picture or documents using your smart phone to any valid e-mail id. Also you may convert your file easily into PDF format and sent to the recipient in a professional manner without paying any charges.

Got Free Fax
GotFreeFax.com is a known website which provides free online faxing service to US and Canada and lets user easily send free fax online to the US and Canada without any registration or credit card information. It allows sending two faxes per day with each fax not exceeding 3 pages. It offers two ways to send the fax message one with the message in the text box provided or second is by uploading the supportable file formats like .pdf, .doc and .docx only.

Axia Tel
Axia Tel is an innovative and international telecom company which offers Fax services to E-mail service. The most noticing point about this company is that it offers 30 days of free trial service so that one can be sure it is the right service for him. It is an online sales portal for business telecom solutions that offers online faxing service that bring flexibility, mobility and cost effectiveness to the small offices.

Fax Orama
Fax Orama is a remarkable web faxing service which is available free of cost to for everybody. This service enables everyone to send faxes to anybody, anywhere in North America.

As the most experienced developer of
CSSChopper - PSD to HTML Conversion Company
, David Meyer firmly believes in building the new ways that lead the people towards success. He focuses on an ideal approach and tries to deliver the perfect services close to the defined needs.