Social networking sites play a major role in the making and maintaining prospective business contacts resulting to the business growth and expansion. As we know well, social media marketing is one of the great ways to network and share information with the masses. Social networking sites serves as good channel for distributing news and announcements relating to the individual's products and services and thus promoting one's business.
Especially, when an individual has started his/her new business and does not have much contacts, in that scenario, social networking sites appear as the only and the best option for them to rise up their contacts and set their business in a well manner.
Huge social networking sites like Twitter and Facebook prove great for large scale connections and discussion. Social networking sites are the place where entrepreneurs and small business owners get a chance to connect with other like-minded individuals in a wider and in a more focused setting. If you too have newly start up your business and are looking forward to strengthen your contacts then follow the below enlisted networking sites. We are detailing below the top social networking sites which will give you a fresh start up in your business strengthening your contacts and promoting your business. We have presented this stunning list specifically for small businesses, entrepreneurs and startups. Feel free to have a look over these:
Social Networking Sites
LinkedIn
LinkedIn is the world's largest professional network which strengthens and extends your existing network of trusted contacts. It lets you to connect instantly with more than 120 million members in more than 200 countries and territories worldwide. It represents a valuable demographic for marketers with an affluent & influential membership.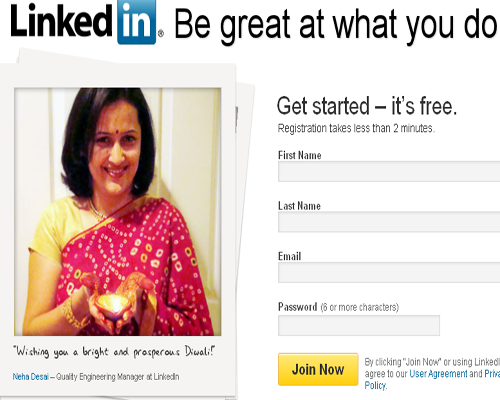 Meet the Boss
Meet the Boss is a business networking tool most fitted to be use for business executives around the world, across all vertical industries. This online business TV channel believes in the fact that everything starts with people, idea, vision, strategy, build, sell, use, loyalty and hence provides all the necessary business assistance which you expect to boom in your business.
PartnerUp
PartnerUp is an online networking community which offers its members to get connected with their potential partners, advisers, and business resources. It serves as a social network for small businesses and entrepreneurs who seek forward to learn the expertise and resources they need to start and grow a business.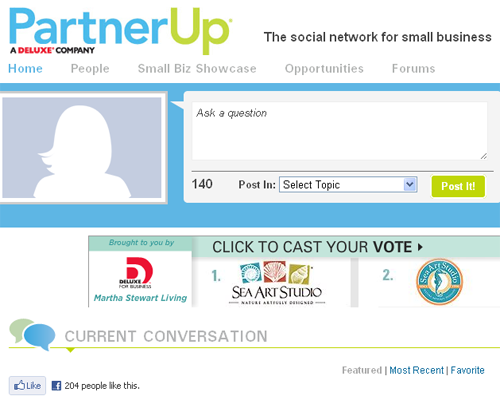 Ryze
Ryze.com is a free social networking website designed to link business professionals, particularly new entrepreneurs and assists them in expanding their business network. It lets the entrepreneurs and business holders to re-connect with friends and make quality business contacts.
Talkbiznow
Talkbiznow is a comprehensive interactive business networking site for all those business professionals who are in the way to start up their fresh business and wishes grand success by making large contact networks. This amazing social networking site allows the businesses or entrepreneurs to create their own web-store and start selling it today.
XING
XING is a social software platform for business professionals which enable them to get in touch with people to generate contacts that stay connected to them for a lifetime. It assists the professionals by enabling a small-world network for them and let them to find a job, events, groups, and companies.
FledgeWing
FledgeWing is an online community aimed at entrepreneurial university students facilitating them with the framework they need to develop, build and launch innovative new companies. It was launched in February 2009 and since then it has played a major role in the boosting the productivity of newcomer businesses by its comprehensive business plan.
Cofoundr
Cofoundr is a private social network for entrepreneurs, programmers, designers, investors, and other individuals who are deeply involved with starting new ventures. It promises to be the fastest growing online network for Entrepreneurs and assists them in finding co-founders, building teams, and taking advice from experts.
Perfect Business
Perfect Business is an extra ordinary social networking site which paves a path to entrepreneurship for entrepreneurs and assists them in launching and growing their businesses with its easy-to-use tools and resources, plus a network of entrepreneurs.
Biznik
Biznik is an award-winning community of entrepreneurs and small businesses dedicated to helping those people who are aspiring to build-up businesses each other succeed. It serves as the local, independent entrepreneurial community where collaboration beats competition. It's the place where real conversations about small business and entrepreneurship take place and where one can share their ideas with experts.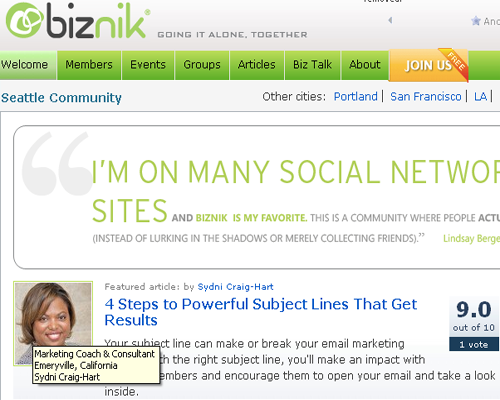 StartupNation
StartupNation is one of the top notch social networking sites aimed to assist the small entrepreneurs and businesses by its free service. It serves as one-stop shop for entrepreneurial success as here business owners can find all the easy-to-follow, practical information they could ever need to start and grow their own successful business. It has grown to be the leading online content and community resource for entrepreneurs that provide real-world business advice to people who want to start a business and who want to grow their small businesses.
Entrepreneur Connect
Entrepreneur Connect is the social network which is aimed to promote products and services of entrepreneurs and hence promoting their business. It is the place where small-business owners can create a profile, explore the community, share ideas and make connections and where entrepreneurs can exchange real advice and make lasting connections.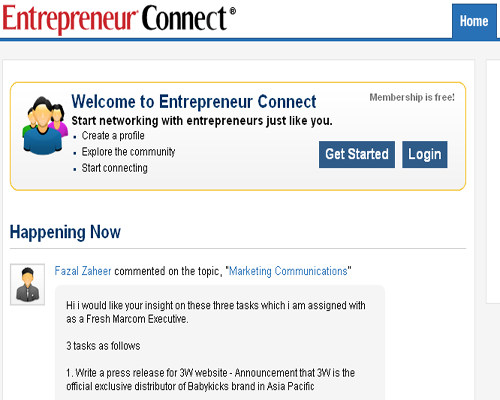 Young Entrepreneur
Young Entrepreneur is a renowned online discussion forum for start-up CEOs, founders, aspiring entrepreneurs, mentors and investors worldwide where they can share and talk about entrepreneurship. It has become a "must visit" resource providing all the necessary assistance for your business.
Blogster
Blogster is a well known social networking site which satisfies you appetite for business. It offers tools, tips, and opportunities to share resources for free weblogs and make a boom in your business.
Konnects
Konnects is a social media platform that is embedded on the site of an online newspaper or publication to bring engagement to the organization's site and serves as a fully integrated solution bringing the best of breed features together into one framework that is easy to setup, maintain and manage.
Upspring
Upspring is a business networking, which offers you local Internet marketing, local advertising, product promotion, and online marketing services and enables you to connect, communicate and manage your business and professional community networks easily and effectively. It makes quite easy for anyone to reach out to you or your business, ask questions, engage in conversations, exchange knowledge, and learn about you, your profession or business.
EFactor
The EFactor is a fast growing vibrant global online community for Entrepreneurs which helps them in building their business, finding financing, and networking with like-minded entrepreneurs. It is the world's largest network for entrepreneurs offering them the largest network of people and all the required assistance boosting up the business profile.
Networking for Professionals
Networking for Professionals as the name signifies is a global networking site that offers online networking and business events to the entrepreneurs. It permits the entrepreneurs to get connected with largest network of their clients both online and in the real world.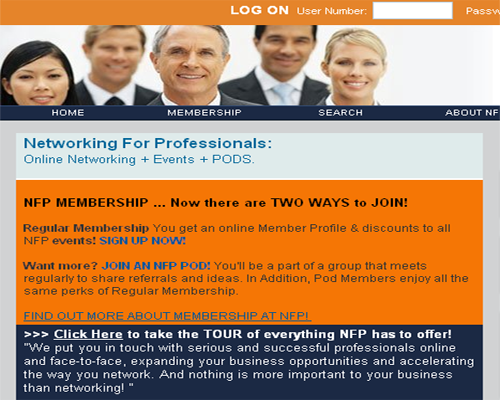 Spoke
Spoke is a leading and fastest growing networking community which offers on-demand business to business contact information for sales people, marketers, and recruiters enabling Sales Lead Generation, and Business List building.
Unstucture.org
Unstructure is an open discussion platform intended for business professionals, bloggers and contemporary thought leaders and is engaged in providing deep insight and action ideas on the future prospects of business. It is the place where entrepreneurs get together to discuss and debate action ideas that would aid the evolution of business.
Ecademy
Ecademy is an outstanding networking platform which offers online networking for business, offline networking events and global networking groups etc. It offers huge future prospects to the entrepreneurs and shows them the right path to attain height and grand success in their business.
Focus
Focus is a perfect business destination where business professionals belonging to numerous categories such as small business, HR, Finance, Sales, Marketing, etc can help each other with their purchase and other business decisions. It offers you a golden opportunity to get connected with the world's leading business experts and share expertise in functional areas of business.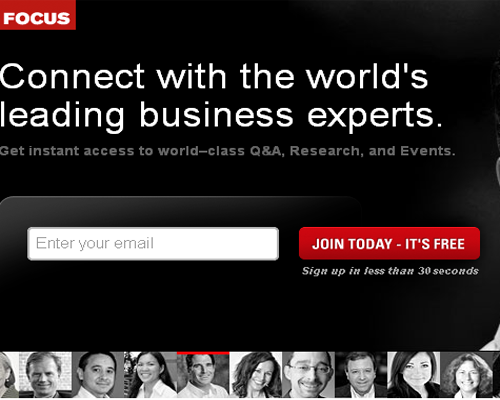 Jigsaw
Jigsaw is an online social networking platform which offers you an online business card networking directory so that you can establish contacts with each other. It offers you the easiest way to instantly reach business professional. You may keep yourself up-to-date with data that is continuously refreshed by a community of over 2 million members and can also instantly access more than 30 million complete and accurate B2B contacts.
YouNoodle
YouNoodle is the right place to satisfy your entrepreneurial appetite; it is the place where you may discover and support the hottest early-stage companies and university innovation.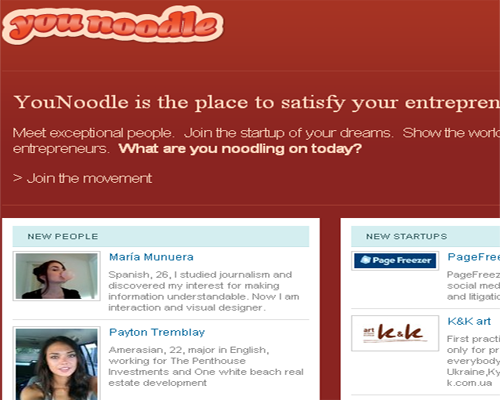 Raise Capital
RaiseCapital is the premiere online destination for entrepreneurs where they can showcase their business ideas and capital needs directly to investors. It has more than 5100 registered investors and works with very simple mission that is to connect entrepreneurs and investors.
List of Social Networking Sites
Please Share Your Comments & Experience With Us.
Brayan Lazaris, a web development expert, has been working with
HireWebDeveloper
for many years. Till now, he has written numerous blogs and articles elucidating the best methods and approaches to process web development brilliantly. His keen interest in researching the smart technique for better web solution has opened the gateway for many businesses to establish a strong foothold in the digital space.