Amazing Vegetable Star Wars Designs
Are you a Star Wars fan? Then this is a must watch blog, as we are presenting vegetable Star Wars exclusive you guys! Remember! We were younger, we used to get impressed by those little carved flower garnishing or topping on our dishes, and they not only look beautiful but also increase the anxiety to taste the dish. Surely must have seen many vegetable arts done on salads or any other cuisine but I'm sure you will love to watch this vegetable Star Wars collection.
These great vegetable Star Wars dishes have been made through broccoli, carrot, sweet potatoes, white potatoes, Japanese white radish, pumpkins, lettuce bamboo sticks, toothpicks to keep the pieces together and many more. The artist has used carving fruits and vegetable to make into attractive shapes and used as a decorative garnishing. These vegetables made Star Wars look incredible and if you are a Star Wars fan and a foodie you will surely love the massive collection of creative Star Wars food designs.
Here you can see the blend of fine art of Japanese cuisine with that of a galaxy far away. Check out the impressive "Star Wars" vegetable sculpture, fine creativity, each design is carved meticulously. You can see the most of the characters of the Star Wars like Darth Vader, Luke Skywalker and many more.
So check out the marvelous Star Wars vegetable designs. Enjoy!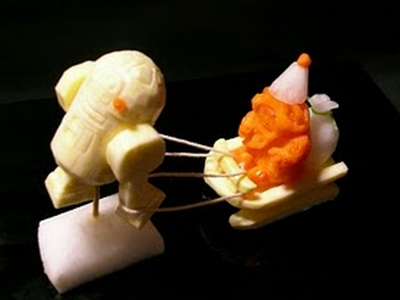 CONCLUSION:
I hope you have enjoyed this vegetable Star Wars post, the artist was inspired by the Star Wars theme; it's a unique blend of Japanese cuisine and a Star War galaxy that has been beautifully represented here. I would really love to taste such a blend and hope you too. Do comment if you have seen any such cuisine or art. I would love to hear that!
The area of interest of Jennifer Adam is to cater technologically advanced and powerful tool which works remarkably with multiple browsers and devices. Being a talented professional of
inkyROBO
, she is capable of implementing the innovative ideas and also loves to write inspiration blogs.