Amazing jQuery Countdown Script for Web Designers
This Amazing jQuery Countdown Script for Web Designers are very useful and worthy. Incorporating jQuery timer countdown or countdown script to your site will make your visitor updated that how much time they would wait for coming events. Moreover, Countdown Scripts of jQuery are also useful in the case when your site is not online or "coming soon" or "under construction site".
Hopefully, you all must have notice an impressive features of countdown timer on many websites. Also, you might be want to implement to your site for various distinct purposes. However, you may see it on different specific sites towards conveying an information in most captivating and amazing way that strike to your mind at first sight and make it memorable as well as state the deadline. Lets take a look over some example being presented here. In sport site countdown says about deadline of a big event. Some of the site which are not online still use countdown to say visitor in a dynamic way when to return back to their site – thus also called as construction timers. They are also useful in countdown to launch a game, release of movie or organizing a party.
However, countdown script has incorporated a ton of worthy use cases and a good thing is that some useful jQuery scripts also sits there that can be employed to your website in very easy and affable way as well as without meeting any hurdles. Thus, in this post Amazing jQuery Countdown Script for Web Designers, I have congregated some hand picked and most useful jQuery countdown scripts. jQuery buoy up it place in other distinct areas also including particularly jQuery Slider, jQuery carousel and plugins which eventually result in uplifting your site. This list of jQuery countdown scripts constitute Free jQuery countdown scripts with premium which charge to download.
So, now go ahead and check them out as well as employ to site or project accordingly which suits your need and requisite accurately.
jQuery Countdown with Background and Overlay


This is literally a cool and efficent jQuery countdown script. It offer a complete package to download with CSS, images, script and miscellaneous.


Coming Soon Landing Page

It is a smart and cool countdown script which is useful to tell your visitors in the case when your site is under construction and still is not online.


Construction and Countdown Page

It is referred as an elegant countdown scripts which has easy adaptable countdown perfect for under construction page. Also it incorporate a manual for setting up it in easy and convenient way.


Countdown Timer jQuery Plugin


It is a simple countdown timer jQuery plugin that measures the period of time from a date. It is very convenient and easy to use. Moreover, it has been concord as an excellent download package that provide everything which is necessary to get started with.


Creating a jQuery Countdown


This is a simple jQuery countdown script but is quite worthy and useful towards including a countdown timer into your site for conveying an information in a dynamic way.


Easy Countdown


This is one amongst most easy to employ countdown script to keep your visitors acquainted that for how much time they are supposed to wait for a respective specific thing.


Fancy Countdown – jQuery Plugin


Fancy countdown is an excellent countdown jQuery plugin that can be customized in very easy and convenient way and enables you to build an outstanding countdown timer. It is so easy to implement that you can define your desired timezone with your own target date. Also it incorporates an extensive API.


FlipTimer

This exquisite jQuery countdown script has got 8 color themes and is ready to use. Moreover, it is also referred as a pretty template which include an excellent working contact.


Fresh Parallax Under Construction Countdown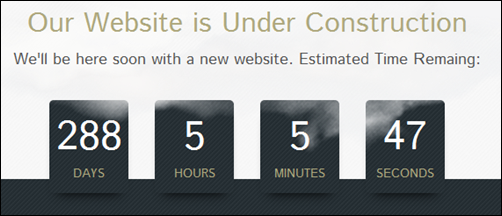 This fresh parallax under construction countdown script is quite obvious to embellish your "coming soon" page in account of a dynamic 3D cloudy sky where you can include your desired logo or item at focal point as well as act as center of attraction.


jQuery Countdown Plugin


This is a very captivating jQuery countdown plugin which allows you to create a countdown to animate the font-size of CSS at every second as well as eventually deliver an amazing reward.


jQuery Countdown

With this jQuery countdown plugin you can define a span or div in order to make appear a countdown to a given time. However, a lot of options are available as well as everything is supported by relevant illustrations and code fragments.


JavaScript Animated Counter


It is a simple animated JavaScript counter but is very significant. It lets you to intimate those values which rapidly decreased or increased such as total income, registered users etc. Beyond this, it is not useful to employed as text only but can be also employed as date & time or clock displayer. Moreover, you can also implement this as countdown to show the remaining time of launching of any product or services or release of campaign or starting of a sale.
JavaScript Countdown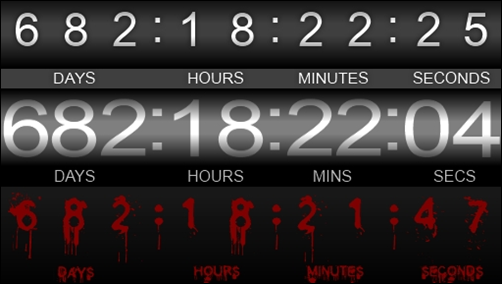 This is literally a nice countdown scripts which incorporate 14 distinct skin to go with as well as is also a template file in account of which you can create your own skin.


littlewebthings countdown


This is one amongst easy to use and animated JavaScript countdown which is compatible with jQuery and can be easily skinable. Literally, this is an exquisite method to keep your visitors updated regarding waiting for something on your site.


Live Broadcast Countdown Module

This a nice and cool countdown timer empowered by jQuery. However, header text depends upon the status of countdown (i.e. counting down or finished). A tons of options are available. When the time expires which was defined for the amount of time in backend show expiration message. Moreover, when the time touches its limit,this module will restart the countdown upto the event supposed to be appear next.


Lux countdown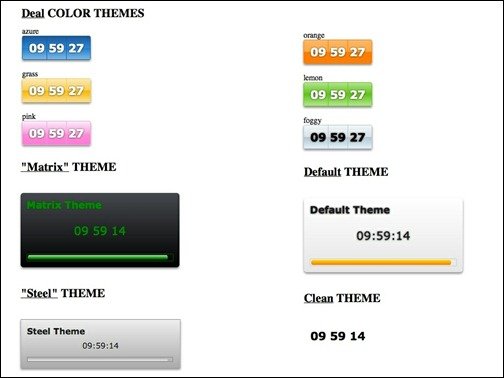 Literally this is very impressive countdown where no necessity of coding knowledge required in context of basic usage, as already it has incorporated simple themes for countdown timers. Moreover, you can customize this countdown using JavaScript framework, timer style with CSS and etc.


jQuery Countdown plugin that doesn't sucks!

This countdown plugin has an elegant style, which render it to embellish into your site in context of delivering information to your visitors.


Christiana McGee loves development and possesses specialization in converting Sketch to HTML. Associated with
CSSChopper - Sketch to HTML Company
, she constantly strives to serve the best, fastest and innovative solutions in a stre