A Roundup Trip of Adobe Tools Provided By Adobe Systems
Adobe Tools holds a significant position for every web designer or developer when it comes to designing and development. There are number of Adobe tools which have been launched by Adobe Systems and which have benefitted a large number of designers and developers as well. Adobe Systems Incorporated is an American computer software company which was founded in 1982 and is primarily focused upon the creation of multimedia and creativity software products. Different designers are using different adobe tools to create really awesome effects on their designs and ultimately on their web page. Some designers prefer to use Photoshop while others like to use Flash and so on.
We are presenting here some of the most important tools with its promising features which has led the designers to work with ease. In this post, we have focused on best collection of top-notch adobe tools all at one place. You will find several graphic and presentation tools which is presented by Adobe Systems. Hopefully, you will find this post beneficial to keep you up-to-date regarding wonderful adobe tools.
Adobe Photoshop
Adobe Photoshop is a graphics editing program which is developed and published by Adobe Systems Incorporated for graphic professionals or designers. This software is currently leading bitmap and image manipulating software in market. When it comes to the graphic design, every web designers prefer to use Adobe Photoshop.
Version
The latest edition of Photoshop is Adobe Photoshop CS5. This editions is the most professional and standard edition for editing and manipulating digital images. This edition is quite ideal for photographers, graphic designers, and web designers and makes them work with ease.
Features
It makes quick image corrections and edit and enhance images intelligently.
It features new timesaving tools which process images professionally within a short time period.
Adobe Photoshop includes comprehensive optimization features for producing the highest quality Web graphics with the smallest possible file sizes.
One may add transparency to images more intuitively with the new Magic Eraser and Background Eraser tools in Adobe Photoshop.
Adobe Photoshop automates the creation of contact sheets, saving your time of creating them by hand.

Adobe Dreamweaver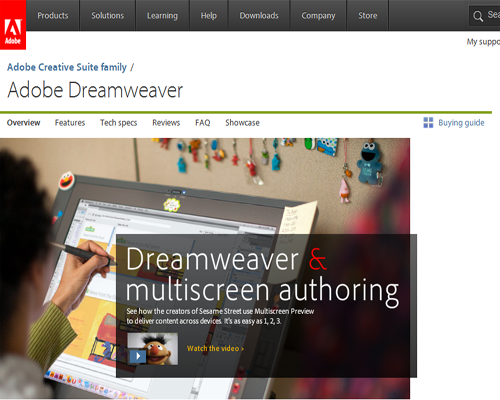 Adobe Dreamweaver, formerly known as Macromedia Dreamweaver, is a web development application which allows users to preview websites in locally installed web browsers. It was originally created by Macromedia, but now developed by Adobe Systems, which acquired Macromedia in 2005. It is the industry-leading web authoring and editing software that provides both visual and code-level capabilities for creating standards-based websites and designs for the desktop, smart phones, tablets, and other devices.
Features
Transfer and synchronization features and HTML & CSS support.
It facilitates the user with the ability to find and replace lines of text or code by search terms and regular expressions across the entire site.
Dreamweaver can use third-party "Extensions" to extend core functionality of the application.
Its behavior panel enables use of basic JavaScript without any coding knowledge.
It integrates with Adobe's Spry Ajax framework and offers easy access to dynamically-generated content and interfaces.
Version
The first version of Adobe Dreamweaver was launched in 1997 but it was applicable only on Macintosh OS. Thus its next version, namely Dreamweaver 1.2 was released in March 1998 and was the first windows version. The latest version of Adobe Dreamweaver is CS 5.5 which was released only three months ago, on 12th April 2011.

Adobe Flash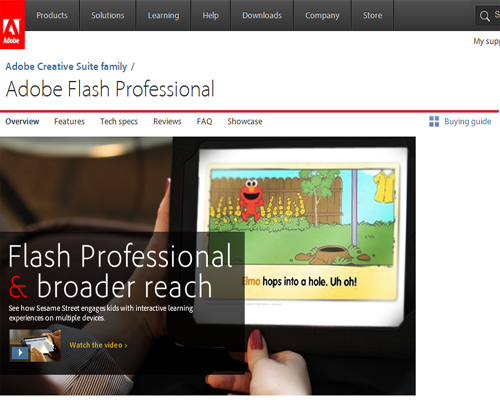 Adobe Flash is a well known product of Adobe which is ranked as a tool for "Rich Internet Applications" (RIAs). It provides versatile multimedia platform which is used to add animation, video, and interactivity to web pages. It captures user input via mouse, keyboard, microphone, and camera and is well supported with bidirectional streaming of audio and video. Flash contents can be viewed on any PC or any other device using Adobe Flash Player.
Features
Flash is a lightweight, robust runtime environment for rich media and rich Internet applications.
It manipulates vector and raster graphics to provide animation of text, drawings, and still images.
It contains an object-oriented language called ActionScript and supports automation via the JavaScript Flash language (JFSL).
It supports bidirectional streaming of audio and video.
No browser issues, whether a user is using Internet Explorer, Netscape Navigator, Mozilla Firefox or Google Chrome, Flash pages work in same manner on all of these

Adobe Fireworks
Adobe Fireworks is a well known bitmap and vector graphics editor which is used to create expressive, highly optimized graphics for the web. It is especially designed to assist web designers for rapidly creating website prototypes and application interfaces. It is available as a standalone product and can easily integrate with other former Macromedia products, such as Dreamweaver and Flash.
Version
The first version of Macromedia Fireworks was launched in 1999 and from then onwards, Adobe is continuously launching its version year after year. Current version of this Adobe product is Adobe Fireworks CS5.1. From first to last version it has covered a long distance as given below:
Macromedia Fireworks -> Macromedia Fireworks 2 -> Macromedia Fireworks 3 -> Macromedia Fireworks 4 -> Macromedia Fireworks MX -> Macromedia Fireworks MX 2004 -> Macromedia Fireworks 8 -> Adobe Fireworks CS3 -> Adobe Fireworks CS4 -> Adobe Fireworks CS5 -> Adobe Fireworks CS5.1
Features
It is easy to keep designs crisp on destination screens of virtually any size with advanced rendering in Adobe Fireworks.
Adobe Fireworks is responsible for optimizing images to its best level and in terms of image compression; it is known to have a better compression rate than Photoshop with JPEG, PNG and GIF images.
It is very easy to export a as TIFF, flat PNG JPEG, GIF (both animated and non-animated), PSD, SWF, PICT, BMP, WBMP etc with the help of Adobe Fireworks.
Adobe Fireworks better understand the file formats like ai, psd, eps, which are oftenly used by designers in a team for better workflows across multiple Adobe applications.
It is convenient to design interactive layouts for websites and rich Internet applications (RIAs) without writing code.

Adobe Illustrator
Adobe Illustrator is powerful software which provides precision and power for creating distinctive vector artwork for any project. It is developed by Adobe Inc for designers to create and align vector objects precisely. It facilitates the designers to design with flexible, sophisticated drawing tools, expressive natural brushes, and a host of valuable time-savers. It helps you create distinctive vector artwork for any project.
Version
The latest version of Adobe Illustrator is Adobe Illustrator CS5 which is facilitated with several features.
Features
It facilitates the designers to paint with vectors that resemble real-world brush strokes and achieve the expressiveness of natural media with the scalability of vector graphics.
One can create and align vector objects precisely on the file's pixel grid for clean, sharp raster graphics.
One can intuitively combine, edit, and fill shapes directly on the art board without accessing multiple tools and panels.
It features sophisticated vector drawing tools which enables the designers to create distinctive designs with precise shape-building tools, fluid and painterly brushes, and advanced path controls.
It features fully control variable-width strokes, arrowheads, dashes, and art brush scaling along a path.

Adobe Flex
Adobe Flex is a software development kit (in short SDK) which is the designed for the development and deployment of cross-platform rich Internet applications based on the Adobe Flash platform. It is released by Adobe Systems which allows the web developer to build web and mobile applications that share a common code base, reducing the time and cost of application creation and longer term maintenance. Adobe Flex is widely used to build expressive as well as cross-platform mobile application, web application, and desktop applications.
Features
Flex is facilitated with prebuilt component library and provides a broad solution for expressive applications of all kinds.
Flex includes a prebuilt class library and application services that help developers to assemble and build applications.
It facilitates the developer to build cross-platform accessible applications.
Flex provides a modern, standards-based language and programming model supporting common design patterns and one can extend and enhance the open source framework to suit their needs.
Flex is designed to scale from simple components in websites to full-blown browser-based or desktop applications.
Version
The initial version of Flex was Flex server 1.0 and 1.5 which was released by Macromedia. Later on it was overtaken by Adobe Inc which significantly changed the licensing model for the Flex product line with the release of Flex 2. The current version of Flex is Adobe Flex SDK which excludes the Flex Builder IDE and the Live Cycle Data Services.

Adobe Reader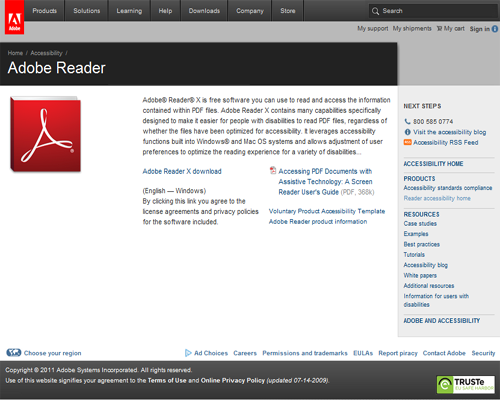 Adobe Reader is one of the most versatile tools introduced by Adobe Inc enables users to view and print PDF files. It is available as freeware for everybody and can be downloaded from Adobe's web site. Acrobat and Reader are most widely used as a way to present information with a fixed layout similar to a paper publication. It is used to create high-impact PDF communications, collaborate more easily, and streamline reviews.
Version
The latest version of Adobe Reader is Adobe Reader X which has been upgraded with various features in comparison to its past versions.
Features
Convert or scan to PDF: Adobe Acrobat X quickly converts any content into PDF, no matter what one is attempting to convert or scan to PDF.
Easily edit PDF files and quickly export PDF to Word or Excel documents.
With the help of Adobe Reader X, one can easily and quickly insert audio, Flash Player compatible video, and interactive media into PDF files.
Integration with Microsoft SharePoint: Work seamlessly with PDF files in Microsoft SharePoint.
It is specifically designed to make it easier for people with disabilities to read PDF files, regardless of whether the files have been optimized for accessibility.

Adobe Page Maker
Adobe PageMaker software is the ideal page layout program which is used to create high-quality publications such as brochures and newsletters for business, education, and small- and home-office professionals. One can create a wide variety of publications in Adobe PageMaker varying from simple one-page flyers to complex reports.
Version
Adobe Inc has announced the Adobe PageMaker CS5 as latest version of PageMaker.
Features
With the help of Adobe PageMaker, one can merge text and graphics stored originally in spreadsheets or databases to create custom publications, including form letters, mailing labels, envelopes, catalogs, or direct mail campaigns.
It saves time by importing native Photoshop and Illustrator files; one can easily drag and drop the native file or use the Place dialog box.
One can effectively create and view Adobe Portable Document Format (PDF) files with Adobe PageMaker.
It features hundreds of predesigned templates of which one can take advantage to create his/her own publications.
It provides support for the leading print standards and output files to any printing device, including digital quick printers and high-end commercial printers.


Adobe Visual Communicator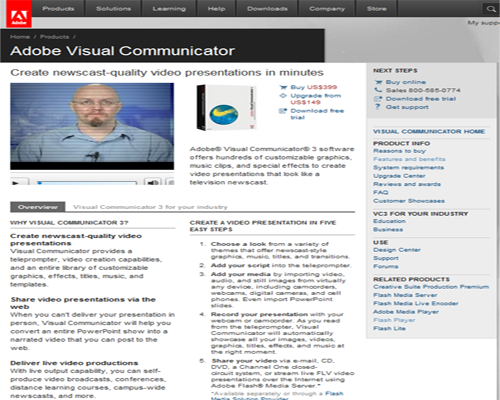 Adobe Visual Communicator is remarkable software which is used to create presentations videos by using graphics, music clips, and special effects. It was originally developed by Serious Magic Inc. and was acquired by Adobe Systems in 2006. It is a facilitates the designers to create presentations videos by using graphics, music clips, and special effects and present them in email, Internet, CD/DVD, or over Closed-Circuit System. It offers hundreds of customizable graphics, music clips, and special effects to create video presentations that look like a television newscast.
Version
Its current version is Adobe Visual Communicator 3.
Features
Professional, royalty-free graphics: Designers may choose from an entire library of newscast-style graphics, effects, titles, music clips, and templates to create professional video presentations.
Customizable transitions: One may create dramatic screen changes, and make their video presentations flow smoothly.
Advanced Character Generator: One may discover endless title and text overlay creations that are fully customizable with shadow, outline, glow, and transparency adjustments.
Share video presentations on the web: Facilitates the designer to share video presentations on the web, and select web pages, pictures, or PowerPoint slides to be displayed alongside the video presentation at specific points while the viewers are watching.
Create reference clips: One may create a reference clip with preset in/out points and sound levels for audio or video clips.

Christiana McGee loves development and possesses specialization in converting Sketch to HTML. Associated with
CSSChopper - Sketch to HTML Company
, she constantly strives to serve the best, fastest and innovative solutions in a stre