A Quick Overview of Magento Go: A Leading E-Commerce Solution
Magento Go is a leading open-source e-commerce solution that provides several built-in product types that allow businesses to accommodate many of the most common products that they would sell without much customization. It is upgraded frequently to provide merchants with the most current feature that let the merchants and small businesses free from all the worries of setting their online store.
It is especially build for budding ecommerce entrepreneurs. It is best for use for even those who have not that much web experience tool to interact with the administration panel.
In this post besides the introduction of Magento Go we will be detailing its entire features, its advantages, registration and prices, theme selection and customization, product entry, payment solutions, and everything. We hope you will grasp many things from this post and will pave your own way in the terms of setting your online store.
Introduction
Magento Go is a hosted software-as-a-service (SaaS) service from Magento that enables small and emerging merchants to quickly build and launch an online store. It handles all of the software, servers, hosting and security; take care of many of the headaches of setting up and maintaining web servers. Magento Go may be an attractive choice for some online merchants and manages any Payment Card Industry (PCI) requirements. It is hosted on a highly-available infrastructure and in top-tier datacenters to provide merchants with a robust platform to run their online stores and primarily focus on growing their online business. It is especially designed keeping small businesses in consideration that do not have the technical resources to build and customize their online store. For those small and emerging merchants who do not need complex customizations or extensions to use simple web-based tools in order to quickly get online, Magento Go makes everything easy letting them to set up their online store at a much faster rate.
Advantages of using Magento Go
Some of the key benefits offered by Magento Go to the small and emerging businesses are mentioned as below:
⇒ PCI Level-1 certified solution
⇒ Complete Design Control
⇒ Industry-Leading SEO
⇒ Fully supported by our team of experts via email and/or phone
⇒ Multiple Languages and Currencies support
⇒ Powerful Coupon and Discount Tools
Features
Marketing Promotions and Tools: Flexible Coupons (pricing rules) with ability to restrict to stores, customer groups, time period, products, and categories.
Search Engine Optimization: Google Site Map, URL Rewrites give full control of URL's, Meta-information for products and categories.
Catalog Management: Batch Import and Export of catalog, Google Base Integration, Downloadable/Digital Products, Advanced Pricing rules and support for Special Prices etc
Analytics and Reporting: Admin Dashboard for Report Overview, Abandoned Shopping Cart Report, Best Customers Report by Total and Number of Orders etc.
Site Management: Control multiple websites and stores from one Administration Panel, Web Services API for easy integration between Magento and any third-party application.
Catalog Browsing: Layered / Faceted Navigation for filtering of products in categories and in search results

Product Browsing: Multiple Images per Product, Product Image Zoom-in Capability etc

Others: It is multi-lingual, has support for multiple currencies and is iPhone optimized.
Registration and Prices
Registering for Magento Go is not very difficult and its pricing plan is also affordable normally for all the businesses. The registration process is easy enough and when merchants register to the Magento Go, they get the message that their account will be ready within few days after which they can begin working on the site. It offers four pricing plans that range from $15 per month to $125 per month. Its pricing plan mainly depends on the level of support the merchant wants and the quantity of domains, bandwidth, and storage desired. Apart from the mentioned four pricing plans, it also offers a free plan via its "$1 Million Stimulus" which effectively makes the $15 plan free for a year.
Theme Selection and Customization
The Magento Go e-commerce platform is very user friendly; it provides a very user friendly dashboard and user interface, intuitive navigation which is easy to use. Theme selection and customization features of this SaaS service are really awesome. It offers a wide range of themes to select and also even offers tools for basic customization. Also, it offers you a theme editor where you can create your own customized theme in case if you are not satisfied with the in-built themes. Below we are providing images of both the in-built as well as custom made themes.
Diverse quality of themes offered by Magento Go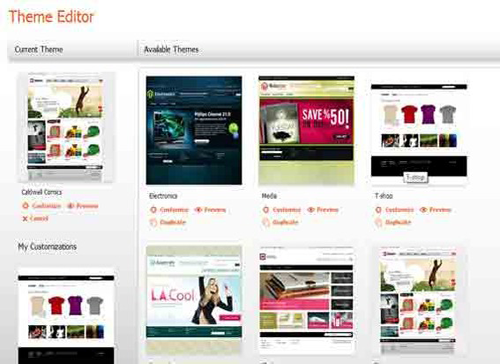 Semi-custom theme page
One of the advantages of Magento Go e-commerce solution is that a user does have significant amount of control over the theme. The user can customize the theme as per the requirement or desire as shown below:

Product Entry
In Magento Go, merchants can enter a huge list of products as much they can accommodate to sell. Products are entered in Magento Go by defining attribute sets defining lists of characteristics for a particular type of product. While defining attribute sets there come need of product title, description, short description, SKU, and weight and much more. The description sections have a built in what-you-see-is-what-you-get (WYSIWYG) editor that will make it easier for some users to format the descriptions. When products are being added, Magento Go asks for a lot of product information in contrast to other SaaS e-commerce platforms.
It should be noted that to show the products on the external site, products must have their statuses set to "Enabled" and visibility to either "Catalog, Search," "Catalog," or "Search." Inexperienced storeowners should review the Magento Go user guide as they go through the initial product entry process. In short and precise terms, we can say that the overall product management including the ability to upload product listings in bulk is extremely robust on Magento Go.

Payment Solutions
Magento Go is an excellent e-commerce solution offering payment-processing integration with PayPal. Magento Go PayPal integration makes it quite easy for the merchandisers and entrepreneurs to take orders.

Summary
Although, Magento Go is a bit more complicated in contrast to other SaaS provider, but its overall features offers an extremely good SaaS ecommerce platform that is competitive with the today's trends. It is difficult to get going than what it advertises but even then it appeared as the effective solution for the entrepreneurs while setting their online store.
We would feel delighted if you will share your opinions with us regarding this post. Feel free to put your comments in the comment section of this blog post.
Being a skilled Magento developer, Paul Schroer has been working for quite a few years with
PSDtoMagentoDeveloper
. He endeavors to leverage the clients with the excellent Magento solutions. He has been providing excellent web solutions to help company get renowned position in the industry. His knowledge in Magento enables him to write and post the blogs encompassing valuable information on Magento and its functionality.