A Prologue to Breadcrumb Navigation: The Current Design Practice on Web
Breadcrumb Navigation has appeared as the current design practices on the web and has perceived a lot more importance among web designers. Those days have passed when a collection of a few static pages used to complete the whole website. Nowadays, web design has attained a new height and the ever-growing model of content creation has exponentially increased the depth of a website. Web designers are frequently using breadcrumbs in web designing as it acts as the navigational device for a website visitor.
You must be curious to know what breadcrumb navigation is and what its role in web designing is. Breadcrumbs are a tool to help users navigate your website and especially to help them when they get lost. It is an effective tool which when used intelligently makes website navigation effortless. We are hereby in this article going to enlighten you about all the basics of breadcrumbs. We will help you to understand the importance of breadcrumbs in your upcoming web design in a better way.
Breadcrumb: What Is It and Why Named So?
The story of breadcrumbs is related to the tale of two siblings, Hansel and Gretel, who were walking through the mystifying forest, dropping bread crumbs with a hope of finding their way out. Just in similar way, this is an application which assists users to trace their path back to their starting point and hence named as "Breadcrumbs". It is as interesting navigation tool as its evolution bears an interesting concept. Actually, Breadcrumb or Breadcrumb trail is a navigation aid used in user interfaces which allows users to keep track of their locations within programs or documents.
For better understanding, look at the image given below. The navigational links that are circled are the breadcrumbs. Here in the given figure, Google has used breadcrumbs for the navigational ease of its readers and hence making the readers to trace their path from where they have started.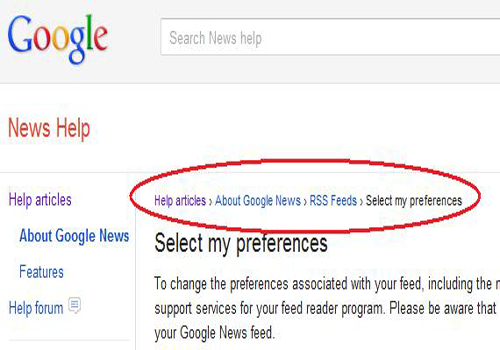 Why breadcrumbs?
You might be thinking why to use breadcrumbs which is quite obvious and smart question rose in your mind. You might be thinking that when client do not ask for breadcrumb navigation then why should you use it? Basically, breadcrumbs are performer nibbling in the corner of your design which when removed from your web design might not leave any changes, but when you will seriously concern about it, you will find that they do matter when used smartly. You should note that it is not the client who will tell you whether they want breadcrumbs or not but it should be your smartness that should make your mind up if a particular design have need of breadcrumb or not. Since breadcrumbs make a design more intuitive for users, you should make decision for it, whether to use or not. You have to consider that you are using breadcrumbs to help the user discover the correct path to home and not the path that they have followed.
As it is well known fact that coin has two surfaces, using breadcrumbs too have both pros and cons. So, let's have a look over it.
Pros of using breadcrumbs
As we have already mentioned above that removing breadcrumbs from your design might not bring many visual changes to your design but they surely add much to the convenience side of the users and enhance user experience. Let us see what the advantages of using breadcrumbs as discussed below are:
⇒ Enhance the overall user experience of any design
⇒ Reduce in useless page views
⇒ Increases average time on website
Usually breadcrumbs are pretty small in size and nifty to use
Cons of using breadcrumbs
⇒ Dynamic breadcrumbs add to the navigational complexity of an application.
⇒ Using breadcrumbs where they aren't required simply adds to confusion.
⇒ Using breadcrumbs as the only source of navigation can lead to information hiding.
SEO and breadcrumbs
When we talk of breadcrumbs in terms of search engine optimization, then, in this case too, breadcrumbs play a major role. Every webmaster desires that his website must appear on the top page of Google search engine. And since, Google provide ratings to any web page as per the use of effective keyword, breadcrumbs can be a useful way to leave keywords on a page and hence also raising the rankings on the search engine. Breadcrumb enhances keyword rich internal linking which as a result might help in SERP.
Inspirations
When it comes to breadcrumbs navigation, it is solely the choice of a designer whether to use it or not in their design. To make you out of your confusion, here we are presenting some websites which has made the use of breadcrumb trails. These websites will inspire you to use breadcrumbs if you feel like it should be used in your design:
Apple
Booreiland
Bubble Stick
Cool Spotters
Delicious
Devlounge
Girls Scouts
Lonely Planet
Overstock
Unique Martique
Conclusion:
From the above paragraph, the importance and the role played by breadcrumbs must have become clear to you. You must have perceived that breadcrumbs can be an effective aid in showing users where they are in your site. The breadcrumb trail is typically positioned near the top of the page in a horizontal list. Breadcrumbs are quite useful to enhance search engine optimization and hence raising the rankings.
We would like to know your thought; so please let me know your opinion regarding this post by dropping a comment.
Williams Heilmann has been associated with
PSDtoWordPressExpert
for many years. He has extensive experience as a web developer and works with this company to offer the best WordPress solutions to suit the specific needs of the clients. Also, he has got a flair for writing which he consumes in writing the informational blogs for submission on different websites.