A Look over Top Ten Free Tools Which Let You to Create Map Online
Sometimes it becomes very hectic to travel without any pre-plan and without having proper idea of the place where we are going to visit. In such situation, the enjoyment of trip gets lost and it converts into tiring one. That times a question raise in our mind, why we don't have digital map of the places we are wishing to visit.
The trend of creating map online is in fashion nowadays. These days there are various online resources from where you can get maps or which provide you the facility of creating online maps. We are providing various useful tools which can help users create maps of the places they are going to visit or planning for their trips. These tools will let you to create digital maps which will explain you the directions of a certain place.
This post is intended for those who are looking for online tools which can let them create maps and get directions. In this post we are showcasing several online tools, many of which you can use free to create map online. Check out these tools and try them which suits your needs best. We would be delighted to know your opinion about this post. Please let us know your thoughts by dropping a comment in the comment section. Enjoy the post!!!
Travellers Point
Travellers Point is an excellent online mapping tool which lets you to create a stunning visualization of the places you are planning to visit or have visited in the past. Using this tool, one can easily add details about the points on map, attach photos and much more. It helps you in creating your own free travel map and allows you to plot your itinerary on a world map. It is a sophisticated online utility which help travelers to plan their trips and create visualizations of places they are planning to visit or have visited in the past.
Viamente Route Planner
Viamente Route Planner is an ideal mapping tool which allows you to create a sophisticated map and plan your multi-stop routes. It is web-based routing optimization software which lets you optimize a delivery route for multiple vehicles and destinations.
Go Waza
Go Waza is an integrated travel search and planning platform with the help of which you can create an interactive map of your trip with hotels and more in 3 minutes. It goes beyond travel meta-search by consolidating all your information on one map and helps you to create an interactive trip map with hotels and more. It allows you to anchor your search around an address and implementing a drag and drop trip folder to help you organize your trip.
Quick Maps
Quick Maps is a neat little tool which lets you draw a map to your house or sketch out a cycling or hiking route. With Quick Maps, users can easily create a map of places they are planning to visits. They may put different markers on specific places, draw lines, mention details and work they are going for and much more. Not only that, after creating the map, the users can also easily post the map on their websites or save it so that they can carry it while travelling.
U Mapper
UMapper is a universal map authoring application which makes it easy to create, manage, track, distribute and monetize online maps. With the help of this tool you can create interactive maps and geo-games, distribute it across multiple destinations, and track its detailed usage as well as can make money with displaying advertisement.
Map My Run
MapMyRun.com is a community web site which provides online mapping tools to draw a route by just clicking on the map in order to plot the different points. This website is basically for runners and joggers.
Zee Maps
Zee Maps is an effective online mapping tool which makes it easy for you to create an interactive world map. It facilitates the users with many useful and customization tools which help them to create interactive maps, add markers, highlight regions which they are planning to visit and much more. Also, after creating the map, the users can publish these maps on blogs or websites or saved in JPG or PDF format so that they can be downloaded on different portable devices and computers. With the help of this tool you can create a free customized, interactive map, add markers manually, from Google Spreadsheet, or CSV file, customize marker fields for geo search, highlight the regions like states or countries, create PDF or JPEG images, and create wiki-maps for crowd sourcing.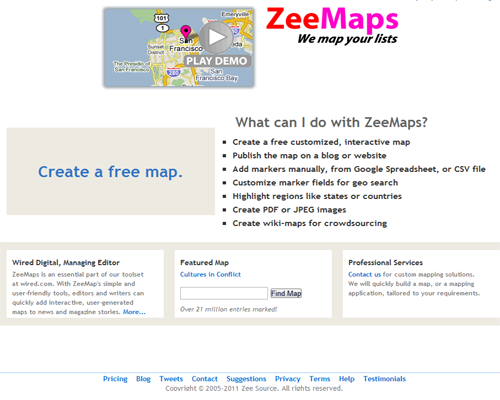 Directions Map – TripGeo
TripGeo – Directions Map is one of the very important online mapping tools which use Google Maps to create driving directions for your site. With the help of this tool it is easy to create Google Map with route directions, display street view for any point along the route, create animated street view for all or part of the journey, embed or link to the map, drag and drop route editing and so on. It facilitates the users with animated view of the street along with the street name which makes easier for the user to find directions to their destination.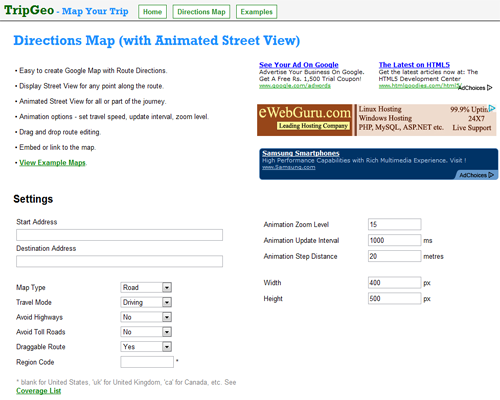 Community Walk
Community Walk is a website that allows you to make your own map of more than one address quickly and easily. It provides you very useful mapping tool with the help of which you may create personal, community, and professional maps.
Plani Globe
Plani Globe is an online map creation tool which allows you to design your own digital map of anywhere in the world. It helps users create digital maps online, define places, and add your own location and much more. It is really very important tool which facilitates users with many different options like legends to see the terrain of any location; the users may also download printer friendly format of the map and which they can carry with them and much more.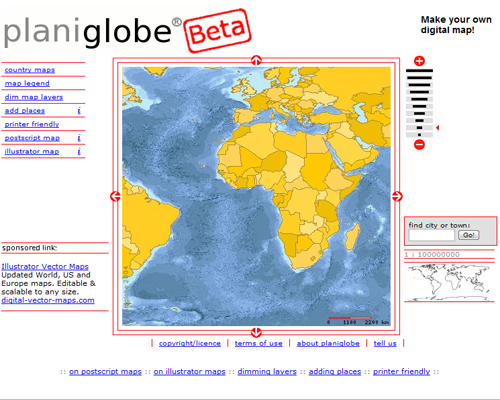 Williams Heilmann has been associated with
PSDtoWordPressExpert
for many years. He has extensive experience as a web developer and works with this company to offer the best WordPress solutions to suit the specific needs of the clients. Also, he has got a flair for writing which he consumes in writing the informational blogs for submission on different websites.