A Detailed Review of 000webhost
There is a myriad of the solution when it comes to web hosting, and honestly, there isn't any scarcity of free web hosting sites.
When you are down to choosing a service, it might be a difficult task. Choosing the optimized package that delivers both the quality and quantity is rare, but fortunately enough, we are doing an in-depth review of one of the top free hosting services, i.e., 000webhost. As the name states, it is a free website hosting service which gives its users a chance to host their website at 0$. Started in the year of 2007, this service has earned quite a fandom out there with the stellar performance. And now it is one of leading website hosting service that hosts for free. But it is of course not the only player in the market but what exactly makes them a great free hosting site? The answer will be unveiled as the review delves deeper into the various aspects of the types of services provided by a free webhosting company.
Inspire of they being a free web host, they also have a premium feature which provides exclusive features for its paid customers, but that doesn't mean it is a bait when it even comes to their free service they pack a promising bunch of surprises.
The free service provided by 000webhost.com contains 10GB bandwidth speed with a disc space of 1 GB. The free service also allows its users to host two websites and also has cPanel along with other web builders. Now it gets even more surprising because they also host free email. So now this is a deal breaker since all of it is coming for free. And for bloggers and other startups, this is a golden opportunity for them to start from here.
The Features Of 000webhost
• Hosts free domain along with free website builder.
• Cpanel hosting admin panel
• Guaranteed 99.9% uptime
• PHP, SQL and no ads
• 10GB bandwidth speed
• 1 GB disk space
• Full support for SQL and PHP
The best part of it
• Great pricing structure
• Spacious for beginners
• Instant backups
• cPanel support
• Email hosting
• Ad support
• PHP and MySQL support
• Great customer service
The advantages
• Pricing structure of 000webhost
Their premium pack starts from 3.49$ and extends to their business plan which costs around 7.49$/month. A similar sort of premium plan is offered under the same roof but in their sister company, hostinger which also is a great service provider.
The premium account holders will get a .xyz domain and a full on development support from the team. This support service is quite obscure since it also helps your site from the development aspect which you won't be getting in any other services. This plan doesn't end here as it supports a 24/7 live chat feature which assists you anytime. Their engineers are quite knowledgeable and are trained to support you with any kinds of problem with ease. They will also help you migrate all your data in case you want to use another website hoster, and that also is provided for free.
Features
• Free
• Premium – Silver
• Business – Gold
• Disk Space 1000 Mb Unlimited Unlimited%
• Bandwidth 10 Gb Unlimited Unlimited
• Panel Cpanel Cpanel Cpanel
• Number Of Sites No Unlimited Unlimited
• Price Free $3.49/Mo $7.95/Mo
• Disk space
000webhost offers up to 1000MB worth of disc space which is quite a lot for starters and blogger because a blog post like this one here weighs around 2MB. So a ton of blog posts can be done under this free service and in case you're run out of space, it is quite fair to upgrade in case you found this service satisfying. The free package is quite generous and can convert the free loaders into potential premium members. Also, you get to host two websites along with a domain name even with the free service.
• Backups Anywhere And Anytime
Digital media is likely to get lost or corrupted, so a wise person will always keep a backup of all their data. Whenever you are creating a website with 000webhost, the data already gets backed up. All these backup data can be restored with just one click and that too for free because it is already an inbuilt feature. With the admin panel provided you can take backups anytime you like, it doesn't only back up the website data but also includes a back up of MySQL data. It is quite a generous feature in the free package; even other paid services don't even provide a feature as useful as this one.
• Ad support
An amazing feature of this service provider is that it gives you the liberty to create and run your ads. Other free hosting services don't even allow this very feature since they run their ads. You can use Google ad sense even though it gets blocked at times, but the team is said to have been working on this issue.
• Email Support
For any business to thrive, they must have an appealing email id which has the premium quality of top-notch enterprises. 000webhost allows you to have that opportunity with free email hosting and support. You can even edit your own MX entry, unlike other web hosting services. These services also support mobile apps like Google mail or Zoho, so you can easily use them remotely.
• Phenomenal Customer Support
The customer support is satisfying and is very responsive to most web hosting services. They also have an issued forum where all the problems can be posted. Solutions are given instantaneously by the admins or the forum member. They even have a forum for non-English speaking people as well. This proves that they care for their Customer irrespective of the language they speak.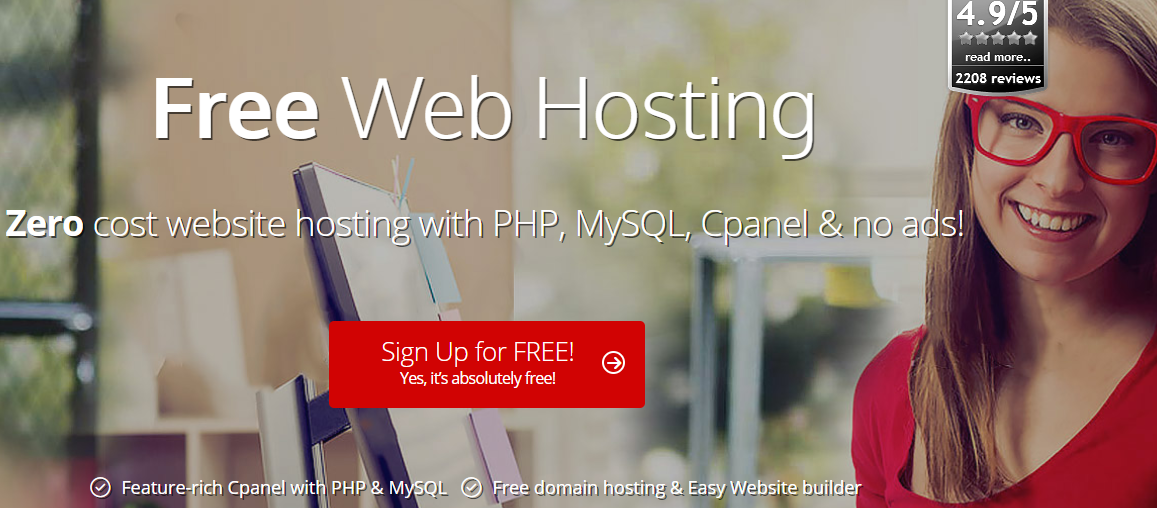 Apart from that they also seem to have a dedicated panel for website development assistance. You can even get further help on PHP or MySQL right here. They also handle other queries related to web site building.
These posts are a handout from our Guest Author who works with us occasionally and provide their opinions for our regular visitors on Web-Development & Designing, SEO, CSS, Coding etc. As their details can be marked with their concerning post even we would like to add that out Guest Authors are expert and master of their own sector. If you also desire to be our Guest Author Contact Us at
submit@webgranth.com