8 Best WordPress Hosting Providers for Static Websites
WordPress is no longer a blogging platform today. It has been widely used to create a variety of websites including e-commerce websites, business sites, portfolio sites, blogs and so much more. The major reason for the popularity of WordPress is it flexible and versatile nature. Moreover, WordPress offers a deep catalog of premium as well as free themes and plugins to allow you to extend the functionality and performance of your website.
WordPress has also been used for creating static websites today. A majority of new webmasters establish their online presence with the help of WordPress.
Static website vs. Dynamic website
Before we dive into exploring the list of best hosting providers to host your static WordPress website, it is worth glancing over the concept and difference of static and dynamic websites.
A static website is basically a site that has a fixed homepage instead of showcasing a list of the latest blog posts. Technically speaking, a website powered by WordPress will always remain a dynamic website due to the functionality of the software; however, you can limit the functionality and make a site static by keeping the homepage static.
Moreover, every single page of a static site is stored on the server as a separate HTML file to showcase that web page. This clearly states that if you have 30 pages on your website, there would be 30 .html files stored on the server.
Benefits of running a static website
The best part of running a static WordPress website is that you do not need any special type of server to host your website since it does not have any dynamic scripts and database associated with it.
Static websites offer faster loading time as they require no database interaction that slows down the processing.
Static websites require no advanced programming skills in programming and scripting languages such as ASP, PHP or database administration.
The 8 best WordPress hosting providers are compared on the basis of
Ease and convenience in installing WordPress
Customer Support
Pricing and the overall product offering
Best WordPress hosting providers for static websites
Bluehost is one of the oldest hosting providers that has been in business since 1996. It has certainly become the largest and well-known brand name in the field of WordPress hosting. Bluehost is the official WP recommended a hosting provider.
WordPress Installation
Bluehost offers one-click WordPress installation which is a service managed by MojoMarketplace. However, the interface of MojoMarketplace is quite complex and lacks a lot of features. The complex interface and lack of features lead to multiple installs accidently.
Customer Support
Bluehost offers fast and reliable live chat customer support which is available 24/7.
Completely secure
Bluehost offers powerful sidelock, Advanced CDN, and SiteLock WAF features to make your website fully secure.
Additional Features
Bluehost also offers a free site builder with templates and free Domain.
WordPress hosting plan starts at $12.49 per month.
Dreamhost has been in business for past 14 years. Being in business for so many years, Dreamhost has established a trustworthy and reliable position in the field of web hosting. Today, Dreamhost powers more than 650,000 WordPress sites and blogs. The web hosting provider offers a free domain and has no setup fees.
WordPress Installation
Dreamhost also offers 1-click WordPress installation that works beautifully with easy navigation.
Customer Support
Customer support is provided via live chat which is easily reachable and available 24/7.
Memcached
Dreamhost has fine-tuned Memcached setting that offers faster load times and fewer requests to the MySQL database.
WordPress hosting plan starts at $19.95 per month.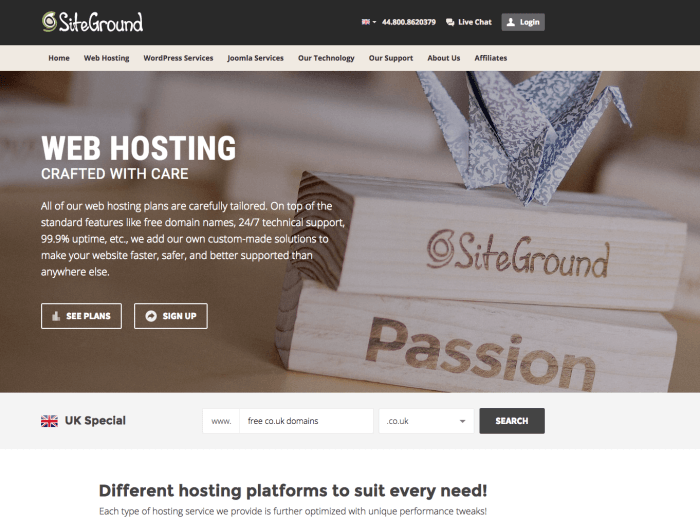 Siteground is a well-known brand in the WordPress community that offers unique in-house WordPress hosting for static as well as dynamic websites.
Location specific hosting
Siteground is one of the hosting providers that offer location specific hosting with 3 data centers in Singapore, Europe, and the USA for better response time and performance.
Customer Service
Siteground also offers 24/7 customer support via live chat as well as phone call.
WordPress installation
Siteground comes with an in-built installer that installs WordPress within few minutes.
Additional features
This hosting provider also offers GIT version control, one-click staging, CDN, built-in WP caching, and automatic updates.
WordPress hosting plan starts at $3.95 per month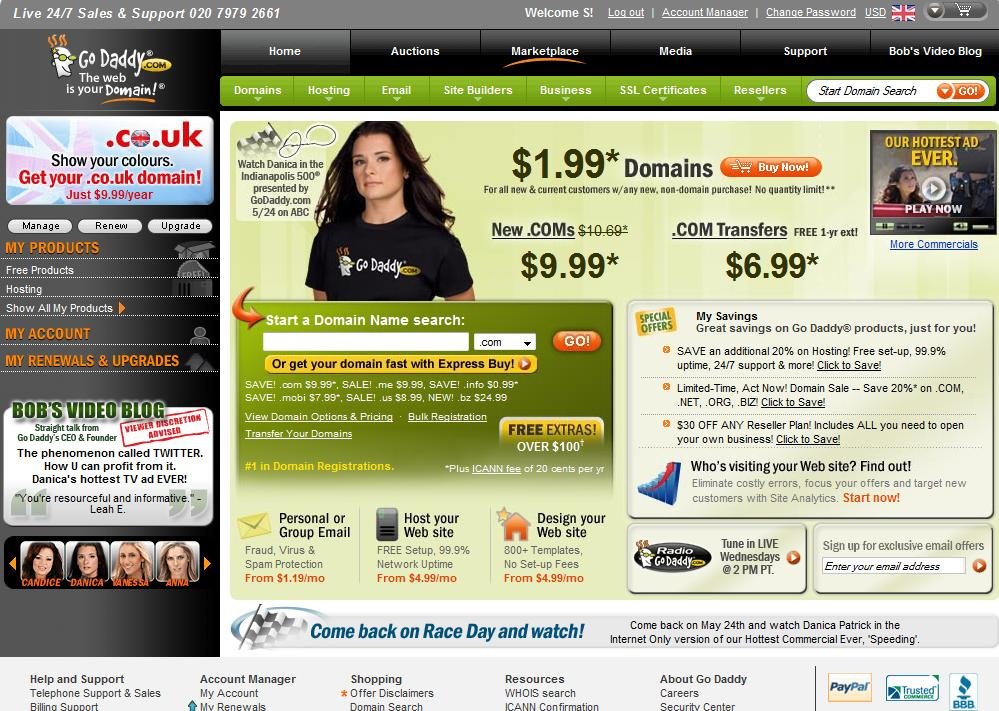 Godaddy is yet another popular web hosting provider in the industry that has managed to establish a trustworthy and reliable brand name. Godaddy is by far the cheapest hosting provider that offers WordPress hosting service at $1.00 per month.
WordPress installation
WordPress installation is a matter of few minutes with the in-built installer.
Customer support
Customer support is incredibly amazing with 24/7 live support chat.
Additional features
Besides incredible customer support, and price, Godaddy also offers many additional features including one-click staging, very efficient caching rules to speed up performance, automatic WP updates, DDoS Protection, malware scanning, redundant firewalls, nightly backups, one-click migration and so much more.
As discussed above, WordPress hosting plan starts at $1.00 per month.
Pagely is the very first hosting provider that introduced WordPress hosting services in the hosting industry. The robust server of Pagely is powered by Amazon Cloud which offers world-class scalability, redundancy, and performance which is usually only available to the largest brands around the world. Thousands of major brands such as Vonage, Twitter, Facebook, Microsoft and many more trust Pagely for their online business.
WordPress installation
WordPress installation is as easy as 1, 2, 3 with the in-built installer.
Customer support
Customer support is available via contact form and tickets by WordPress experts. Not live chat support is provided; however, submitting a ticket on the site yields response within 24 hours.
Additional features
The hosting provider manages all the technical details on your behalf such as daily backups, PressArmor Security, automatic updates and more.
A business plan starts at $64 per month.

InMotion web hosting is a feature-packed hosting provider that offers reliable performance with 99.9% uptime. This web hosting provider has US-based award winning technical support team to answer your every query.
WordPress installation
The WordPress installation is quite manual in InMotion Web hosting since it does not come with any inbuilt installer. You have to manually download the WordPress software and upload it to your server.
Customer support
InMotion web hosting provider offers three support options including live support chat, Skype chat, and phone call. The web hosting provider keeps customer service at utmost priority.
Performance
The performance of InMotion web hosting has been pretty amazing in regards to industry-standard uptimes of 99.9%. The web hosting has actually never had failures like any other major brands in August 2013. InMotion hosting provider is basically optimized for serious bloggers and provides incredible scalability for a blog's success.
WordPress hosting plan starts at $4.89 per month.

Hostgator web hosting provider has been hosting more than 8 million domains today and is a well-known brand name in the field of web hosting. Backed by a team of technical experts, Hostgator is always there to help you no matter what type of problem you may be facing.
WordPress Installation
Hostgator allows easy and 1-click installation of WordPress with an inbuilt installer called the Softaculous installer. Just hit install and you are good to go.
Customer Support
Customer support is available via live chat as well as phone calls. However, you may have to wait a little longer to get connected to a technical expert. Moreover, the live chat is much easier to access to.
Control panel
Hostgator has easy to understand and use control panel (Cpanel) with advanced control panel functions. Hostgator also comes with video tutorials for users to understand how the control panel actually works, helping users to quickly get accustomed to the Cpanel of Hostgator.
A WordPress plan starts at $5.97 per month.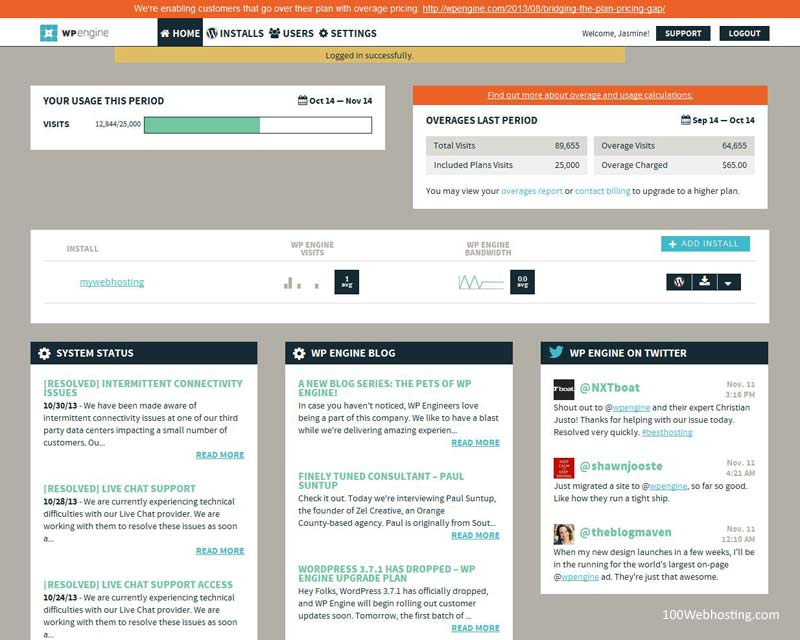 WPEngine is one of the fastest growing WordPress web hosting providers that offer robust and fast servers that are capable enough to deal with anything. With WPEngine, your website or blog becomes completely hacker proof due to their top-tier security feature.
WordPress installation
WPEngine comes with 1-click WordPress installation and deletion
Customer support
WPEngine provides an army of WordPress experts who are always there to help you and solve your WP-related queries in a matter of few minutes. With WPEngine, you do not have to deal with any technical side of launching and maintaining a blog.

Dedicated environments
The team of WordPress experts helps you set up your WordPress website on their most advanced infrastructure. All the plans it offers are custom-built to meet your specific needs and requirements.
Author Bio
Emma Watson is a WordPress Developer by profession and writer by hobby. She is associated with Wordsuccor Ltd., which is expert in providing WordPress Theme Customization Services to global clients. You can connect with them on Google+, Facebook, and Twitter.
These posts are a handout from our Guest Author who works with us occasionally and provide their opinions for our regular visitors on Web-Development & Designing, SEO, CSS, Coding etc. As their details can be marked with their concerning post even we would like to add that out Guest Authors are expert and master of their own sector. If you also desire to be our Guest Author Contact Us at
submit@webgranth.com