Integrating maps in the mobile app are essential to add interactivity. But when the app is developed using jQuery, it gets tricky to select the ideal framework for integrating maps. Well, efforts never go in vain as jQuery plugins enhance the user interface.
jQuery is useful in developing cross-platform mobile apps for Android and iOS. So, it is easy to integrate the same maps across both the OS. Here are some of the best available jQuery plugins to integrate operational maps for mobile apps efficiently.
Google maps version 3 have made life easy for the jQuery developers. Because integrating Google Maps API was a headache. Now there is no need to use Google event listeners for simple events like click and scroll. One can easily use jQuery click events for maps and markers.
What makes it even more convenient to use is its flexibility and size over and above being customizable. It gives amazing results when working with Phonebook for jQuery mobile.
You just need to make the selected element – a Google map.
 

$

(

'#map_canvas'

)

.

gmap

(

)

;

}

)

;
All the MapOption properties can be retrieved and set using the following code.
| | |
| --- | --- |
| | //getter var zoom= $('#map_canvas').gmap('option', 'zoom'); //setter $('#map_canvas').gmap('option', 'zoom', 7); |
jQuery Geo is one outstanding open-source geospatial mapping project. It offers a rationalized JavaScript API for most of your online mapping requirements. The magnificence of jQuery Geo lies in its primary component of a geospatial plugin. It leverages the single-user interface widget that fetches tiled or dynamic map images from map servers.
For effective integration of the jQuery Geo in mobile maps, you just need to instantiate on any div with an assessable width and height.
The below-mentioned code line will create a fully operational map on the app page where you want to show the entire globe to your users. It is accomplished by using OpenStreetMap data via the MapQuest tile set.
The default unit measurement is in the longitude & latitude degrees.
With this plugin, it is possible to create a gravity-sensitive map so that users don't get pissed off while they rotate their devices.
It is a light-weighted plugin which detects if the map is obfuscating the screen.
Javascript
<script

type

=

"text/javascript"

>
Even though the plugin weights 1Kb, there are numerous options you can fiddle around with using CSS styling.
| | | | |
| --- | --- | --- | --- |
| Option | Type | Default | Description |
| alwaysOn | Boolean | false | If false – map dimension is measured against the screen. True; always shows scroll area |
| hiddenClass | String | scroll-inactive | Hides the control using CSS class |
| scrollText | String | null | Integrate texts within the scroll indicator – Best left blank if you don't want any text |
| threshold | Integer | 100 | Defines the volume of accessible scroll area which is reflected on the map |
| tabCenter | Boolean | true | Positioning Scroll indicator with JS – Keeps the value to 'false' for positioning with CSS |
| scrollFollow | Boolean | true | Set 'False' -static scroll tab |
Google Maps V3 allow integrating all the potentials of Google Maps in a mobile application. It cuts down the usage of extensive documentation and the large chunk of files to incorporate in jQuery.
It is possible to integrate Google Maps into mobile apps using Maplace.js and gmaps.js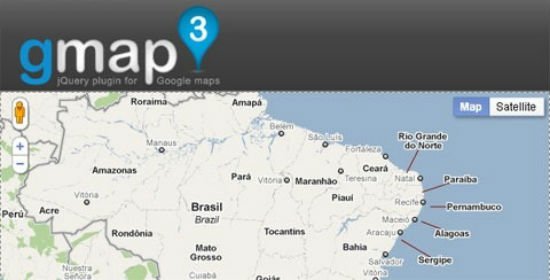 The ideal way is to use maplace.js for embedding google maps. It is possible to create markers and control menu for the on-map locations. A perfect blend of Google Maps V3 and jQuery will be put to the best use with this.
var

maplace

=

new

Maplace

(

)

;

// or new Maplace().Load();
It is easy to implement with simple options which support Directions, Polygons, Circles, Polylines, Fusion tables and styled maps.
Using Leaflet Library with jQuery
The leaflet is a popular open-source jQuery library. The purpose of integrating leaflet library is to avail the stock of mobile-friendly maps. Also, this is easy to use because of its size – only 31Kb.
It features everything a developer would ever require for integrating an in-app mobile map. Perhaps, this serves as one of the better alternatives to Google maps.
It is easy to customize maps using the leaflet tool as it renders as per the app requirement. It is safe to say that a leaflet can significantly contribute to enhancing UX. It is also possible to include images and HTML- based markers. Also, it includes a simple interface providing custom map layer and controls which can then contribute to improve UX.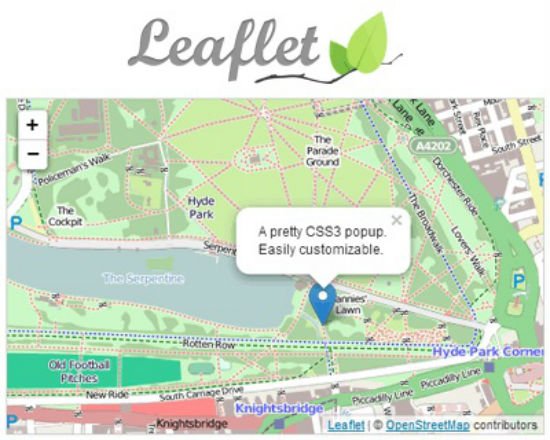 Most often, maps are regarded as a required element in the mobile app. It is best to focus on this aspect of the mobile app as it contributes towards the UI/UX. The best way to figure out the perfect plugin for your app is to gauge the user's need of the map and instill the same accordingly.
Author Bio
Shahid Abbasi is a marketing consultant with Peerbits. It is one of the top mobile app development companies. Shahid likes to keep busy with his team, and to provide top-notch mobility solutions for enterprises and startups.
These posts are a handout from our Guest Author who works with us occasionally and provide their opinions for our regular visitors on Web-Development & Designing, SEO, CSS, Coding etc. As their details can be marked with their concerning post even we would like to add that out Guest Authors are expert and master of their own sector. If you also desire to be our Guest Author Contact Us at
submit@webgranth.com