20+AJAX, JQuery and Image Galleries For Web Designers
These days, JQuery image galleries and sliders have become quite common on portfolio sites or any other type of site for displaying images and photos and not only that it has arrived with endless possibilities with itself for all the web designers. These are nowadays preferred to be used by web designers on their websites as these elements provide a good user experience.
JQuery image galleries and sliders make viewing images more pleasing and intuitive to the user of any website which has made use of these elements. The quality of JavaScript based image galleries and slideshows has experienced a dramatic improvement with the arrival of powerful JavaScript frameworks like jQuery, Prototype, Mootools and so on. Keeping all these things in consideration, we have arrived here with a comprehensive of the best jQuery image sliders and image galleries plug-ins that can enrich you with ample of resources to get image gallery or slider for your sites which you are going to design or launch.
This post is intended to all those designers who are seeking for Ajax, JQuery and Image Galleries and desirous to put all these in their sites. In this post, web designers can find modern image galleries which will be easy to customize and they can use these for their own projects or portfolios. If you want to put the best impression upon your clients or site visitors and wish that your site should grab attention of the visitors then, you should check out these Ajax, JQuery and Image Galleries and implement it on your site. We hope, you will make out a difference.
Yoxview
YoxView is a remarkable JQuery image gallery which is available free and enables users to view images and video. It is a free image and video viewer for websites which is written in JavaScript using jQuery. It is available as a jQuery plug-in.
Galleria
Galleria is a JavaScript image gallery written in jQuery which loads the images one by one from an unordered list and displays thumbnails when each image is loaded.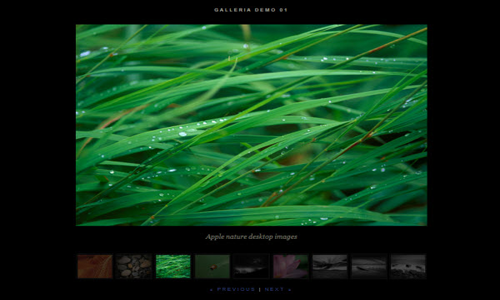 Supresized

image gallery
Supersized Image Gallery is a full screen slideshow jQuery plug-in which supports image preloading along with image cycling and transitioning effect. It resizes images to fill browser while maintaining image dimension ratio and cycles Images/backgrounds via slideshow with transitions and preloading. Its navigation controls allow for pause or play and forward or back.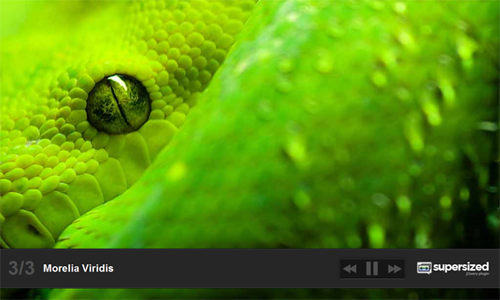 Pretty Photo
PrettyPhoto is a jQuery based lightbox clone which not only support images, but also supports videos, flash, YouTube, iframes etc. It is very easy to setup and it's  script is compatible in every major browser, even in IE6.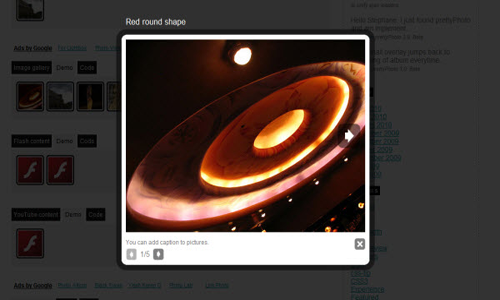 Jcarousel
Jcarousel is one of the noticing jQuery image gallery plug-in which enable you to view images one by one sliding one after another.
S3Slider jQuery plug-in
S3 Slider is a jQuery plug-in which is handy to put in the portfolio header of index pages with its nice effects and self image changing feature.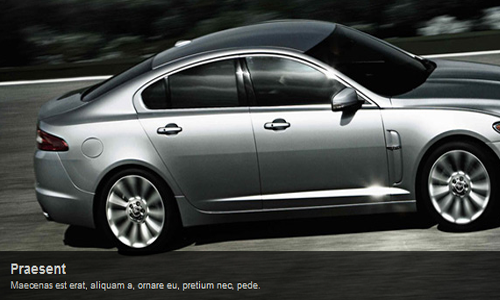 ITunes like Slider
This is a new image slider with three dimensional dynamic slider effects which empowers you with all sorts of jQuery goodness.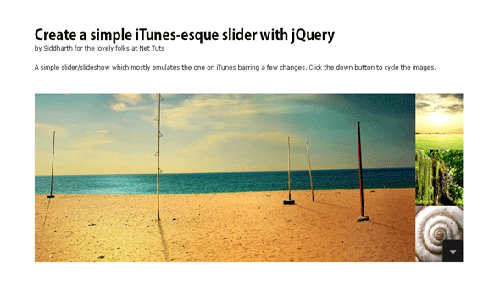 Nivo

Slider
Nivo Slider is a new jQuery plug-in which possesses great features including nine unique transition effects, keyboard navigation and simple, clean and valid markup. Some of its additional features are:
• It has built-in directional and control navigation features.
• It supports linking images
• It is free to use under the MIT license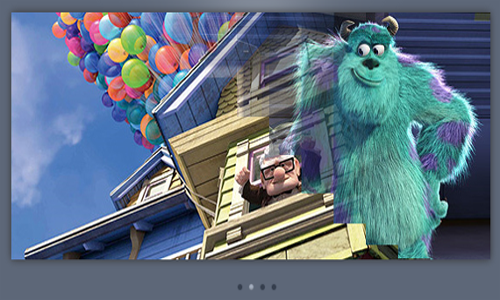 Gallerific
Galleriffic is a jQuery plug-in that provides a rich, post-back free experience optimized to handle high volumes of photos while conserving bandwidth. It offers smart image preloading after the page is loaded and also provides support for image captions. Some of its noticing features are as follows:
• Keyboard navigation
• API for controlling the gallery with custom controls
• Support for image captions
• Flexible configuration
• Support for multiple galleries per page
JQuery

LightBox Plug-in 0.5
JQuery LightBox plug-in is really a simple, elegant, unobtrusive, which doesn't need any extra markup; it is used to overlay images on the current page through the power and flexibility of jQuery´s selector.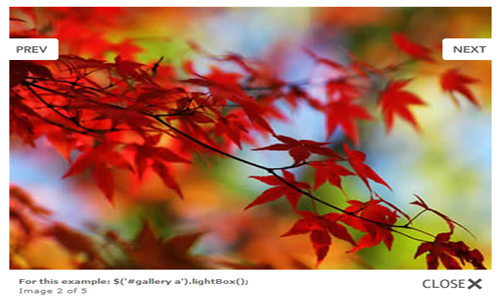 Cycle
The jQuery Cycle Plug-in is a slideshow plug-in that supports many different types of transition effects and also supports pause-on-hover, auto-stop, and auto-fit, before or after callbacks. It is really a marvelous plug-in which is of great use for web development.
JqFancyTransitions
JqFancyTransitions is another jQuery plug-in which is easy-to-use and is basically used for displaying your photos as slideshow with fancy transition effects.
JQuery

Image Scroller
JQuery Image Scroller is an excellent JQuery plug-in which uses jQuery's excellent animation features to build an image scroller. It may be automatic or user initiated; in other words, it may automatically display the content one by one or the visitor may also initiate by clicking a button or performing some other options.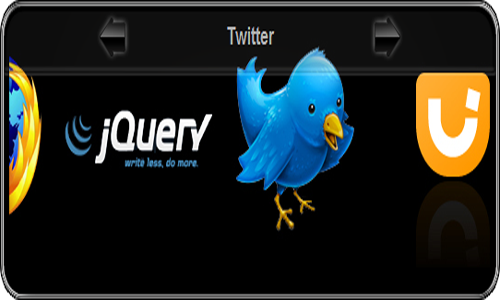 Simple Image Slide Show
Image Slide Show is one of the famous components in web design and development which is regarded as the clever method not only to draw attention of the people, but for also making the website livelier or more alive. Most often you have seen, a lot of the websites display news headlines in an image slide show to attract viewer's attention, it is accomplished with the help of this plug-in.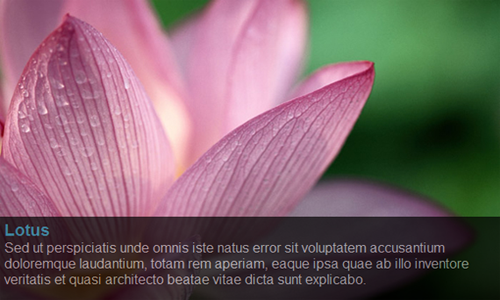 Easy slider 1.7
It is a new way to build pro sites faster and easier than ever. It has revolutionized the world and allows you to easily set up your own options to image gallery.
Circular Image Gallery
Circular Image Gallery is one of the most important JQuery image galleries which allow you to slide your images in rotational way or circular method.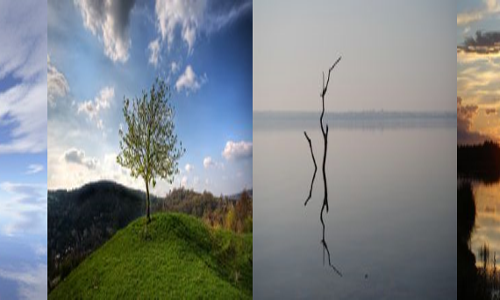 Coin Slider
Coin Slider is a lightweight JQuery plug-in which provides you unique transition effects and is compatible with Internet Explorer 6+, Firefox 2+, Safari 2+, Google Chrome 3+, Opera 9+ etc. It is free to use under MIT license. It is fully customizable using CSS. Some of its features are as follows:
• Valid markup
• Flexible configuration
• Auto slide
• Navigation box
• Linking images
Slick Auto-Playing Featured Content Slider
This one facilitates you with a main content area, which slide from left to right each with different unique content. It also facilitates you with a set of number of panels, whose code is written in such a way that you may easily add or remove panels without having any problem. It also possesses several links which act as a navigation and let you to quickly jump to any particular panel.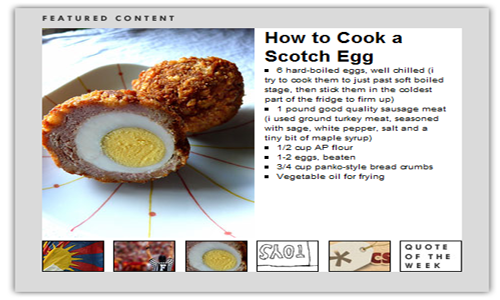 The Piecemaker XML Gallery
The Piecemaker is a marvelous 3D Flash image rotator gallery in the purest sense of the word which you can use in any project you like. It's Open Source, so you are also free to download it, learn from it, modify it and improve it as per your desire.
SimpleViewer
SimpleViewer is a free, customizable Flash image gallery which allows you to display your images on any web page in a professional, intuitive and simple way.
Polaroid Gallery
Polaroid Gallery is a free, open source flash gallery which makes you to view images in a unique style and sophisticated manner. As it is open source, you can freely download absolutely free of charge.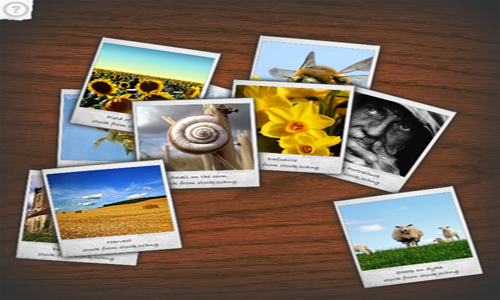 TiltViewer
TiltViewer is a free, customizable 3D Flash image viewing application which lets you to view the bulk of images at a time. When you go through the demo, you will find the appearance of a number of images in its thumbnail form.
Flash Photo Gallery
Flash Photo Gallery is the Flash version of AgileGallery which is available free and that rips through the XML output from Picasa, which generates the paging and thumbnails and displays the full sized photos along with any description entered in Picasa. It is also enriched with slideshow feature.
Cross Browser

Multi-Page

Photograph Gallery
Cross Browser Multi-Page Photograph Gallery, as the name signifies, uses multi-page layout system and includes images instead of text. It is based on the look of Suckerfish HoverLightbox and proves to be an excellent image gallery to be implemented by the web designer on their website.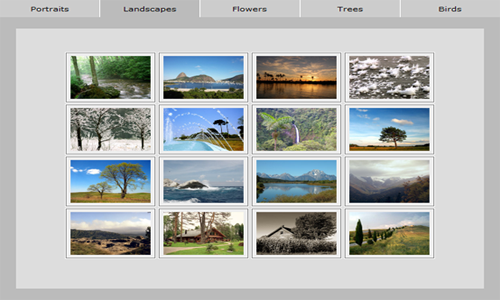 Looped Slider
Looped slider is one of the most important image galleries which enable the web designers to view images in a loop. It is regarded as best practice for web designers to implement this image gallery in the website design.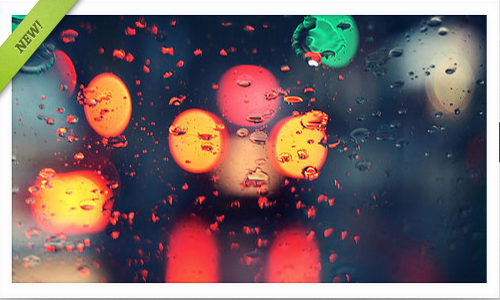 Christiana McGee loves development and possesses specialization in converting Sketch to HTML. Associated with
CSSChopper - Sketch to HTML Company
, she constantly strives to serve the best, fastest and innovative solutions in a stre