20 Superb Online Presentation Tools
Online presentation tools have always been known for the effective and impressive technique for presenting information and communication. When it comes to presentation the first application that comes in mind is Microsoft PowerPoint, this tool is popular for offline presentation and often used by students and professionals. But do you know that there are numerous emerging online tools that can be used to present reports and ideas for clients, business or for any presentation purpose.
Online presentation tools are highly beneficial when there are long distance meetings; it avoids the increase in travelling costs and hence decreases the expense account. In a situation where need to show your work to the client or to the delegates, where you are not provided a Microsoft PowerPoint software or maybe you are restricted to even download any such software or plug-ins then? Online Presentation Tools are the best suited alternatives for that you don't need the urgency of any downloaded software or tool, the only thin requires the perfectly working internet and a web browser from where you will use the online presentations.
Online presentation applications are the best way to share your presentation project may be with uploading pictures, audios, videos, hyperlinks and much more that too only. This not only save your time but also increase your productivity efficiency. Once you will use this you will feel that it is the easiest and the best way to share and discover the presentation without any bondage of time and distance. Online Presentation tools have been used by only individuals but also the business team as this not only increase their target audience but also increase you brand loyalty and customer satisfaction.
Everyone loves to work on online presentation as with their excellent features like sharing and discovering and along with that they offer immensely digestible pieces of material and content that avoid the miscommunications and understandings by which it adds an extra level of interaction and excitement in the presentation while sharing it online. It has some other essential features that cannot be neglected like clear and unbreakable sharing of file, images, videos, audios that all can be attached in the presentation. By publishing value added content on presentation websites can gain you in keeping your clients aware, informed and updated of information that is important to them.
Today we have listed some superb online presenting tools which can enhance your presentation power. So do make use of these tools to know their advantages.
Mindflash
Mindflash provide you the service of online presentation from which one can upload the matter and contents online that can be in the form of quizzes, presentations, films, PDF files, documents and much more.
Sliderocket
Another online presentation tool is sliderocket that helps you to create, share and manage and measure the presentation are shared in one time integrated from that mean you can send and share the whole presentation in one time. Isn't it is superb?
Imageloop
Imageloop is also a free presentation tool that enables you to create the slideshows and other cool features like easily sharing of data and even allows you to save unlimited pictures.
Slidebank
Another presentation tool is Slidebank you can call it as a web based presentation tool that is developed for the working for companies and departments and you can even share and create the PowerPoint presentation in just a few time.
Prezi
Talking about Prezi it is another presentation tool that lets you create the non linear presentations and utilize only a single canvas despite many traditional slides.
Empressr
Empresser is also another online presentation application that not only allows you to share, create your presentation along with that interprets your presentation in a storytelling format. Moreover it will help the users to create and store their online presentations.
vcasmo
Vcasmo is another online presentation application that allows you to develop the beneficial multimedia presentations from which you can mix up your videos with audios and even with webcam videos.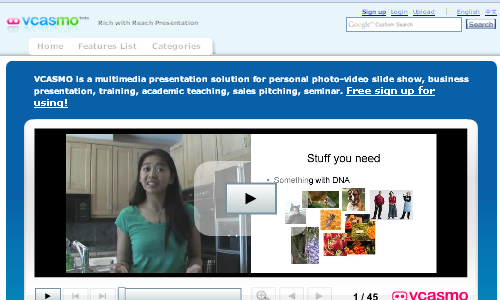 PreZentit
Now let's see this cool online presentation tool that allows you to create the presentation in a very attractive and easy way. PreZentit has other cool features like building, editing, presenting the work without installing and downloading any application.
Brainshark
Now Brainshark is another online presentation application that allows you to build and share you presentation even with voice. It helps you to share the voice featured presentation.
280 Slides
280 slides is a free online presentation tool that will help you to build your own PPT's without even the touching the PowerPoint.
PhotoPeach
PhotoPeach is another web online tool that will enrich your presentation with fast access with easy to built-in feature. With this application you can build an audio slide show, grab personal photos with title option on the menu. You can do all this in your online account like picassa, Flickr or even Facebook..
Animoto
Animoto has well built in features like it generates customs; user can watch slideshows from their user uploaded option of photos and music and much more.
Knoodle
Knoodle is another online based application that helps you to develop and deliver the video based presentations that are high impacted and even all the synchronization of you video material with PowerPoint presentations
AuthorSTREAM
This online presentation tools helps the users to share their presentation and work on a platform from author Gen Technologies and users can install the presentations as videos.
Vuvox
if you want to create a perfect impressive slideshows which is fully interactive also then you must choose this Vuvox. As it allows you to insert the videos, photos, music and lots more from Flickr, YouTube, Picasa and others.
Myplick
Myplick is also a free online presentation tool that allows you to build the interactive slides and let you to share them on your network. You can even upload the different files like PowerPoint, OpenOffice, odp and others.
SlideServe
Another online web based tool is SlideServe that allows you to smoothly share the online content and discover, share and view presentations online. The best feature of this application is that you can add a special effects like animations, narrations, quotes, audio, videos, hyperlinks and transitions all this in your PowerPoint presentations.
BrinkPad
BrinkPad is another web presentation tool that is Java-enabled and allows you to build and save you completed task online on the web, or on the disk and JPG's and more. The application is simple to use but it is very strong and effective the features it offers.
Zoho Show
Zoho show is a very effective and efficient online presentation tool as it is basically used to promote business products. It has some best built in features like the facility to drag and drop the themes, themes collection where you can choose different theme according to your project need. You can edit, create and share all your presentation work anytime anywhere.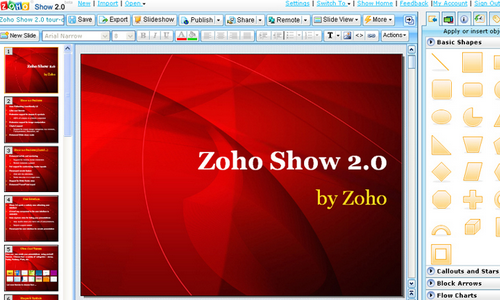 Slideboom
Slideboom is a high quality and easy-to-use online presentation sharing service. Slide Boom supports PowerPoint presentations, PPTX and slideshows (PPS, PPSX).
Christiana McGee loves development and possesses specialization in converting Sketch to HTML. Associated with
CSSChopper - Sketch to HTML Company
, she constantly strives to serve the best, fastest and innovative solutions in a stre