20 Overruling Time Savvy Text to Speech Websites
Seeing means believing and hearing means understanding, this is true phrase proving true by the latest trends of various overruling text to speech software tools available online. There is an increasing trend of listening various blog posts and articles instead of reading them. There may be various reasons for more and more people relying on text to speech tools; eyesight and vision problems can be a major reason but exactly people find it really boring to read lengthy articles.
In that matter reading text software comes as a great help to make the user easily grasp the content of an article without reading it.
There are various words that we fail to pronounce due to tight hand in vocabulary of that particular language in that case text to speech program work as a wonder wand for us that turn out the magic by pronouncing difficult words for us. Listening is not only beneficial for better understanding but also saves time and add fun to your work. It is really commendable job done by few of the websites offering services in text to speech tool. By just simply log-in to these sites one can enjoy listening to the related articles instead getting bored for hours while reading them. These sites are really a relief to our eyes with their awesome services.
In this post we are providing a list of websites providing text to speech tools to listen the required articles blogs and other text material. These website are absolutely free of use any one can utilize the services provided by them. Let's have a catch up the cool text to speech websites:
Hear who
With HearWho one is able to convert textual blogs articles into speech and save it in MP3, wma and other many file formats. This software converts 500 characters at a time for free a account.

Text2Speech

Text2Speech is software that converts a large amount of text in to audio version very quickly. You just need to download the file in any suitable format to listen it.

Ivona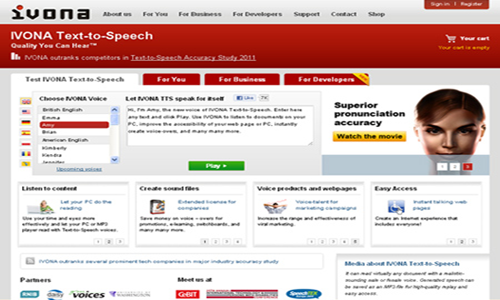 Ivona is software that provides services in multi-lingual speech program it is great service that avail text to speech service online.

BalaBolka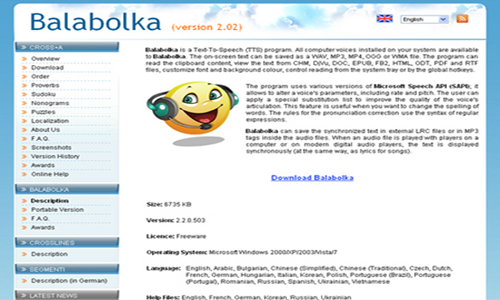 Balabolka is another amazing text-to-speech online software app that can easily convert and save any text file and text as a file in audio format. It can split the file into many audio files too.

Read the words

ReadTheWords is a text to speech service available online that help you convert the text into speech simply by typing, copy –pasting, or simply uploading any file for free.

Spoken text

SpokenText is another text to speech program available with complete-automated system to change any text in speech format with clear and natural human sounds.

Microsoft Text To Speech Package
Microsoft Reader Text-to-Speech is software package that helps your operating system to read back any file in spoken voice.

iSpeech

iSpeech is an amazing software available for free that converts websites text, RSS feeds blogposts and other various documents of word.doc., PDF files, Excel sheets, powerpoint presentations, RTF, HTMl and several others.

PediaPhon

With Pediaphon you just required to put the search item in the box feed. This is text to speech software that converts not only English but also supports many other languages like Spanish, German, French.

Zamzar

With Zamzar one can hear the desired text by uploading the file on the site. You can also enter the URL of the text page you want to hear. The speech can be recorded in MP3, WMA MP4, and other various formats, at a time you can select a file upto 100 mb.

ABC2MP3

ABC2MP3 is software that changes the text to speech of around 2,000 characters at a time one can choose for voices according to the wish to hear the text and save the speech in MP3 format.

Festvox

Festvox is software that aims at making conversion of text into speech with more synthetic voices and avail a great deal to create their documentation too.

Vozme

Vozme is one of the simple and easy software programs from that convert the written text in male and female voice on your choice.

YakiTome

YakiToMe is a text to speech software based on web application provide you assistance you to conevert any electronic text to be played on your MP3.

ImTranslator

ImTranslator is a great software available for free to translate multilingual translations. This is software that is capable of removing language barriers and to speak-up many languages text for you.

ReadPlease

ReadPlease is wonderful text-to-speech program it has capability to read the text of clipboard. This is a easy to use software.

Text2Go

Text2Go is software which is also known as Windows app, this has a feature to convert any online text to speech format that turns any online text to speech with the help of iPod or MP3 Player.

BblogBard

BblogBard is an online feature full app that avail let you to listen to the all favourite blogposts/ articles/write-ups over your ipod and other mobile device.

NaturalReaders

NaturalReader is another text converter software that changes the text into speech and let you hear any text on your pc.

Odiogo

Odiogo is successful converter that turns up text into speech and also changes RSS feed or articles and blogs in audio form.

Conclusion
Text to speech is a great software program that converts any text format into audio format. This is a beneficial method that can save time of web professionals and many other busy professional too.
Steven Bowen is an ardent team member of
No-refresh - Web to Print Design Tool Provider Company
bestowed with professionalism in to develop fully-functional solutions. Having adroitness in this arena, he has served an array of blogs that are basically based on the technology advancement & improve the end users' information level.