There are literally thousands of fonts available for designers to use. It is ideal to have a set of fun fonts that can be used to grab the attention of readers for special promotions, but a set of basic fonts is absolutely essential.
A printing company must have a large collection of fonts as print media requires different aesthetic features than web content.
Times New Roman
Times New Roman is the most common font used. It is also the default font for many word processing applications. The simple font emulates that what types of pages from a classic typewriter would display. It is easy on the eyes and can be adjusted to several sizes without distorting letter shapes.
Arial
Arial is the next most commonly used font. It has a slightly more rounded appearance than Times New Roman. When used online, it is easier on the eyes as the letters are smoother in delivery and flow better together.
Calibri
Calibri is considered the smooth font as well. It is becoming more popular and is easy to resize without distortion. Letters do become slightly thicker as the font size becomes larger. This is to compensate for curves within some letters.
Helvetica
This font is used quite frequently. It is in the Sans-Serif family of fonts. The versatility of this font makes it usable for small portions of text in print and web applications as well as on large billboards.

Futura
This is a straightforward font. Simplicity is the key here. Futura has basic shapes and leaves out fancy tails and embellishments to make it easy to read.
Gill Sans
This family of fonts has 14 variations. It is considered a designer favorite, since it can be used in several different applications and is best suited for use in web content and print design. Gill Sans remains legible, even in the smallest sizes.
Myriad
Originally for Adobe Systems, Myriad is a very plain and basic font. It features straight lines and basic shapes. This font is now the signature font used by Apple Corporation.
Optima
This font is often associated with the serif family, but has more of a Roman feel to it. When used in small sizes, such as font sizes 6 – 11, it is very readable and causes no strain on the eyes. The drawback is that it looks awkward, when used at font sizes above 24.
FF Meta
Where space is an issue, FF Meta is the font for the job. The text is displayed rather close together and is best used for small pieces of copy. It does not distort well,so it should only be used for print media, such as a "disclaimer on a coupon" or "promotion".
Baskerville
Baskerville is in the Serif family. It mixes thin lines with slight bulges, or thicker areas for dimension. It has sharpened edges and distinct diagonals. Readers have found this to be one of the most readable basic fonts.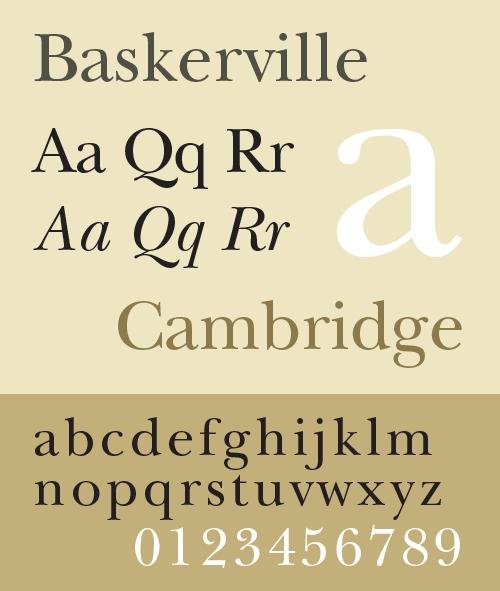 Homestead
This font is most commonly seen in the use for sports lettering. It is chunky and has a few embellishments to draw attention. Letterman jackets and country-themed (Old West themes) use this font the most.
Wisdom Script
Defined as one of the most legible and prettiest script fonts, some elements of print handwriting are also included. It is a wider font that is spread out for easier readability.
Jura
Jura is a combination of Times New Roman & Futura. It has straight lines, but is also smooth at the same time. This font spaces out letters for better clarity, but can get confusing, when used for large pieces of text.
Onramp
When a chunky, all capital letter font is needed, Onramp is the right choice. This is also a classic design that would be ideal for sports lettering and traditional signage. The lettering is very square and straightforward.
Quicksand
The rounded and spaced out letters in the Quicksand font make it fun to use for all the aspects of writing. It has great flow with the soft lines and ability to be resized for any use. Quicksand is a fun font to use and is ideal for use in material that children would read.
League Gothic
A Gothic font is needed in all collections. League Gothic is an "all capital letter font" that is tall, thin and without frills. It is very straight and easily resized for the right emphasis.
Chunk
Chunk is just what its name implies. This all capital letter font is blocky, bold and ideal for use as a headline font for billboards, advertisements and to grab the attention of passersby on store-front ads. It really stands out, when a drop shadow is added behind it.
Sorts Mill Goudy
Similar to Arial and Times New Roman, Sorts Mill Goudy is thin, dainty and easy to read. An appropriate amount of space is left between each letter to prevent cramped type. Each letter is finished with a slight tail, except for the "o".
Colaborate
A sort of jumbled font is Colaborate. By jumbled, it means that it is a mixture of at least four different fonts, including some in the Sans-Serif family. It has the rounded and straight edges with some letters dipping downward with a slight tail. Some lines have a slight bend in them for a slightly dramatic effect.
Lane
This very thin and basic font is great for petite advertisements. Lane is often used by clothing retailers that are promoting petite designs. It is a rounded font with a significant amount of space between the letters for easy readability.
Within this collection of basic fonts should also be off the wall fonts that have odd shapes and structures to them. Sometimes a specific theme needs to be achieved, such as a frightening theme for a Halloween piece that has squiggly edges and a dripping effect as an example. Categorize your fonts into groups such as basic text, calligraphy, themes and script. This will help you as a designer to find fonts to use for HTML, print, web and clothing applications.
These posts are a handout from our Guest Author who works with us occasionally and provide their opinions for our regular visitors on Web-Development & Designing, SEO, CSS, Coding etc. As their details can be marked with their concerning post even we would like to add that out Guest Authors are expert and master of their own sector. If you also desire to be our Guest Author Contact Us at
submit@webgranth.com