20+ Dazzling iOS Applications for Freelance Designers and Developers: Now manage Your Freelance Business with Your iPhone
The emergence of iOS applications has put a dramatic effect on the working style as well as freelance business management of freelancer designers as well as developers. With the advent of mobile technology, the scenario of freelance business is changing day by day. Unlike past days, now freelance designers and developers can effectively carry on their work and manages their business from anywhere lying in the world.
Now, the question arise that, when the freelance designers and developers can access and work comfortably from home with the help of iOS applications, then what's the need for being tied to a specific office. Yes, it is apt. Now, it is better to manage freelance business with the help of iPhone, iPod Touch or iPad regardless of the fact where they are. Keeping these points in mind and to assist all the freelance designers and developers, in this post we are going to present 20+ Dazzling iOS Applications which will let them to manage their Freelance Business with their iPhone
Comprehensive list of 20+ iOS applications
As we all know well that every application is developed with a great idea or motive. In other words we can say that, a special motive lie behind developing any application; iOS application is also not exception of this. It has been developed with the prime motive to assist web developers with time management, lessening processing workload, managing tasks lists effectively, and much more. Although there are tons of applications available, but we have collected the best 20+ iOS applications which are especially suitable to use by the freelance designers and web developers. These applications will let these designers to push their talent to a new height and make them feel that their talent has really no limit just like the sky has no limit. It will empower them as a freelancer to get more done when they are away from their computer.
This post will explain some strategies of iOS applications which you can use to refine your idea, review your design options, and converge on an application that people will appreciate. Check out these iOS applications and find how they can be useful for you. We hope these applications will be appreciated by you if you will use them while working on your project. Also do not forget to share your views about this post. We take inspiration from your comments, so, please leave a comment in the comment area.
Intaglio Sketchpad
Intaglio Sketchpad is a full featured drawing application designed for the iPhone and iPod touch which provides a full set of drawing tools and capabilities re-imagined for the multi-touch environment. It is based on Intaglio, which is award winning Macintosh application. It allows web designers to create and edit shapes and text blocks, adjust color, line thickness, or fix spelling mistakes at any time.
Features:
⇒Eleven drawing tools including freehand drawing, geometric shapes, bezier curve pen and text, and include functions to align, delete, duplicate, group, layer or transform graphics.
⇒ Customizable drawing scale and size including gradients, patterns, drop shadows, arrows, brushes, dashed lines, outlined text and clipping masks.
⇒ A customizable graphics library including a variety of predefined shapes and drawing aids such as a grid, smart guides and object location and size feedback
⇒ Import vector graphics from your computer as SVG and image files from your computer as PDF, PNG or JPEG.
⇒ Export images to your photo library or as PDF, SVG, PNG or JPEG files to your computer via Wi-Fi or iTunes file sharing.
⇒ Share drawings with other users of Sketchpad via Wi-Fi or Bluetooth, or with Intaglio on the Macintosh.
SketchBook Mobile
SketchBook Mobile is an excellent iOS application which offers a full set of sketching tools and delivers them through a streamlined and intuitive user interface. The designers can use this tool to digitally capture their ideas as napkin sketches or produce artwork on-the-go.
Features:
⇒ It allows saving work-in-progress and export to Photo Library or e-mail images
⇒ It provides completely customizable brush settings and allows the user to do undo and redo up to 10 levels.
⇒ It includes 45 preset brushes, including pencils, markers, felt pens, fine tip markers, erasers, a flood fill and a wide variety of texture brushes.
⇒ It facilitates with dynamic symmetric drawing, color wheel and customizable color swatches.
⇒ It provides full Screen work space with UI-on-demand and offer multi-touch navigation with a 2500% zoom.
⇒ It allows swapping between the last 2 brushes used.
Price: $2.99
Mocha VNC
Mocha VNC is an iOS application which provides access to a VNC Server; you can connect to a Windows PC or Mac OS X using your iPhone or iPad and can see the files, programs, and resources exactly as sitting at your desk, just on a smaller screen.
Features:
⇒ Standard VNC protocol and Encrypted password sign-in
⇒ 8 and 32 bit color modes and NETBIOS and Bonjour name support.
⇒ It can handle 50 different Host configurations.
⇒ Zoom and scroll as the Safari browser
⇒ A screen resolution larger than 2000×2000, as to memory and speed, is not recommended. Not a problem on iPhone 3GS or iPad as it has 128M extra memory.
The Typography Manual
The Typography Manual serves as a pocket resource for graphic designers and web developers and all others that work with type. It provides all the essentials of a book reference on your iPhone or iPod Touch.
Features:
⇒ It features a 60+ page book covering the history of type, type basics, how to properly set text and special characters, typography on the web, graphic design topics, and many more.
⇒ It also includes Visual Type Anatomy Glossary which is a glossary containing 100+ terminology that doesn't just give you a definition, but also shows you on the letters themselves.
⇒ It also possesses the Style Guide which can be used to correctly set numbers, punctuation, capitalization, titles, and references.
Shoeboxed Business Card Reader
With Shoeboxed Business Card Reader you can digitize business cards and auto-share your contact information with your new contacts. Simply snap pictures of business cards with your iPhone and Shoeboxed does the rest.
Price: Free.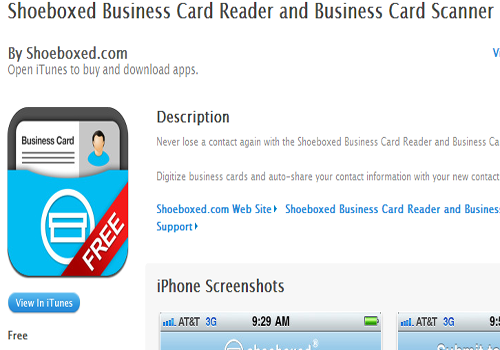 IFreelancer
The iFreelancer is an excellent application for freelance designers and developers with the help of which they can search and filter for jobs directly on their iOS device.
Features:
⇒ It checks for projects from Elance.com, Freelancer.com, Odesk.com, Vworker.com, and Scriptlance.com.
⇒ Send push notifications to you when your interest project available.
⇒ Facilitates the user designer to customize their own favorite categories, like PHP, Logo Design, Writing, etc.
⇒ It opens a project detail web page directly just in the app.
⇒ You can use your desktop browser to open project directly and share it on WiFi, use your desktop browser to open project directly.
Price: Basic Package $1.99 and the Pro Package $4.99.
GetPaid! – PDF Invoice & Time Sheet
GetPaid is a kind of time tracker application which tracks your time and can generate instant PDF invoices and time sheets. It is a must have tool for freelancers, mobile professionals, business owners, or anyone who needs to track their time to get paid.
Features:
⇒ It provides seamless integration with iPhone/Touch address book.
⇒ It sets multiple rates for different clients and tasks.
⇒ It Create repeat jobs and record multiple job sessions.
⇒ It has build-in professional invoice and time sheet templates and possess build-in calculator feature, currency conversion utility.
⇒ It supports international currency and is available in Chinese, Japanese and Italian language.
Price: $4.99
Invoice2go
Invoice2go is an invoice application which allows web designers to easily design, manage and send estimates and invoices on the go. It is a wonderful iOS application which provides freelance designers with a multitude of stock icons for a wide range of business types for an easy way to produce a professional look and feel for their invoice within few minutes.
Features:
Stay organized: It offers you several folders which allow you to easily organize your invoices and estimates, sort your invoices into paid and unpaid folders; also allows you to separate your estimates, purchase orders and credit memos and thus helps you in keeping track of your documents.
Makes life easy: In this application, taxes and totals are calculated automatically which prevents you to put any extra efforts. Only you need to add your invoice items and the rest will be done by this application.
Get paid faster: It simply taps the email to send your invoice to clients instantly and get paid faster. Alternatively you can also email the invoice by yourself and print it out.
Look professional: Invoice2go provides you with a range of professional invoice styles to choose from and also allows you to upload a fully customized invoice style as per your wishes.
Price: $12.99
MiniBooks for FreshBooks
MiniBooks is a remarkable iOS application which has been developed to work in-conjunction with FreshBooks. The application allows freelancers to manage clients, send invoices, enter payments, check on rates from past jobs, run timers, and much more.
You can do following things from with the help of this amazing application:
⇒ Create and send invoices
⇒ Record payments
⇒Track time– One can easily track time which has never been so convenient as ever. While working on any site, one can start the timer and when the work is done, the invoice is also done.
⇒Reliability– It provides full synchronization with FreshBooks account which means that you can keep working even when your network cuts out.
Price: $14.99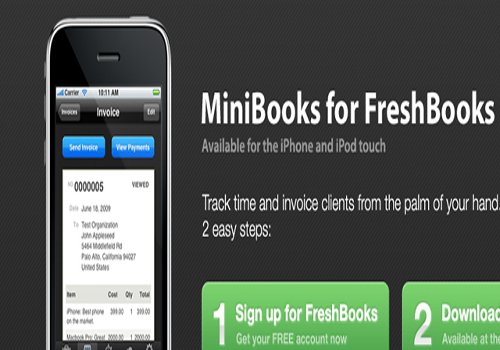 Harvest Time & Expense Tracker
Harvest Time & Expense Tracker, as the name reveals enables you to track time and log expenses on-the-go whether you're online or offline. It constitutes of a beautiful flip-clock which counts the number of billable hours and minutes you've been working. The expense tracker allows you to upload photos of your receipts as you enter expenses and in this way assists you in keeping all your records organized.You can avail the advantage of its free trial services.
Features:
⇒ It tracks time online, or offline. With its offline capabilities, harvest lets the designers to track or enter their time whenever network is not available.
⇒ It logs expenses with receipt images; one can take a photo of the receipt, add some details, and go paperless.
⇒ If an Internet connection is not readily available, Harvest keeps the records queued up in a "Pending" section which will acknowledge you which entries you need to be synced. Once the application is connected to the Internet, those pending entries will be automatically synced with the Harvest account.
Price: Free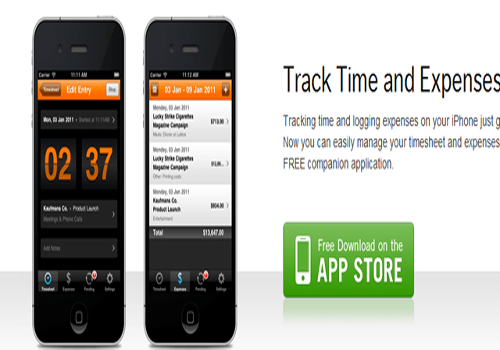 HoursTracker
HoursTracker is another time tracking iOS application which enables you to track your working hours and your earnings. It is the most popular time tracking app for the iPhone and iPod touch with the help of which you can set up as many jobs as you need, set the clock in and out time and the rest will be taken care by the HoursTracker. Also, it is flexible enough to accommodate your time tracking needs without becoming too much complicated.
Price: Light Version is free and the Full Version costs $2.99
FileMaker Go
It is really a must use iOS application for freelance designers and developers which enables you to view, edit and tackle any task, quickly and easily on your iPhone and iPad. No matter, you're checking inventory in the warehouse, managing event registration on-site, or updating project status while traveling, you can do all with this application regardless of the fact wherever you are.
Price: $19.99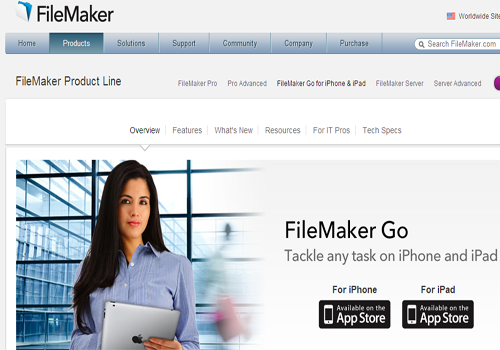 WorkTRAKR
WorkTRAKR is really a revolutionary iOS application which has brought revolution in the technocrat society. It allows professionals to create billable time entries, make low cost international calls, and manages GPS location, calendar, contacts, and much more. It seamlessly integrates with many of the top legal practice management and billing systems.
Price: Free
Awesome Note (+Todo)
Awesome Note is an innovative note taking iOS application and to-do manager that permits the designers to combine notes with to-do flexibility and allows them to customize its look with themes displayed along with different folder icons, colors, fonts and paper backgrounds.
Features:
⇒ It provides diverse views in variety of folders so that one can organize the folders including To-do list, shopping, travel diary, books and favorites in any way he wants.
⇒ It provides calendar view in every folder, i.e. each folder supports a calendar view for you to manage task easily and quickly through which you can record your daily activity, tasks and ideas throughout your day.
⇒ It allows integration of Notes and To-do's so that one can check tasks that he needs to finish in his note with the easiest way possible. One can also set a due date or make his tasks to repeat automatically.
⇒ It facilitates with handy drawing feature.
Price: $3.99
2Do: Tasks Done in Style
2Do is a fantastic iOS application which enables the web designers to get done the task in a styled fashion. It lets the designers to group their projects and actions in a way they prefer, sort the tasks in a fascinating manner so that they must be reminded at the time when they want them done.
Features:
⇒ It supports multi-tasking and offers Retina Display Ready.
⇒ It offers 5 Themes to apply and facilitate with Projects & Checklists
⇒ It possesses several features like Backup & Restore, Quick Add, Action To-dos, Picture Attachments, Alarm Snoozing, Repeating Tasks and Landscape and so on.
⇒ It is facilitated with TextExpander and Customization features.
⇒ It supports International language such as English, French, German, Dutch, Italian, Spanish, Swedish, Arabic, Chinese and Korean.
Price: $6.99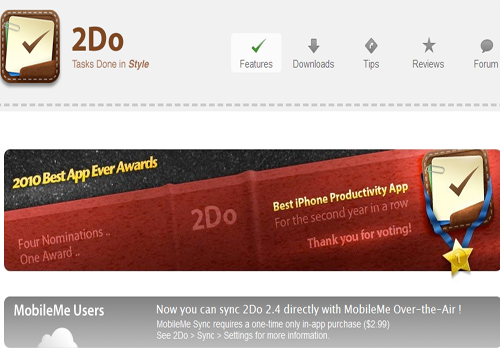 Readdle Google Calendar client
ReaddleDocs is an amazing iOS application which is must for use by freelance web designers and developers. It is all-in-one document viewer and file manager for the iPad that catches documents from any source such as PC or Mac computers, web sites, email attachments, iDisk, Dropbox and other online file storages and even iPhones. All files are saved to your iPad locally and hence one can enjoy reading them anywhere.
Features:
⇒ Read office documents: It has built-in viewer which supports PDF, MS Office (Word, Excel and PowerPoint) and Apple iWork files and hence one can easily read the file saved in these formats.
⇒ Copy files from Mac or PC: ReaddleDocs can be used as a wireless flash drive when connected to iPad running Mac OS X, Windows XP/Vista/7 computer. One can easily transfer files directly to his iPad using iTunes file sharing via USB cable.
⇒ Annotate PDF files: It highlight text inside PDF files in several colors, make notes at any place in the document and save these changes which are compatible with desktop PDF readers.
⇒ It allows accessing iDisk, Dropbox, Google Docs & other storages.
Price: $4.99
IFiles
IFiles is an excellent file manager, viewer, editor, and is must used iOS application by freelancers. It enables to transfer and share files from one computer to another.
Features:
⇒ One can easily access files on his iPhone or iPod touch through MAC or PC.
⇒ It allows sharing files with other iPhones or iPod users and also facilitates to send single or multiple files as E-mail attachments
⇒ One can view various files start from PDF, Word, and iWorks documents to Pictures and more.
⇒ Easy to manage files here; one can easily copy, move, rename, delete, zip and more.
⇒ IFiles has build-in voice recorder and also possesses many configuration options.
⇒ Allows creating text files, voice recordings, and import/take/record photos/movies.
Price: $2.99
Color Oven
Color Oven is a remarkable iOS application which lets you to calculate, manage, and save color schemes for use in any design project and also assists you in building your own color schemes with preset scheme types.
Features:
Color Schemes and Palettes: Color Oven allows you to create and manage multiple color schemes and palettes for you to use in your design projects. One can create groups of colors by directly choosing them or by setting their hex value.
Scheme Calculation: Color Oven has a remarkable feature that it automatically calculates any color scheme for you from 4 different color scheme types (monochromatic, complimentary, analogous, and triad). Only you have to just choose an initial color and as soon as you choose initial color, a 7-colored scheme will be created instantly.
Preview Colors: This amazing application allows you to preview the chosen scheme or palette as it would appear in a graphic design or a web site. It provides you a view on how the scheme or palette would work in a real world application.
Exporting: Color Oven allows you to export any scheme or palette you created directly to your computer or via email. Not only that, you can also export it as an html page, an image, a premade CSS style sheet and even as a Photoshop palette.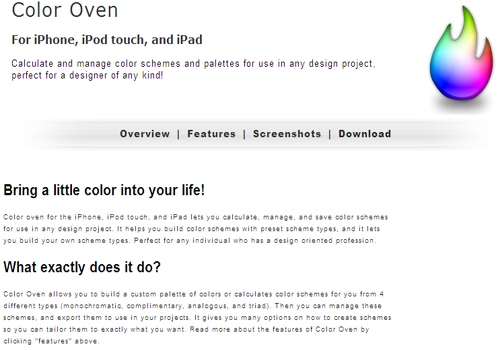 Square
Square is a useful iOS application which that allows anyone to accept credit cards anywhere by offering an easy to use, free credit card reader that plugs into an iPhone or iPad.
Features:
⇒ It offers one simple rate, i.e. 2.75% per swipe for all cards, including American Express.
⇒ It facilitates automatic direct deposits to your bank account.
⇒ It provides free reader, free app for iPhone, iPad and Android.
⇒ It takes your first credit card payment in minutes.
Price: Free
HippoRemote Pro
HippoRemote Pro is an amazing iOS application which turns your iPhone or iPod touch into a Wi-Fi keyboard, trackpad, and remote control, making it the perfect pocket-sized controller for your computer. You can do everything a physical keyboard and mouse can do, and in addition to these, just like a high-end universal remote, you can also customize the buttons and tailor them to specific apps.
Features:
⇒ Multi-touch trackpad, Programmable remote control and full list of 60+ supported apps.
⇒ It allows app & link launching and thumb scrolling
⇒ Constitute Boxee/Plex/XBMC gesturepad, Wake-on-LAN, configurable gamepad etc.
⇒ It can works with Windows, Mac, Linux
Price: $4.99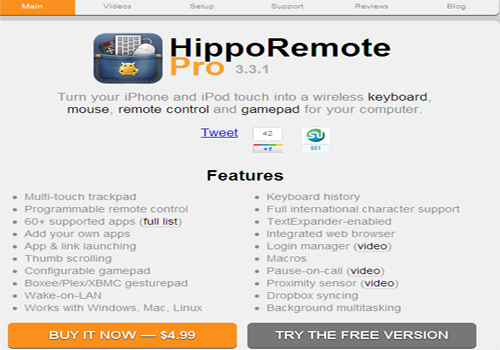 DoveTail for iPad
DoveTail for iPad is an effective application for freelancer web designers as well as developers; it saves their lots of time and hassle by allowing them to seamlessly create estimates, invoices and tasks directly from notes they have taken.
Features:
⇒ It sync via Wi-Fi and Bluetooth.
⇒ It automatically generates estimates, invoices and tasks.
⇒ It easily track tasks and take notes, create time sheets.
⇒ Effectively manages clients and projects, and support multiple currencies
⇒ Allows you to import from FreshBooks and export to your accounting software.
Price: $10.99
FolioBook
FolioBook is an excellent iPad portfolio application that is essential for all freelancers and designers who are looking for an easy method to present portfolios. This amazing application features a customizable homepage (portrait & landscape) with an abundance of customization options. It has several features which can be categorized into various sections such as design features, productivity features, home page customization features, gallery customization features, gallery display features and so on and so forth.
Features:
⇒ It provides integrated online help on home toolbar, leading online support means problems are resolved rapidly and personally
⇒ It offers separate Portrait and Landscape brandings, rotating pad switches branding.
⇒ Facilitates you with adjustable menu transparency, adjustable text transparency, adjustable text color, more than 30 selectable fonts etc.
⇒ It offers you horizontal menu which allows for free placement of titles over image backgrounds, allowing for full customization.
⇒ It works in both portrait and landscape orientation, and currently permits 100 images per gallery
Price: $14.99
Steven Bowen is an ardent team member of
No-refresh - Web to Print Design Tool Provider Company
bestowed with professionalism in to develop fully-functional solutions. Having adroitness in this arena, he has served an array of blogs that are basically based on the technology advancement & improve the end users' information level.