15 Free online tools to check Duplicate Content
You might have heard about the website content theft or content duplicity. Are you aware the fact that that's whether your own website also suffers from? If not then now awake yourself. We have brought some of the remarkable tools which will enable you to check whether your content is copied by content fraud or content theft. As we know readers prefer to read original content, even if once they find the content duplicity, they will move to another site without considering that whether you have theft the content, or content has been theft by others.
Thus it is required to pay increased attention to the contents which you are going to post on your website. It is worth to check your site's content either it is being plagiarized by other or too many pages with duplicate content is lying on your own website.
It is regularly heard about website internal duplicate content issues which can be one of the trickiest SEO problems to solve. Duplicate Content is a huge menace nowadays. Most of the websites are made with the help of third-party site creators that create duplicate URLs to same content. Thus there is a need to be sincerely aware of these types of issues. There are number of tools which help you in scanning your pages for finding duplicate contents in your website. In the today's post, we are presenting several online tools to help you detect duplicate content. Some of these tools are free to use. If you will find this post has proved beneficial for you, please share your thoughts with us by dropping comments.
Copy Scape
Copyscape is a free plagiarism checker that finds copies of your web pages online. It is wholly dedicated to detect your website's valuable content if copied by some other bloggers and hence comprehensively protect your websites by preventing content theft and content fraud. This tool offers free plagiarism warning banners for website to warn potential plagiarists against stealing your content as well as a comprehensive guide which train you how to deal with plagiarism.

Virante
Virante is a remarkable duplicate content checker tool which diagnoses common causes and effects of duplicate content penalties, It is really an excellent resource which diagnose the common www vs. non-www duplicate content issue by checking the headers returned by both versions of the URL, the current cache in Google, and possible PR dispersion.

Dupli Checker
DupliChecker is free online plagiarism checker software which facilitates the bloggers or writers to check their content for plagiarism. This tool provides free plagiarism scanner and plagiarism detector online. With this tool, bloggers can check his/her content in a few clicks and get the most accurate results from the search engines like Google, Yahoo and MSN.

Copyright Spot
CopyrightSpot allows webmasters and bloggers to discover all the spots where their licensed and unlicensed original content lives on the web and detect plagiarism of their work in better manner.

Plagiarisma
Plagiarisma.Net is a free online plagiarism checker which detects the duplicity of the content. It is an excellent duplicate content finder which provides three ways to check the contents and serves as one of the best the solution for plagiarism prevention.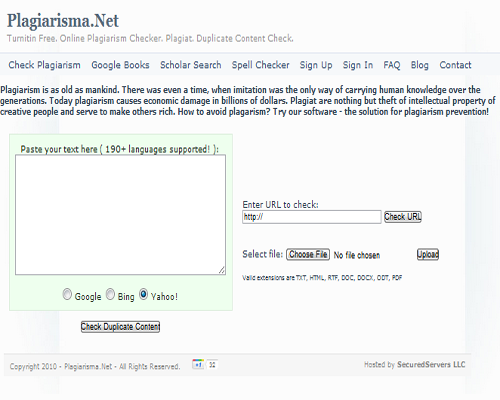 Percent Dupe
PercentDupe is a most powerful and most popular online plagiarism detection tool which protects your valuable content online. It properly checks the originality of their new content, prevent duplicate content, and search for copies of existing content online.

Copy Gator
CopyGator is an online service that will find feeds on your site and watch your content automatically.

Article Checker
Article Checker is a free online plagiarism checker that checks your paper for plagiarism against the same database and in this prevents your data from being theft by others.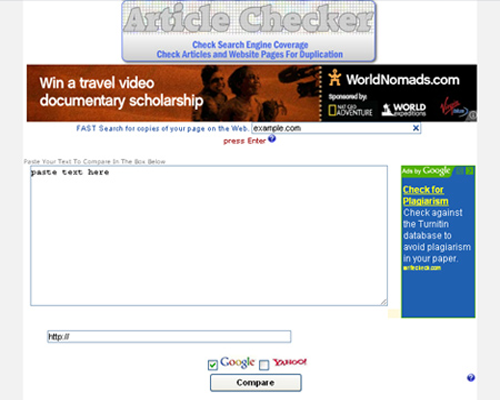 Plagiarism Checker
PlagiarismChecker detects plagiarism and avoid problems and secure you from plagiarism accusations. It is convenient to use and checks unlimited number of pages with improved accuracy and without timeout.

Plagiarism Detect
PlagiarismDetect.com is a professional plagiarism checking tool which determines whether the written document or paper is already been written or posted by other user on the Worldwide Web or not.

Similar Page Checker
Similar Page Checker is a remarkable tool which allows you to determine the percentage of similarity between two pages, whether two pages of the similar websites or two different site over the Internet.

Duplicate Content
DuplicateContent is a duplicate content checker tool which takes two parameters into account while comparing URLs. It allows you to check whether two texts are substantially similar and considers the similarity degree for both textual content and HTML markup.

Plagium
Plagium is a free online multilingual plagiarism tracker which applies advanced search technology for deep mining of documents on the public World Wide Web or within private repositories and checks text against possible plagiarism or possible sources of origination.

Dupe Cop
Dupe Cop is a famous duplicate content detector which allows you to compare two pieces of text and find out how unique the second is as compared to the first one in percentage terms. It compares the original PLR article re-written version and find out how unique it is. It is quite useful when anyone is re-writing PLR articles to be used on his website or for submission to article directories and avoiding duplicate content penalties.

Dupe Free Pro
Dupe Free Pro is a duplicate content checker tool which safeguards the website search engine rankings from duplicate content and online plagiarism with precision.

Leander Crow works at
Webby Central
as a veteran web developer. He has a passion for technology, coding and design and has coded for award-winning names in the industry. He is also a freelance writer who has helped many web development firms build an audience by sharing informative write-ups.