If you are an Indian app developer/designer looking for utility and UI /UX tools to make the job of designing team faster and simpler, this list is for you.
The list mentioned below combines the latest software with classic tools: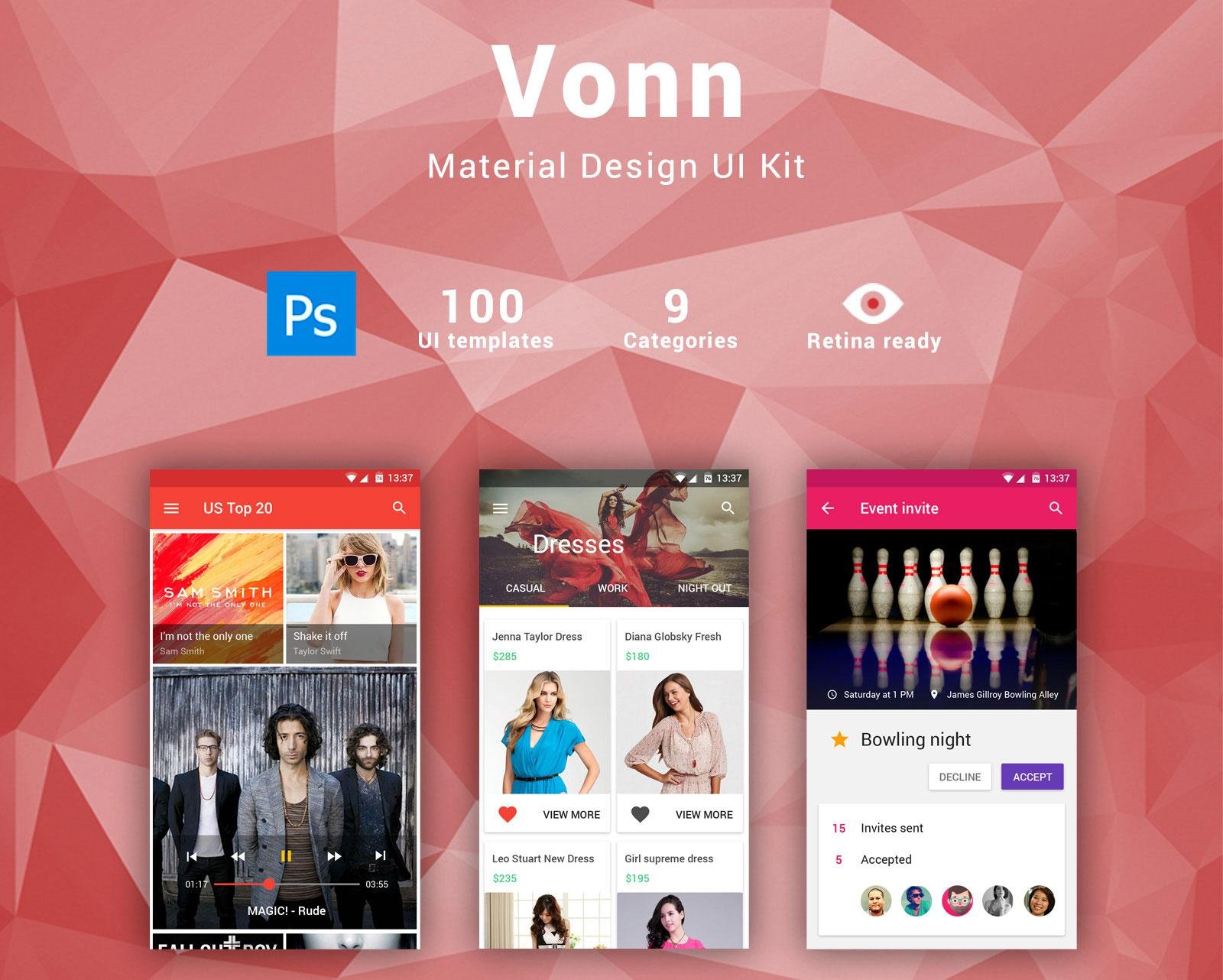 When you create your first Android application with Vonn mobile design Kit and UI, you will be surprised by how quickly you can get good results. Creating an app with this kit is simple because Vonn is compatible with Google Material Design style guide. Thanks to its ease to create incredible applications, bright colors and intelligent animations which makes Vonn kit one of the best design tools that currently exist in the market.
Taking the first step with this tool is very easy. It is equipped with a drag & drop section and more than 100 objects available that can be used in Adobe Photoshop. Thus, designing your application is very simple.
UserTesting offers you an innovative testing technology for your website and applications. You can use UserTesting to test your prototypes or applications on iOS and Android devices using one or more of the preconfigured tests or by creating your own test designs. In the end, it gives you the metrics to evaluate the progress and performance of your final product.
Zero tool is a powerful content creation tool for designers and marketers. It facilitates the creation of content such as infographics, e-books, microwebs, magazines, banners, and others.
Ace iOS Mobile UI Kit is a very well organized tool that comes ready to be used with up to 8 different mockups for iOS applications to guide customers. You do not have to spend half a day trying to guess how it works. Its learning curve is very light and you will be taking advantage of it right away. This tool allows you to create more than 1,000 different applications.
PickFu is like a scrapbooking. You create questions with a series of available answers and send them to the users who decide to answer the survey. You can use this service to get comments and suggestions from users about anything concerning your application or prototype: quality, content, documentation etc. PickFu will give you detailed information about the audience and their demographic data offering you a new perspective that will allow you to take the right decisions for your business.
Picktorial is an image editor that guarantees a professional, clear and quality result. Available for Mac, this program has very interesting features such as conversion to RAW and a real-time editor.
Omni Group is a set of tools for iOS development. It includes OmniGraffle; a powerful tool to create anything from sketches to wireframes. If you are a professional Indian app developer, the Pro version of OmniGraffle will give you what you need, whether adding animation or automatic features to your design. OmniFocus and OmniPlan are also part of the kit and are good tools for planning and managing long projects.
Marvel offers a quick and easy way to create interactive prototypes and it's free. All you need to do is start with a Dropbox account, log in and start building your prototype while Dropbox Sync synchronizes your design. Your Dropbox account is an ideal source to share ideas and projects with other users. You have nothing to lose, so give Marvel a try if you are looking for an easy tool for prototyping.
Firefly is a UX tool that would fit perfectly in the tailor of any Indian app developer. It does everything you would expect from a collaborative tool and also includes additional features that make it stand out. It is very easy to lose control of the configuration when you design a product through rapid prototyping. The Firefly design management tool prevents this from happening. You can upload the information you want to share, receive feedback, edit in real time and maintain version control during the process. This makes it an ideal tool for large teams.
The basic features of InVision are not different from other UI and UX software available in the market. What makes it different is its ease of use. You cannot sit and wait and do all the work – that would be too much – but converting static screens into an interactive screen with your drag & drop system makes InVision very easy to use. The task management and collaborative work functionalities that it has makes it an incredible tool.
User Experience and Interface Design are key elements in the design of mobile apps:
The user experience design is the initial step to determine the interaction of the app with users. It is composed of several phases of development, the first being the identification of the needs of our users. What does the app provide? Does it meet a real consumer need? What feature will motivate users to download the application and make use of it?
After determining the basic characteristics, the best UI and UX designs establish the interaction of the users with the same functionalities of the app. To do this, in the user experience design phase, a screen navigation map, also called a flowchart, should be created which will provide a preview of the user's interactions with the mobile application.
On the other hand, the interface design is a more creative cycle and focuses on what happens on the screen, as well as what the user perceives. For its correct realization, all the elements with which the user will interact must be defined to specify how visualization of the content will be carried out. In this phase, the terminals for which the app will be available must always be taken into account since the interface must adapt correctly to the different screen resolutions and must not exceed the maximum hardware capacity of the devices in which it operates.
User experience design and interface design are two very different phases but equally necessary when carrying out the creation of a mobile application. The user experience creates the pillars of the app and establishes how it will work. While the design cycle of the interface deals with everything related to the appearance of the application, identifying the aesthetic tastes of the users and adapting the graphic line of the project to them. You should contact Indian app developers for the UI and UX designs of your mobile app.
Author Bio:
Kenneth Evans is a Content Marketing Strategist for Top App Development Companies, a research platform for app development companies in USA, UK, India, UAE, Australia and around the world. He has been contributing to various blogging platforms and Forums.
These posts are a handout from our Guest Author who works with us occasionally and provide their opinions for our regular visitors on Web-Development & Designing, SEO, CSS, Coding etc. As their details can be marked with their concerning post even we would like to add that out Guest Authors are expert and master of their own sector. If you also desire to be our Guest Author Contact Us at
submit@webgranth.com