10 Free Outstanding Online Background Generating Tools
Are you looking for online background generating tools? It is the most essential part of any web design process because backgrounds are indispensable part for a web layout. An effective background can completely lift up any simple or rough layout into an attractive one. There is a huge number of online background generator tools easily available on the internet through which you can enhance, change and create beautiful backgrounds even without having the knowledge of software like Photoshop.
Most of the web designers use Adobe Photoshop for building backgrounds for websites and other designs purpose. Working on Adobe Photoshop does not take much time for regular designers but for the new comers or for the learning web designers it can become a stress. Many designers prefer to create background by their own for using it in their web designs.
In this post we will discuss about some useful set of background generating tools not just for web designers but also for every person who wishes to create unique design that is good looking without using Photoshop effects. Some of the tools presented here can be used freely to enjoy making wonderful patterns, gradients, schemes, stripes, palettes, themes, backgrounds and much more.
With the use of online background generating tools you can easily make some of your own creative backgrounds. These online background generating tools are free to use and also don't cost anything for you. The best thing using these tools is that you don't need to download them at all and from that you will be able to create various patterns, strips, themes and gradients. You should really try these out.
You can use these background generating tools to design the website for your client or for yourself but you have to be creative as visitors love to see a good content but the very first thing that they see is the design. Many of the designers think that putting a background image is a great idea and for that they use free online background tools.
Here we have collected 10 outstanding online background generating tools that can resolve all your background designing problems. I think you should be already familiar with some of Background Generating tools, so you have to find out new ones and do comment if I have missed your favorite ones. Enjoy!
Stripe Generator 2.0
Stripe Generator 2.0 helps you to create repeating-stripe backgrounds. You need to choose size and colors, stripe orientation, spacing, shadow, and background style (solid or two kinds of gradients). You can even preview your background full-screen before downloading.
Dotted Background Generator
Dotted Background generator lets you create dotted, half-tone style backgrounds. All you have to do is put in the dot and background colors, along with the height of the pattern and it does the rest. There's also a "random" button, which can create some truly hideous color combinations.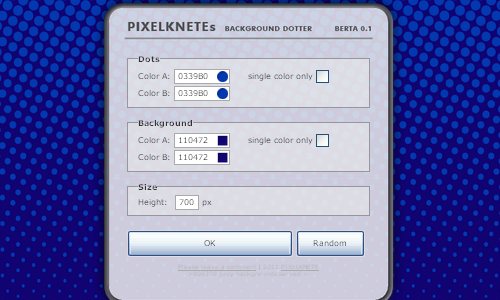 BgPatterns
BgPatterns is possibly the most powerful repeating pattern creator online. You can choose from a variety of shapes and then customize size, rotation, placement, color, texture, and more.
Striped Backgrounds
This generator creates boldly-striped backgrounds in any resolution. The randomize feature can create some interesting color schemes. Tip: for website backgrounds, download your stripes in the avatar size and then use the image as a repeating pattern.
Stripemania
Stripemania is a striped background image generator. You need to pick the strip width and spacing, the orientation, and the colors, and it generates a repeating stripe pattern.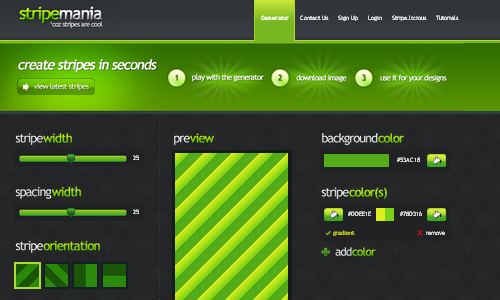 Tartan Maker
Plaid backgrounds aren't often seen in web design, and part of that is likely due to the complexity of creating a tiling plaid pattern. Tartan Maker makes it as easy as choosing a few colors and using sliders to determine the size and boldness of your plaid.
Pattern Cooler
Pattern Cooler is an online pattern library that is packed with pretty patterns which lets you create seamless background patterns online and then download them for personal use on the website.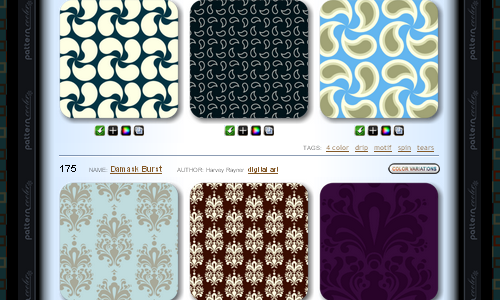 SecretGeek's Gradient Maker
SecretGeeks Gradient Maker is a tool that helps you blend colors for dynamically creating gradient http://blueblots.com/wp-content/uploads/2011/03 to use for backgrounds.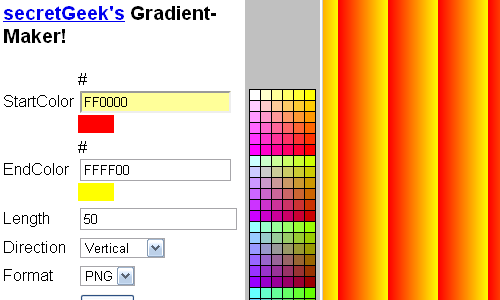 BgMaker
BgMaker is a tool for creating tiled backgrounds patterns for websites.
ColourLovers
COLOURlovers is a social network service and blog where people from around the world create and share colors, palettes and patterns, discuss the latest trends and explore colorful articles for both personal and professional creative projects.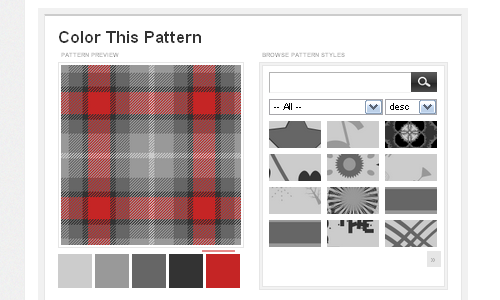 Leander Crow works at
Webby Central
as a veteran web developer. He has a passion for technology, coding and design and has coded for award-winning names in the industry. He is also a freelance writer who has helped many web development firms build an audience by sharing informative write-ups.