Website is the signature statement of any working organization. Everyone wants to have the most attractive webpage which get visited by maximum no. of users. In this race of being the best, designers have introduced the easy to implement slider plugins. This top 10 JQuery slider plugins tool for WordPress enables even the inexperience user to easily implement the content sliders on the WebPages.
Images are always the most beautiful and easy way to understand the concepts. So now garnish the beauty of your websites or blogs with the innovative concept of Slider Plugin. The image sliders offer a new way to present your ideas and attract more crowds toward your websites. These sliders are often known by the name of JQueryslider (http://jquery.com/). These attractive jQuery plugin tools were designed in 2006 to simplify the CSS of HTML and thereafter, these tools are ranked as the top java script library. Beside with providing an eye catchy interface, they save you from the hassle of writing sophisticated codes for implementing the image sliders on the web page.
Now a days the professional WordPress websites themes have preloaded sliders but what if you already have a WordPress website but without this amazing feature? What if you are a non-expert programmer but still want to customize and make a dazzle statement of your website? Here we are to provide the solution for these queries. We are presenting you the top 10 WordPress Slider Plugins that can be easily implemented to give a more detailed and fancy showcase of your website. Along with the attractive image slides these sliders also facilitate you with creative animation schemes.
Vslider for WordPress
This is the most popular jQuery Based image slider Plugin which can be implemented as image rotator, Header slider, image gallery and slideshows. This slider offers you nine stunning image transitions with 4 Slide layouts.

DD slider for WordPress
This slider facilitates you to customize you slides without depending on posts and pages. It provides 11 attractive transition effects with an easy user interface for the beginners. It empowers you to directly upload the images via AJAX from the slide manager page.

Smooth Slider Plugin for WordPress
This innovative Plugin uses JavaScript and text to create beautiful slide show. This feature facilitates the user to enhance the search engine optimization as the texts can be read by the Search Engine. This Plugin initially assigns a post as featured post and then creates a slide show with them which can be shown at any location on the blog. It provides simple but decent slideshow of images on your webpage. You don't need to have any knowledge of CSS, PHP or HTML for installing and operating this free WordPress Slider Plugin.

Easing Slider
It is one of the mostly used image slider which offers you unlimited sliders facility which can be configured independently. With this Plugin you can add text to your images or can use Post excerpts. Icing the cake, this plugin allows you to link your images with YouTube and Vimeo.

Thumbnail Scroller Plugin
It is a thumbnail cum image scroller which can be easily customized and posted by using its inbuilt Short code generator. This word press slider plugin is compatible with all browsers and iOs or Android smart phones. This slider enables you to add HTML or FLASH in the "lightbox" or Thumbnails.

WP SlideShow Gallery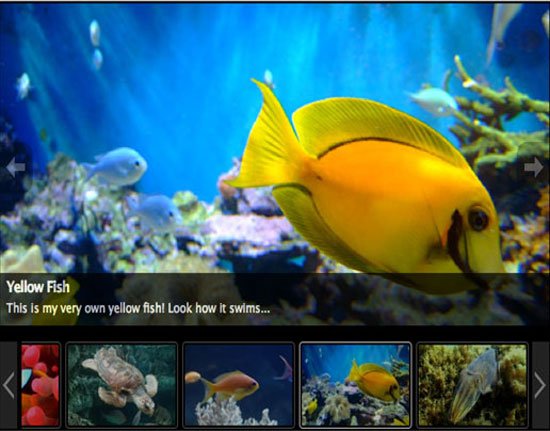 WP Slideshow Gallery is loaded with the latest feature of "Thickbox image overlay" which shows slide links in an overlay on the current page. This plugin offers you to directly upload the images in the 'Manage Slides' section without any hassle of providing URL/link of an image. It also allows you to easily hardcode a picture gallery into PHP files of your WordPress theme.

Sugar Slider
Sugar slider plugin for WordPress is a complete bundle of features. With this plugin you can insert unlimited numbers of sliders anywhere on your website or blog. This wordPress plugin automatically resize every image before uploading hence saves your precious time.

Multipurpose Book Shelf Slider
This WordPress plugin is specially designed to showcase the products such as mobile phones, magazines, CD, DVD and many more. You can easily add the long description of the product in the window view of this plug in. icing the cake; it is featured with "Lightbox" to display images, videos and HTML contents.

3D content slider WordPress plugin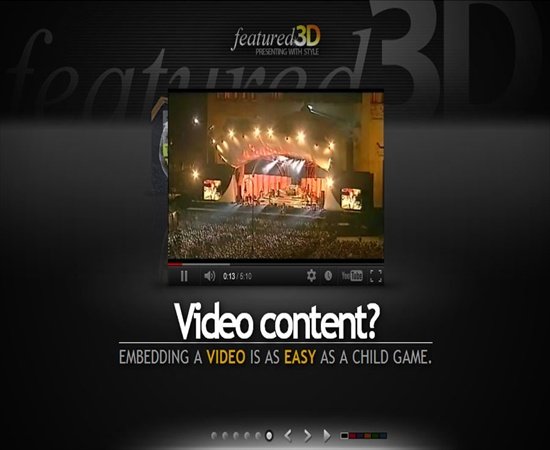 This content slider updates your 2D view into the revolutionary world of 3D panorama. 3D content slider plugin is based on jQuery Featured 3D slider plugin that decodes any static HTML content into amazing 3D scenario. You can add images, videos, links, icons, captions and almost any HTML content to the slider. This WordPress slider Plugin offers transparent slide images with six dynamic color themes.

Premium Features Posts WordPress Slider
This slider is compatible with any page, post or custom post type. It is integrated with 6 predefined layouts that provide you the best demonstrating option for your webpage. This slider doesn't require any template editing if you are using fps.

The above stated 10 best instant download jQuery slider plugin tools are easy to implement and are downloaded by thousand of users. So now you too can try these amazing WordPress slider plugins to give a new refreshing look to your website. Don't forget to bookmark this page for more updates on the revolutionary and everyday changing world of technology.
Christiana McGee loves development and possesses specialization in converting Sketch to HTML. Associated with
CSSChopper - Sketch to HTML Company
, she constantly strives to serve the best, fastest and innovative solutions in a stre