10 Best E-commerce Dominant Shopping Cart Applications
If you are looking for a Best Ecommerce shopping cart solution then you have landed on the right page. The demand for Ecommerce shopping has made the developers to seek for the ultimate ecommerce hosting solution. Most of the ecommerce sites throw pile of questions and barriers for the starters that is much time consuming. To promote and design a new ecommerce application you need to research the market and then choose an efficient and effective shopping cart application.
For the beginners it's a bit  confusing to take a decision, that which E-commerce platform to choose or not. I would suggest you to make a list of things that you are expecting to get from your shopping cart, like do you want a social sharing feature in your shopping cart so that the users and customers can share their thoughts and feedback with their friends and online group members. Make sure that you do research and think before making a sound decision. A dominant shopping cart application should have easy to use and hassle free interface so that the users are able to access them without any complexity. It should have safe and secure infrastructure with good PCI security standards that avail you high speed service during a shopping transaction.
So here we are demonstrating 10 best E-commerce dominant shopping cart applications.
KonaKart
This E-commerce shopping cart application can be used for small enterprise and business. You can get Enterprise edition license for that with the free community support. Some of the famous buyers of this application are Audi and Tesco mobile. Konakart avails you the excellent shopping promotion and experience, index searches, merchandising, shipping, analytical tools, marketing and also provides you the other international features.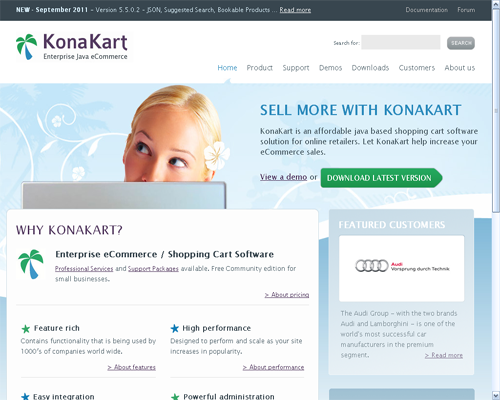 Zen Cart
Zen Cart is a free open source application that is designed for medium to big size business stores. The attractive feature of this application is its strong backend support, HTML template system. This application is very simple in use and provides you a wide range of facilities like newsletter maker, simple downloading procedure, email attachments, and wide range for pricing option. It includes secure payment gateways like Paypal and 2checkout.

OsCommerce
This is the most famous E-commerce shopping cart application that provides you the free open source shopping cart tool that you can use it under GNU (general public license). osCommerce has a user friendly environment that can be downloaded easily via internet and provide you instant service in a few minutes. There is no restriction to this product and even the design and the look of the page can be manipulated by the users. It has an attractive feature that allows the customers to pay their payment in multiple currencies as this application includes many payment gateways like Paynova, trustcommerce, PSIgate, secpay, Chrono pay, ipayment, Paypal etc. It also provides more than 5000 add-ons that can enhance its features.

Magento
Magento is an E-commerce shopping application that is used by more than thirty thousand merchants. Magento has a robust, reliable and secure infrastructure standard which follows the Zend framework Coding standard. This application is used by the big brands such as Nestle Nespresso, Samsung. Magento has a wide community support and that is free for installation, so you can download it and use it. The attractive feature of this application is its sales boost up program like providing shopping carts, coupons, SEO provision.

Apache OFBiz
This is an open source Enterprise resource planning (ERP) for all E-commerce solutions. It is also an open source SCM, CRM, MRP and rest like online software. It provides the high robust and reliable infrastructure. The attractive feature of this application is that it provides the highest flexibility to access the code and community support for all the open source projects.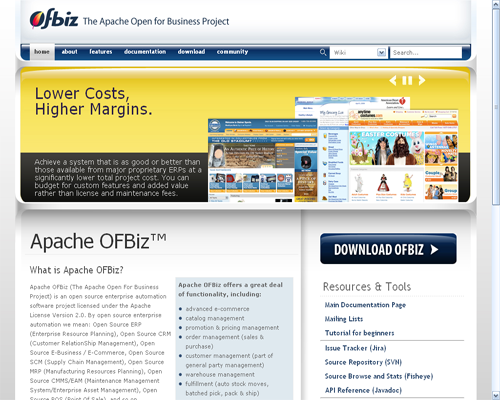 PrestaShop
PrestaShop is a complete E-commerce shopping cart website and also provides you the software link and an integrated wiki and blog with it. This application has more than 25000 stores all over the world that avails you information on order status, different payment modules, CMS template, customer evaluation form and a big community support.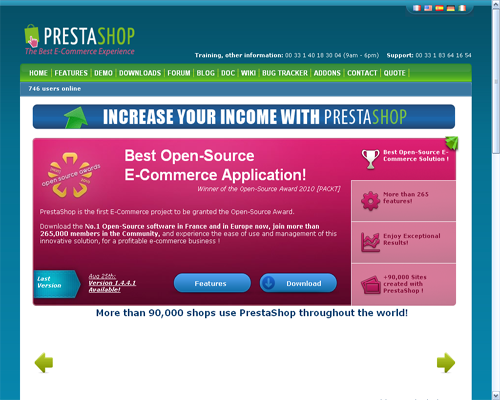 Jentla
This is a free open source online shopping system, that avails you the provision for multisite images and text storage with the centralized system for managing your sites with community support. It also has provision for site grouping and for personalizing the forms.

DashCommerce
Dashcommerce is a very robust and powerful E-commerce application as it is built in ASP.net. It has the reliable features like product catalogue management, checkouts, SSL based security, order execution features and lots more that will be suitable for your business.

OpenCart
OpenCart is another open source shopping cart solution that has the facility to sell your multiple products simultaneously. It will provide you 20 different payment options and 8 modes for shipping your product well. It has the feature for multiple currency payment with a secured payment gateway channel. Beside all it has a very user friendly infrastructure.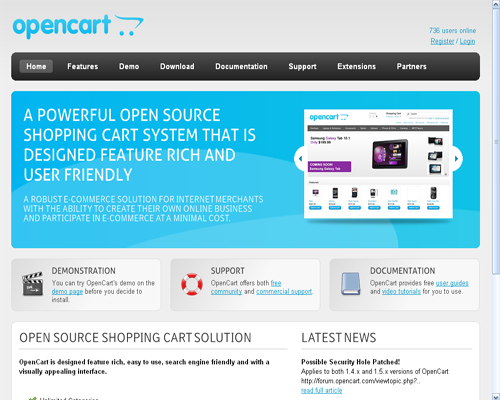 Batavi
This is a Dutch built company that avails you a free online shopping solution. Batavi has many features like CMS and template, pricing option based on members and customers group, integrated product content with a huge community support.

Rinniee Ginsburg is a email template developer and writer at
EmailChopper
. Her technical competency has helped the professionals explore the new techniques in practicing the innovative email development. She has written various articles that accentuate the importance of PSD to Email conversion, smart procedure for responsive email template development & many more. All her writeups have become a source for many professionals and business players to grab the valuable information.