Web 2.0 Websites: Complete List of Best Web 2.0 Websites 2015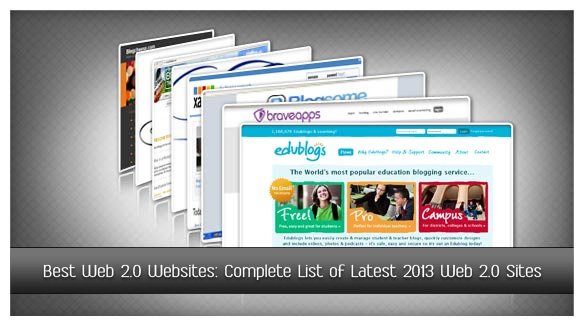 Web 2.0 websites are impressive tools of SEO for increasing the Link building for a websites. The user can attach the link of their business and services to these high PR Web 2.0 websites to increase the visitors and visibility of the webpage. In this post I am providing the list of Best Web 2.0 websites; icing the cake I had also complied the Link and information like Page rank, Type of link provided etc with this list of latest 2015 Web 2.0 websites.
Latest 2015 Web 2.0 websites: Bringing the web interface to a new level; Web 2.0 websites were first introduced in 1998. At the early stages this term and technology faced a lot of critics and rumors but with the popularity of these websites keep accelerating with the time. And at the present time; these web 2.0 websites are a popular topic among the web users as well as the SEO and  webmasters.
What web 2.0 website actually is?
The World Wide Web was introduced in 1991 for the general users to retrieve information from the URL according to their will. Till that time web had been just a mode of getting information and the user was not accessed to participate in any kind of information entry. Later a new concept of Web 2.0 websites was launched which was titled as the future of the Web.
Web 2.0 provided a lot of more functions and access to the user rather than just retrieving information. Many of the critics tweeted about the web 2.0 that it is just a small modification in Web so there is no term known as 'Web 2.0′. Even the founder of WWW; Sir Tim Berners Lee titled the web 2.0 as 'Jargon'.
Later the O'Reilly Media conference held in 2004 in the name of 'Web 2.0 Conference' sparkled the term and this advance version of the web. Beside with offering much rich user interface and Folksonomy; Web 2.0 websites are one of the most popular ways of Link building in SEO.
There are a lot of websites where the user can attach and link the information about its business and services. These websites provide Do Follow or No Follow to the attached link and hence can boost the visibility and thus the traffic of a website or web page.
If you too are looking for the ways to increase the link building for your website then the high PR Best Web 2.0 websites like Stumble, Tumblr, Hubpages and much more can surely be the most efficient solution.
In this post of mine I am going to provide you the complete list of latest Web 2.0 website 2015. I had also complied the information of their page rank and the type of link (Do Follow/No Follow) they provide to the attached URL, Brand, match anchor text, Generic, Long Tail and many more other modes of information sharing.
Conclusion
I hope that this list of Latest Web 2.0 websites 2015 will provide you a lot of options for link building but don't do it in excess because a lot of only Do follow links will smell fishy to Google and Google hate fishes. For more information regarding the SEO techniques; don't forget to bookmark Webgranth.
Don't Just Make Links: Make Natural Links
Rinnie Ginsburg is an emerging author who writes quantity of blogs & articles on web development and web design. She shares her relevant knowledge with fellow professionals on Webgranth.
Rinniee Ginsburg+
Latest posts by Rinniee Ginsburg (see all)